Upcoming actress Dhwani Pawar's first debut music album Gallan Maahi Diyan produced by Zee Music was released two weeks back. Frontier India spoke to the 24 year actress and professional mimicry artist on her journey working with the leading entertainment and music label in the country. Other than acting, Dhwani Pawar is a singer, voice over artist (specially for animation and cartoons), dancer, mimicry artist and a theatre artist.
What piqued your interest towards performing arts and how did you begin your journey?
I was hardly three or four years old when I use to watch Television and act exactly like the actors, for example I use to quickly wear a dhoti and tie a gamcha on my head like Aamir Khan from the movie Lagaan and dance on 'Mitwa sunn mitwa tujhko kya darr hain re' song. I used to act like Amisha Patel from 'Kahona pyaar hain' and also dance like Shakira. So, mom and dad knew that I was inclined towards performing arts since my childhood. I used to sing in school competitions, win prizes in poem recitation competitions, dance and play sports. Basically, I was more interested in extra curriculum activities what we called back then rather than studies.
Apart from being an actress in a music video, you are also mimicry artist. Tell us about that. Who inspires you?
Mimicry ha-ha, without any doubt comes from my dad. People say it's in my blood, but I feel I am nothing in comparison of my dad, VIP. It all started from school. I used to mimic my class teachers and principal ma'am. There were times where I had to mimic my teachers in front of them in annual day functions and luckily it never backfired. But I always thought that I just do it for fun until I discovered in degree college that I could also mimic cartoon characters and singers and actresses.
One of my sirs actually put my name for mimicry in Youth Fest competition saying "Beta tum toh karloge, tumahre khoon meh hain" and I was nervous because I never thought that I would ever take part in competitions for mimicry. So, I went up to my dad and he really helped me understand what all I could mimic and guided me and most importantly boosted my confidence that I could do it. And yeah, that year and the next year I won the youth fest with first prize and that's when I discovered that I could do it.
Tell us about the experience of shooting your debut music video? How was your experience working with Zee Music?
My first music album 'Gallan Maahi Diyan' was with Zee Music Company and nothing could be better than this. We shot this in Himachal when it the month of Feb. It was freezing cold. As an actor I learnt a lot. On my first day on the set, it rained heavily and there was snow everywhere, me and my co-actor Shiva Rana faced a lot of challenges. We were shivering like anything, but we still had to pretend in front of the camera like we were having a gala time. Before this I never filmed in snowfall. It was very challenging to shoot when the snow was three feet above the ground. One step forward and our legs would go in the snow and we had to cut the shot and do it again and again. I wore a lehenga which was approximately 20 kilograms heavy and to walk in it with ease was difficult but fun and learning experiences. I hope you all like our work because the entire team has worked really hard for this.
What would your dream collaboration be like and with whom?
Dreams are always big, and my dream is to work with Mr. Sanjay Leela Bhansali. He is my idol, and his work always leaves me speechless. That's the kind of work I want to deliver through my art. I have never missed any of his interviews and I always watch his videos even being around him would be so much of a learning experience. So, I really wish this dream comes true.
Any advice for aspiring artists who also want to make it big in the industry?
I don't think I have enough experience in the industry to advice aspiring artists but if you got it, you could achieve anything you want. We just have to overcome our fear, accept what comes and fight for what we want. As an actor we often give up because of the rejections at the auditions. I have myself been rejected so many times but all I do is I never stop preparing because when the times I'll have to hit the floor and give my best.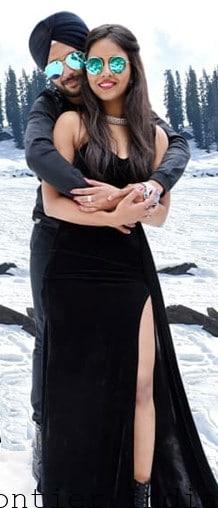 Tell us about your next project?
As we know the current lockdown situation has affected our work and especially shootings are at a halt. I was about to my make my TV debut on Sab TV but because of lockdown it has postponed, and I am hoping that things get better soon because it's not just me, there are my actors and actresses whose work has stopped, but at present what's more important is that we keep ourselves and our family and friends safe but I my work will resume soon and I will share this good news with you all.