Shibani Dandekar and Farhan Akhtar have been dating for quite some time. The couple has decided to take their relationship to the next level by getting married on February 21. The wedding preparations are well underway. Farhan Akhtar, a Bollywood actor and filmmaker, and his girlfriend Shibani Dandekar have given people relationship goals since they started dating.
It's no longer a secret that Farhan Akhtar is engaged to be married to Shibani Dandekar. The couple and their families, on the other hand, are keeping all details about the wedding celebrations under wraps. According to reports, Farhan and Shibani have decided to have a traditional Maharashtrian wedding before registering their marriage.
According to reports, the couple will tie the knot in an intimate traditional Maharashtrian ceremony on February 19 at Javed Akhtar and Shabana Azmi's Khandala Farmhouse. They will later register their marriage on February 21. Farhan and Shibani are scheduled to leave for Khandala on the evening of February 18. According to reports, celebrities such as Alia Bhatt, Ritesh Sidhwani, Hrithik Roshan, Rhea Chakraborty, and Rakeysh Omprakash Mehra may attend the couple's wedding.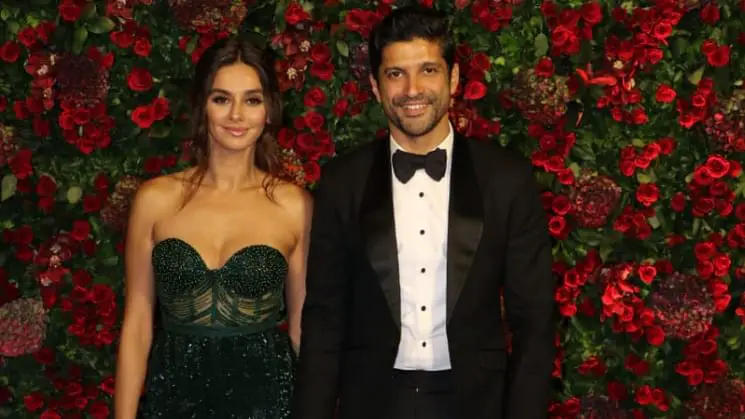 According to the Hindustan Times, the families will celebrate their union at the Akhtar farmhouse in Khandala. "The family has been extremely discreet about this wedding because they do not want the media to attend." Only immediate family members have been invited. Everything is still under wraps, so it's unclear how things will play out. "However, it is most likely that it will be a Maharashtrian wedding," a source told the publication. It was also stated that the wedding would take place during the day.
Shibani captioned the photo on Instagram, "Exhausted and excited." Shibani can be seen sleeping in an airport lounge, wrapped in a blanket, in the photo.
Gaurav Kapur, an actor, commented on the photo, implying that he is looking forward to Shibani's wedding day. "I am excited to be exhausted next weekend," he wrote. "Congratulations, B!" said singer Meiyang Chang. "Where are you Sweety?" wrote journalist Bhawana Somaaya. "Dubai to Mauritius for a wedding," one fan responded to Bhawana's comment.
Farhan's lyricist father, Javed Akhtar, had previously confirmed the wedding in an interview with the Bombay Times. "Yes, the wedding is taking place," he said. shaadi ki jo taiyyariyan hain (the rest of the wedding preparations) is handled by wedding planners."
According to Javed, the ceremony will be small and private. "Given the circumstances, it is obvious that we cannot host anything on a large scale." As a result, we are only contacting a few people. It will be a straightforward affair. "Khair abhi tak toh invitations bhi nahi bheje gaye hai." He also described Shibani as a "very nice girl" and stated that the family adores her.
According to the news, Shibani will be joined for pre-wedding functions by her sisters Anusha Dandekar and Apeksha. A bachelorette party has also been planned for the bride-to-be by her friends. Farhan Akhtar recently posted a photo of himself having fun with his friends. Fans quickly noticed his and Shibani's face-balloons in the decor, leading them to believe it was his bachelor party.
Farhan was once married to hairstylist Adhuna Bhabani. The former couple's daughters, Shakya and Akira, were born following their divorce in 2017. Farhan began dating Shibani in 2018.
Farhan Akhtar shocked fans and B-town residents when he and his wife, Adhuna Akhtar, co-founder of BBlunt salons, announced their divorce in a joint statement. According to reports, Farhan and Adhuna had a falling out over Farhan's alleged growing closeness to his co-star and that he had left his house and was staying with his sister Zoya Akhtar. According to reports, the split was caused by his alleged closeness to his 'Rock On 2' co-star Shraddha Kapoor. But now we learn that Shraddha is not the cause of the breakup.
According to a source close to the couple, Aditi Rao Hydari is the alleged cause of their split. According to the report, the main reason for Farhan and Adhuna's ongoing fights was Farhan's growing proximity to Aditi during 'Wazir.' According to the source, Farhan, who usually attends events and parties with wife Adhuna, was suddenly seen making appearances alone while the couple was going through a lot of hardship.
Farhan, on the other hand, decided to make an entrance with Aditi hand-in-hand at a celebrity party. Perhaps it was Farhan's gesture that put the final nail in the coffin and caused Adhuna to separate from Farhan. Nonetheless, only Farhan and Adhuna know what went wrong in their 15-year marriage.
Farhan was most recently seen in 'Toofaan.' He will direct 'Jee Le Zara,' which stars Alia, Priyanka Chopra, and Katrina Kaif.