In March, the Cabinet Committee on Security met in New Delhi and approved the procurement of 15 Light Combat Helicopters (LCH) for Rs 3,887 crore, or about Rs 260 crore each. Light Combat Helicopter Limited Series Production (LSP) is a domestically designed, developed and manufactured, state-of-the-art contemporary combat helicopter containing approximately 45 per cent native content by the value. It is planned to be progressively expanded to more than 55 per cent for the series production (SP) version.
As early as June, the Indian Army inducted its first LCH squadron at Bangalore. Upon completion next year, it shall be moved to Eastern Command. Already the Army has three brigades (aviation) at Leh, Missamari and Jodhpur, which operate around 145 Advanced Light Helicopters (ALH).
As we see a greater thrust for helicopters in the three branches, there is an anomaly piercing back.
To Fight or Not To Fight – The Indian Helicopter Dilemma by the Numbers
Since 2006, Global Firepower Index has been a popular tool for gauging the military abilities of over 140 military powers. When we look for airpower, we see a picture painted so often; in terms of total airpower fleets, the USA leads Russia, followed by China and India. The USA has towering 13k fleets while the rest have anywhere between 4k-2k. Given two adversaries flanking India, it is necessary to evaluate our strength in numbers against China and Pakistan. While China has a 50% more fleet than India at about 3000, Pakistan is weaker in numbers by 35% at least.
Airpower is a complex number as it includes a variety of machines held by different branches of the forces. Looking at helicopters specifically, the top 4 leaders remain unchanged. China is hardly 100 helicopter fleets ahead of India in absolute numbers. Meanwhile, Pakistan has just three-eighth of the helicopter fleet compared to India.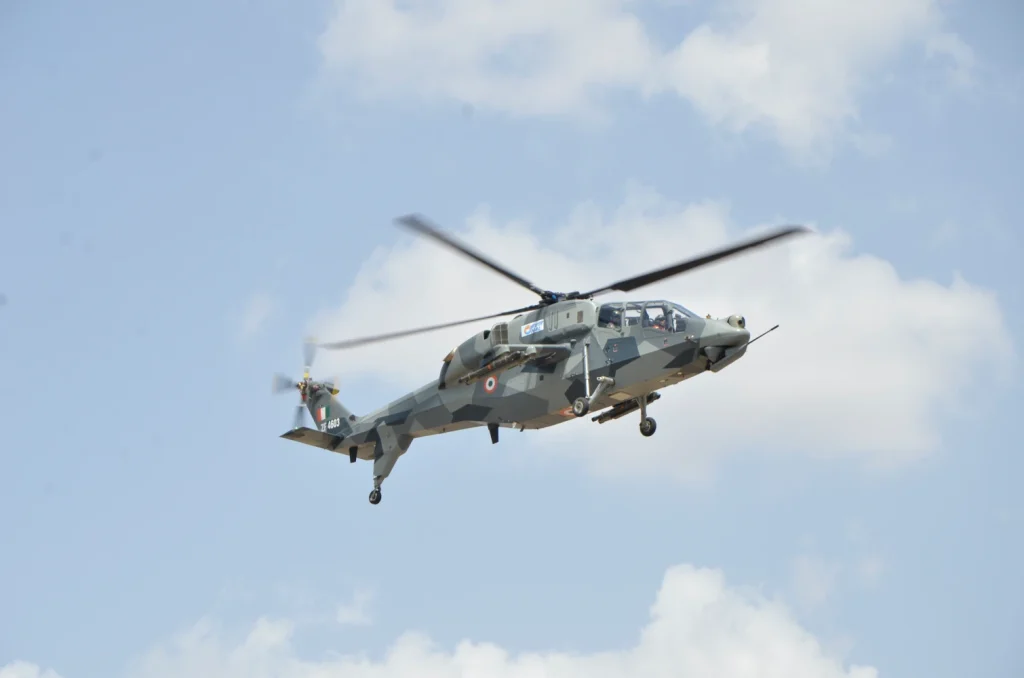 Now, as this trend begins to set in stone, there is a great anomaly. Specifically looking at attack helicopter fleets, the top 5 is curiously missing India. The rest, as is, are the USA (910), Russia (544), China (281) and then, and Japan (119). Scrolling down the list, we find Pakistan at the 11th largest attack helicopter fleet in numbers, with 57 such fleets. And with only 37 attack helicopter fleets, India lags at 18th place.
When the composite number of air fleets has India as the top 5 in airpower, why specifically attack helicopters betray this? Is this a conscious, systematic step away from the attack helicopters?
Fading in the Dark – Aged Attack Helicopters with India
It was only in 2015 when India moved to procure Apache attack helicopters from the US. The ageing fleet of Mi-35 attack helicopters, procured from Russia in 1990, was to be replaced by this deal. All 22 attack helicopters were to equip just two squadrons in the Indian Air Force (IAF). Further, the IAF has no other rotary-wing platform to match the Apache's capabilities: Hellfire missiles (air-to-ground), 70 mm Hydra rockets, Stinger missiles (air-to-air), 30 mm gun with 1200 rounds of ammunition, etc.
Building on the strong Soviet Union-India relationship, first the Mi-25 helicopter gunships and then Mi-35 were part of the IAF. While Mi-25 has been retired, Mi-35's two squadrons carry on, that too, with one awaiting overhaul. There would be significant restrictions on the capacity of the IAF to handle operational issues with only one squadron of Mi-35 Hind attack helicopters on the flight line.
The Indian air fleet is severely castrated by ageing helicopters, specifically the attack helicopters. As India eyes Chinese aggression and sizes up itself for any future engagement, it cannot continue to have any numbers where even Pakistan outdoes it, lest it looms over India's security.
PTSD: Helicopter Fatalities Plaguing the Indian Air Force
Flight worthiness of the IAF fleets has been a hotly contested topic wherein the authorities have never conceded. Even after the highest military authority in the country, the Chief of Defence Staff, Late General Bipin Rawat, lost his life during a helicopter transfer, there seems to be no impetus for the modernisation of fleets.
Around 15 Cheetah and Chetak helicopters have crashed in the past ten years alone. Between 2014-15 and 2019-20, as many as 43 aircraft have had accidents. Upon investigating just 11 crash cases, the provisional loss was estimated to be about Rs 500 crore to the IAF.
Hindustan Aeronautics Limited (HAL) 's LCH aims to replace the ageing fleet. But it seems forced upon the institutional stakeholders. When our hostile neighbours out fleet us by a huge margin, only seeking to replace what is old is worrisome. It reeks of a sinister decision to abandon or at least reduce the use of helicopters. When one is singled out in such actions, it is either a mark of a genius or a fool. Unfortunately, it is only time that shall bring out true intentions and the consequences.