Diehl Defence is offering its customers HENSOLDT Twinvis passive radar option for its Ground Based Air Defence (GBAD) System IRIS-T SLM. 
The medium-range GBAD IRIS-T SLM system is currently equipped with the German sensor and systems solutions provider HENSOLDT's TRML-4D active multifunctional radar as the main sensor. 
The passive radar is emission free, and hence the capability will provide IRIS-T SLM operators more safety from detection, counter measures and Anti Radiation missiles. 
HENSOLDT Twinvis passive radar is being offered as a supplementary option of a mobile and non-emitting radar solution for air target surveillance. It is being positioned as complementary to the TRML-4D radar. Twinvis sensor-to-target provides omnidirectional 3D tracking of more than 180 targets up to a range of 250 km.
GBAD IRIS-T SLM
The IRIS-T SLM system is an export version of the anti-aircraft missile system offered along with IRIS-T SL missile, which is based on the IRIS-T air-to-air missile. 
The IRIS-T SLM air defense system provides all-around protection against aircraft, helicopters, UAVs, cruise missiles, missiles and other weapons. It is able to deal with several targets even at a very short distance and a short reaction time. The air defense system carries eight launchers with IRIS-T SL missiles. With the full automated missile launch process, the system can carry out continuous combat duty with minimal use of personnel.
The system can fire missiles in very rapid succession at targets up to 40 kilometres away and up to 20 kilometres high. The "dead zone" for the IRIS-T SLM air defense system is a little less than one kilometre. Two operators control the system. It has an open architecture and can be integrated into existing air defense and missile defense systems.
HENSOLDT Twinvis
The name 'TwInvis is made up of "twin" + "invisible", as neither TwInvis itself nor the targets to be detected emit signals by themselves, meaning they are 'invisible'.
The HENSOLDT TwInvis system, can be integrated into an all-terrain vehicle or a van.
TwInvis system can monitor up to 200 aircraft in 3D within a 250 kilometer radius. Working as mere receivers, the passive radar systems detect aircraft by analyzing the signals they reflect from existing third-party emissions.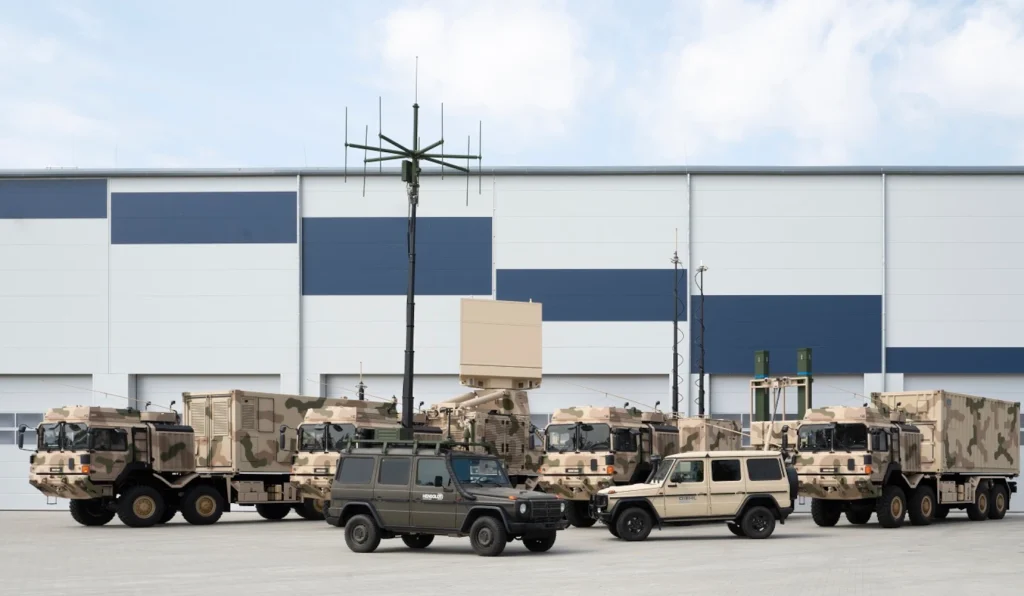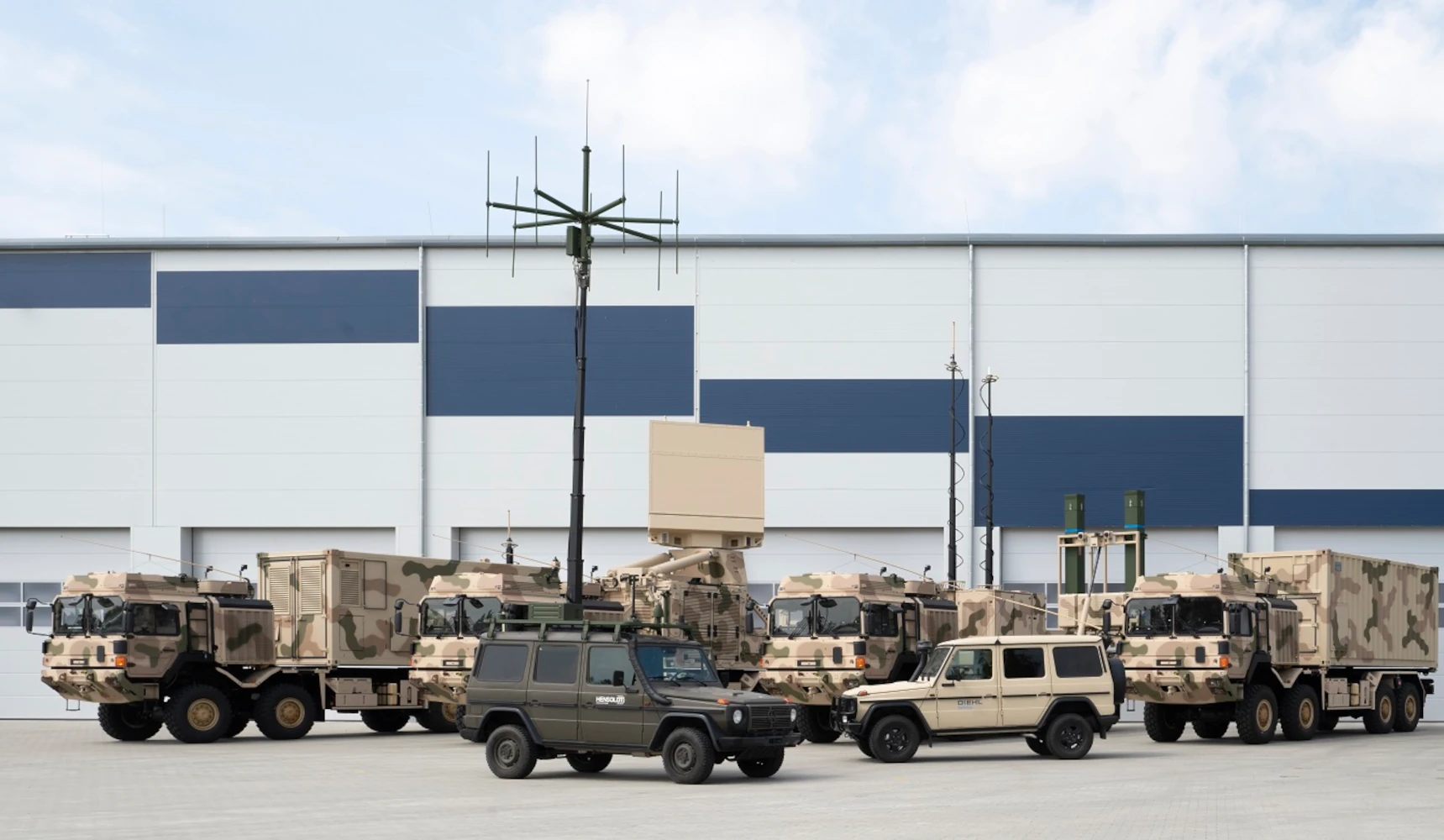 HENSOLDT's TwInvis system excels with a very accurate image of the covered airspace, which is obtained by the simultaneous analysis of a large number of frequency bands. In addition, HENSOLDT's new generation of software provides unprecedented performance in terms of detection range and accuracy.
In military applications, the system allows wide-area surveillance using networked receivers. The advantage of passive radar systems is that they cannot be located by the enemy and are very difficult to block.
HENSOLDT TRML-4D Radar
HENSOLDT multifunctional 3D radar, belonging to the TRS-4D family of radars, is the main sensor of the IRIS-T SLM system.
The TRML-4D uses the latest Active Electronically Scanned Array (AESA) radar technology, enabling target acquisition after just one antenna rotation. Thus it improves response time and hit probability, even in a complex environment with high target density and involving highly agile and asymmetric threats.
With the precise coordination of all antenna elements in the C-band (NATO G-band) and special signal processing modes, the radar can provide extremely accurate target information, thus ensuring fast and accurate weapon designation.
An integrated secondary radar system identifies "friend or foe" (IFF Mode 4 and 5).
The radar has a high performance due to a large number of transmit/receive (T/R) modules in the antenna, which are made of special Radio Frequency materials. HENSOLDT is the European pioneer of this technology.
The system is approved for transport by air on an Atlas A400M or Hercules C-130 cargo aircraft, but it can also be transported by rail (container) or by road (8×8 trucks).
The TRML-4D is designed for continuous operation and high operational availability. The probability of zero critical failures during a three-month mission in 24/7 operating mode, greater than 99%, results in significant advantages in logistical support.