A frigate is a long-distance warship, usually assigned to escort the main body of a fleet or convoys and generally inferior to destroyers in size and combat capability. It is a medium tonnage combat vessel, intermediate between a corvette and a destroyer. Almost all modern frigates are armed with offensive or defensive missiles and, as such, are classified as guided-missile frigates (FFG). Frigates are thus typically used as escort vessels to protect sea lines of communication or as an auxiliary component of a strike group.
After WWII, the Indian Navy operated frigates of the Blackwood, Whitby, Leopard, Leander, and Nilgiri classes. The Nilgiri class frigates were India's first major warships, built in collaboration with the United Kingdom's Yarrow Shipbuilders. Later in the 2000s, the Indian Navy, for the first time collaborating with Russia, acquired six Talwar-class under Project 1135.6. The Indian Navy operates 12 guided-missile frigates of three classes: Shivalik, Talwar and Brahmaputra.
Mazagon Dock Limited (MDL) in Mumbai designed and built the older Nilgiri class frigates, which were updated versions of the Leander class. Between 1972 and 1981, six ships were built. INS Nilgiri, the lead ship, was the first major warship built in India in collaboration with the United Kingdom's Yarrow Shipbuilders.
The Godavari class frigates ( formerly Type 16 or Project 16 frigates) are Indian Navy guided-missile frigates. The Godavari class was the first major indigenous warship design and development initiative of the Indian Navy. Her design is a modification of the Nilgiri class with a focus on 72% native content, a larger hull and updated armaments.
The Godavari class arose from lessons learned during the 1971 Indo-Pakistani war. To meet Indian requirements, a single ship was required to deploy a hybrid of locally designed as well as Russian and European weapon systems. One of the requirements was for the ship to launch two Sea King helicopters. The Nilgiri-class ships were far too small for this task. In order to accommodate this, the final design included a larger shell. The class and lead ship INS Godavari is named after the Godavari River. The next ships of the class, INS Ganga and INS Gomati, also take their name from Indian rivers. Gomati was decommissioned on 28 May 2022.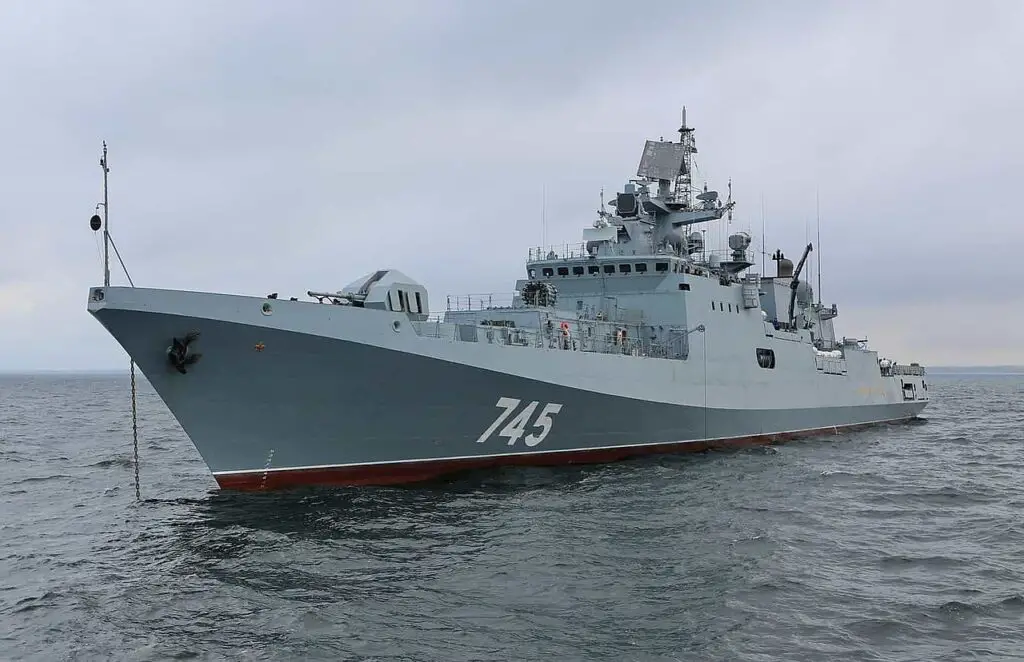 The Brahmaputra-class frigates (Type 16A or Project 16A) are Indian Navy guided-missile frigates designed and built in India. They are an improved version of the Godavari class, with the same displacement (3850 tonnes) and length (126 metres (413 feet), but a different configuration, armaments, and capabilities. The Indian Navy has three ships of this type: the Brahmaputra, Betwa, and Beas. Their primary weapons are the Kh-35 (SS-N-25) SSM and the Barak SAM. OTO Melara 76 mm gun, AK-630 6-barreled 30 mm (1.2 in) Gatling gun, and 12.8-inch ILAS 3 324 mm torpedo tubes for Whitehead A244S anti-submarine torpedoes are among the other armaments.
The Talwar class (Project 11356) frigates are a class of guided missile frigates designed and built by Russia for the Indian Navy. The Talwar-class guided missile frigates are upgraded versions of the Russian Coast Guard's Krivak III-class (project 1135) frigates. Each ship in this class has a displacement of 4,000 tonnes and a top speed of 30 knots (56 km/h) and is capable of a wide range of missions, primarily locating and eliminating enemy submarines and large surface ships. The frigate operates with a reduced radar cross-section (RCS), as well as reduced electromagnetic, acoustic, and infrared signatures, thanks to the use of stealth technologies and a special hull design. Talwar, Tabar, Trishul, Teg, Tarkash and Trikand serve the Indian Navy. Talwar, Tabar and Trishul carry VLS launched Klub, anti-ship cruise missiles and Kashtan CIWS, while the rest three carry VLS launched BrahMos anti-ship and land-attack cruise missiles and AK-630 CIWS. The rest of the common armaments include Shtil-1 medium-range missiles, Igla-1E (SA-16), 100 mm (3.9 in) A-190E gun, 2 533 mm (21.0 in) torpedo tubes and the RBU-6000 (RPK-8) rocket launcher. 
The Shivalik class, also known as the Project 17 class, is a type of multi-role frigate and is the country's first stealth warship. Ironically, the Shivalik Class is bigger than the Delhi Class destroyer. MDL built all of the ships in the class. The Shivalik-class frigates were designed as a successor to the Talwar-class frigates, with improved stealth and land-attack capabilities. Shivalik, Satpura and Sahyadri are the three frigates of this class. Armament includes VLS-launched Barak 1 surface-to-air missiles, Shtil-1 medium-range missiles, VLS-launched Klub anti-ship cruise missiles or BrahMos, OTO Melara 76 mm gun, AK-630 CIWS, DTA-53-956 torpedo launcher and RBU-6000 (RPK-8) rocket launcher.
The 6670-ton Project 17A-class frigate is a consequent of the Project 17 Shivalik-class frigate for the Indian Navy. Seven ships will be built at MDL and GRSE. Seven such ships have been ordered and are in various stages of being built. The armaments include VLS-launched Barak 8 missiles, VLS-launched BrahMos anti-ship and land-attack cruise missiles, Oto Melara 127 mm (5.0 in) or Oto Melara 76 mm (3.0 in) and Torpedo Tubes.
The Admiral Grigorovich class is a Russian-built variant of the Indian Navy's Talwar-class frigate. Four are currently under construction, and it is possible that the hulls will be transported to India for final fitting-out, including engine installation.
India's immediate threat Pakistan fields eight frigates. India's arch-rival China has about 47 frigates currently.