In strong retaliation to Saturday dawn's wild-cat incursion into Israel territory by Palestinian militants who launched 5,000 rockets targeting Jerusalem, Tel-Aviv and other Israeli cities from the Gaza Strip in the worst attack on the country in 50 years, Israeli forces battled holed-in Hamas fighters and pounded targets in Gaza Strip on Sunday. More than 500 Israelis have been reported killed and over 1,000 wounded, with scores of civilian corpses strewn on the roadside and dozens held hostage, even as over 300 were killed on the Gaza side and almost 2,000 injured.
Hundreds of Hamas militants had infiltrated Israel in armoured vehicles, boats, motorcycles, and even using paragliders, firing indiscriminately at civilians in a surprise early-morning barrage that lasted over half an hour. Israel was also attacked from its northern frontier when the Hezbollah of Lebanon launched artillery shells and missiles "in solidarity" with the Palestinian militants.
Tens of thousands of Israeli soldiers were rushed, while reservists were called up, on Sunday to fight the militants in the southern desert regions near the coastal enclave in a bid to free Israeli hostages and evacuate the entire area within 24 hours. The Israeli Army struck 426 Hamas targets, including Gaza tunnels, buildings and other infrastructure. This latest bombarding of Gaza has been named 'Operation Swords of Iron'. The Israeli attacks are stated to have targeted civilians in the besieged Gaza Strip, flattening several residential towers to rubble in giant explosions.
"We'll reach every community till we kill every terrorist in Israel," The New Arab quoted military spokesman Daniel Hagari. And Gaza—frequently referred to as 'the world's largest open-air prison'—is facing extensive human hardship and destruction as Israeli Prime Minister Benjamin Netanyahu has warned of a "long and difficult" war.
Israel is now preparing for a ground invasion of Gaza, while the country's Cabinet announced that it had cut off all electricity, fuel and goods finding their way into Gaza. Since 2007, Israel has enforced a blockade on Gaza, including sea and air travel restrictions to and from the Gaza Strip. This blockade has significantly impacted the movement of goods and people in and out of Gaza.
Gaza: Anatomy & Population
Gaza, comprising five districts: North Gaza, Gaza City, Deir al-Balah, Khan Yunis and Rafah, is home to approximately 2.1 million residents. Situated along the Mediterranean coast, the strip covers an area of around 365 square kilometres (141 square miles) and shares its borders with Israel and Egypt. The distance between Rafah in the south and Beit Hanoun in the north is only 41 kilometres (25 miles); the drive takes less than an hour.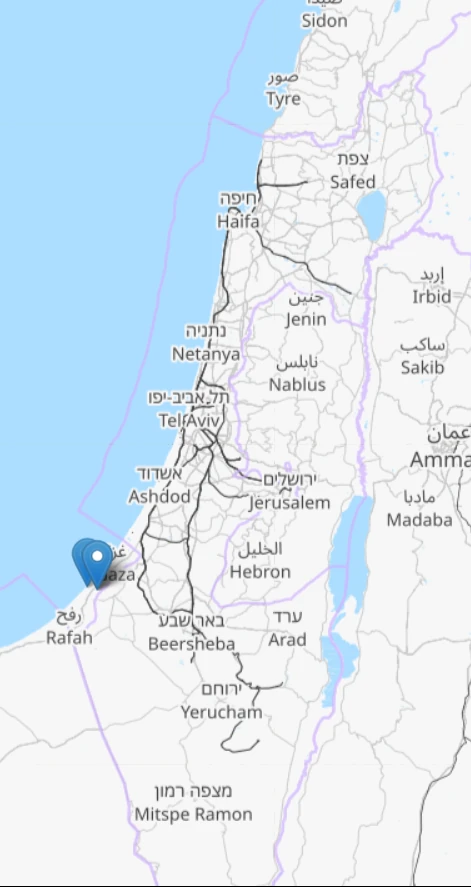 The North Gaza District
North Gaza district has a 10-kilometre (6-mile) border adjacent to Israel. The Gaza Strip is encircled by a robust fortified boundary featuring a concrete wall and double-wire fencing. Approaching within 1 kilometre (0.6 miles) of this barrier puts individuals at risk of being fired upon by the Israeli Army, responsible for patrolling Gaza's northern and eastern perimeters.
The Beit Hanoun crossing, referred to as 'Erez' by Israelis and under the management of the Israeli Army, serves as Gaza's sole northern entry point into Israel. At this crossing, Palestinians holding special permits, typically for urgent medical purposes, are granted permission to exit Gaza en route to such destinations as Jerusalem or the West Bank.
The largest refugee camp within the Gaza Strip lies in the North Gaza district. The Jabalia refugee camp occupies an area of 1.4 square kilometres (0.5 square miles). It is one of the most densely populated areas on the planet, with 114,000 people calling it home. It is one of several refugee camps in the region established to accommodate Palestinian refugees and their descendants who were displaced during and after the 1948 Arab-Israeli War. UNRWA, the United Nations Relief and Works Agency for Palestine Refugees in the Near East, set up these refugee camps to give shelter, services, and aid to Palestinian refugees.
The Gaza City District
In the Gaza Strip, Gaza City is the region's largest and most densely populated urban centre, boasting a population exceeding 700,000 residents. Notable neighbourhoods within the city include Rimal, Shujaiya and Tel-al-Hawa. Located in the heart of the Rimal neighbourhood, the Al-Shifa Hospital is the largest healthcare institution in the Gaza Strip.
In the vicinity of the hospital are various UN compounds, including those for UNRWA, the Office of the UN Special Coordinator for the Middle East Peace Process (UNSCO) and the UN Development Programme (UNDP). Additionally, within the Rimal neighbourhood can be accessed Gaza's prominent universities—such as the Islamic University of Gaza, Al-Azhar University and Al-Aqsa University, all situated just a short distance from each other.
The Deir el-Balah District
Named after the nearby "Monastery of the Date Palm," Deir el-Balah is a prominent centre of agricultural activity in the Gaza Strip.
The Gaza Strip's sole functioning power plant is near the district's border with Gaza City. Over the past decade, Gaza has grappled with persistent electricity shortages, significantly impacting its capacity to deliver crucial services—including healthcare, water and sanitation, manufacturing and agriculture. According to the UN, a mere 5 per cent of Gaza's water is deemed safe for consumption, and a staggering 68 per cent of its population faces food insecurity.
In 2005, about 8,000 Jewish people and Israeli soldiers lived in 21 communities in Gaza. They were asked to leave mainly because the then-Israeli Prime Minister, Ariel Sharon, decided that Israel should no longer control Gaza. These communities were mostly in a place called Khan Yunis. So, they were moved to other areas, such as the West Bank, as part of this decision.
In 1967, Israel took control of Gaza, and it claimed to have ended its occupation of the territory in 2005 when it withdrew its troops and settlers from there. However, according to international law, Gaza is still considered occupied because Israel maintains control over its borders, airspace and territorial waters. So, even though Israel withdrew its troops in 2005, it is still seen as having significant control over Gaza.
The Rafah District
Rafah, located in the southernmost part of Gaza, has over 250,000 residents. It is most renowned for the border crossing with Egypt, which shares its name. Israel and Egypt have mostly closed their borders, worsening the region's dire economic and humanitarian conditions.
In 2020, the Rafah and Erez crossing into Israel was accessible for just 125 days, as reported by the UN. Palestinians in Gaza who want to leave must request limited permits. The approval process can be lengthy, spanning weeks or even months, contingent on the border's status. People who pass through the Rafah crossing then face a six to eight-hour journey through the Sinai Desert. They encounter multiple Egyptian checkpoints along the way as they make their way to Cairo, which is approximately 400 kilometres (250 miles) from Rafah.
Additionally, Rafah has a second crossing into Egypt known as the Salah al-Din Gate, primarily used for transporting goods. The third crossing from Rafah is the Karem Abu Salem crossing, under Israeli control. Israelis commonly refer to it as Kerem Shalom. Gaza currently lacks operational airports because the Yasser Arafat International Airport, which opened just three years earlier in 1998, was bombed and destroyed by Israel in 2001.
Jerusalem City
Jerusalem is located approximately 100 kilometres (62 miles) from Gaza. However, the journey between the two places can take several hours due to stringent security measures. It is important to note that Jerusalem is a city in Israel and is a place of great religious and historical significance for multiple faiths—including Judaism, Christianity and Islam.
Judaism: Jerusalem is Judaism's holiest city. The Western Wall (Wailing Wall) is one of its most sacred sites, where Jewish prayers and rituals occur. The Temple Mount is also revered as the site of the First and Second Temples.
Christianity: Christians place special significance on Jerusalem. The crucifixion, burial, and resurrection locations of Jesus Christ are commemorated at the Church of the Holy Sepulchre. The traditional route that Jesus took on his way to his crucifixion is known as the Via Dolorosa.
Islam: Jerusalem is considered a third-holy city by Muslims. The Dome of the Rock stands on the Temple Mount, an important Islamic monument. Nearby, the Al-Aqsa Mosque is one of the holiest locations in Sunni Islam. During the Night Journey, the Prophet Mohammed supposedly travelled to the afterlife.
These religious connections make Jerusalem a central and revered place for believers of these three religions. It is a city with deep historical and spiritual significance for people worldwide.