At the 12th International Exhibition of Land and Naval Weapons (Defence Expo-22), held in the Indian city of Gandhinagar, a modernised Russian BMP-2M prototype is on display.
Specialists from India worked on this project, where the BMP-2M, which received the local name Sarath, is produced under a Russian license and the weapons partners are from Israel.
The land-based ATGM Spike LR has a range of up to 5,500 metres and operates in many modes. For instance, according to the "fire and forget" approach, it is also feasible to make adjustments throughout the projectile's flight, directing it into the most susceptible areas of the target. The delivery of commands occurs through fibre optic cable. ATGMs may finally strike targets based on pre-programmed coordinates.
The exceptional penetrability of the tandem warhead makes it possible to engage tanks with dynamic protection.
Loitering ammunition PALM-1250 is a special version of the heavier kamikaze drone HERO-1250 adapted for use with the BMP-2. They are made in a joint venture. It weighs 12 kg, while the warhead is 4.5 kg. The time spent in the air is up to 60 minutes. An electric motor is used, which creates less noise and thermal visibility.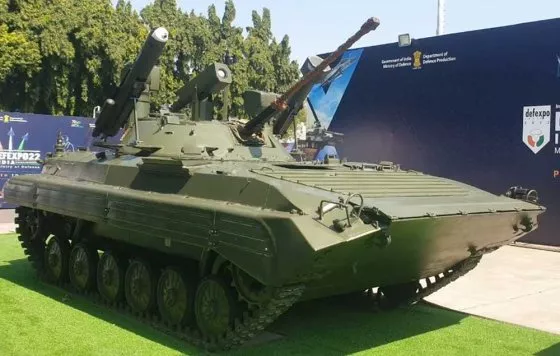 The BMP-2M is also equipped with an Israeli Rafael Samson II combat module with a 30-mm Mk44 Bushmaster II rapid-fire cannon.
It should be noted that these are not India's first efforts to modernise the BMP-2 independently. Previously, variations with improved combat modules, a fire control system with thermal imaging sights, a reworked undercarriage, a larger hull, and a more powerful engine have been exhibited. The advent of water cannons boosted the capability to overcome water impediments.
Indian Army BMP-2 Sarath IFV upgrade plans
 The Indian Ground Forces have begun testing modernised BMP-2 / BMP-2K Sarath infantry fighting vehicles built under a Russian license and have been in service since the late 1980s. Three domestic companies are participating in the trials: Bangalore-based Tonbo Imaging, Chennai-based Big Bang Boom, and Dimension NXG, headquartered in Thane.
The modernisation program is implemented as part of the initiative of the Ministry of Defense of India, "Innovations for Defense Excellence" (Innovations for Defense Excellence, iDEX). The armed forces plan to include "transparent armour", an anti-unmanned aerial vehicle (UAV) system, a gunner's thermal imaging sight and a commander's panoramic sight, a modern fire control system (FCS) and an automatic target tracking system in the modernisation package for the BMP fleet.
Tonbo Imaging successfully demonstrated the operating systems and was the first to participate in the iDEX competition since it already had an experimental prototype of the upgraded BMP. Trials began in the first half of September in Hyderabad.
One of the deficiencies of the in-service Indian BMP-2 is the absence of uncooled infrared sensors. The lack of uncooled infrared (IR) sensors renders the combat vehicle "blind." The Indian Army possesses around 2,000 BMP-2s without such equipment, and about 881 units are to be upgraded. For combat vehicles to be able to manoeuvre at night, so-called "transparent armour" is added, which affords the vehicle's crew a 360-degree field of vision. This technology boosts the vehicle's survivability and gives warfare an added edge. A company, Big Bang Boom, displayed a BMP-2 at Defence Expo 2022 with a transparent armour system that uses turret cameras and software to enable a better view of the battlefield. The company has also provided the commander with an eyeglass with a gyroscope, allowing him to see 360 degrees around the vehicle.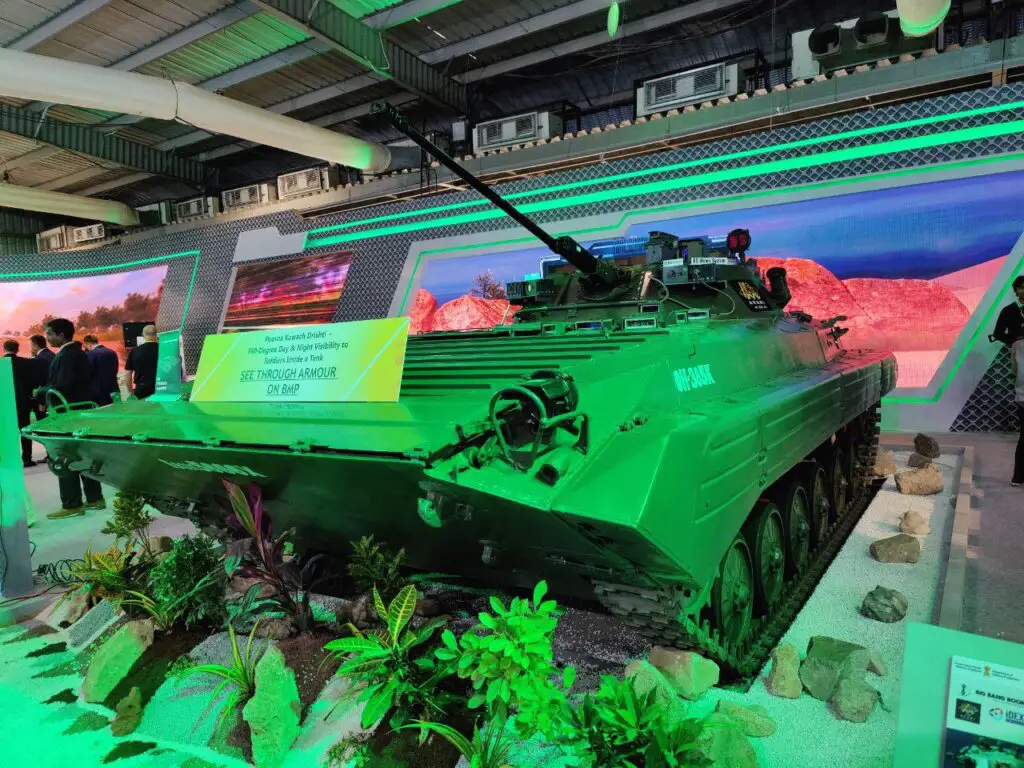 In 2020, representatives of the Indian Army said that their BMP-2s are "blind at night", and the aiming systems installed on them based on image intensification technology are "not suitable for modern warfare." 
Since small-sized UAVs began to pose a threat, it is necessary to equip the BMP-2 to combat drones. In India, weapons and optoelectronic systems are being developed for the BMP-2, which can be used to destroy unmanned aerial vehicles.
The prototype of the upgraded BMP-2 was first presented at the Indian exhibition DEFEXPO-2020.
Russian BMP-2
The infantry fighting vehicle BMP-2M is intended to equip motorised rifle units and boost the mobility, armament, and security of personnel working on the battlefield, even in the face of weapons of mass destruction.
Powered by a 300 horsepower engine, it is extremely mobile to fulfil all tactical mobility needs on the battlefield, travels at an astounding 65 kilometres per hour, and has effortless handling in cross-country terrain.
SARATH BMP-II is an amphibious vehicle that can go at 7 km/h on water, overcome slopes of up to 35 degrees, and traverse obstacles up to 0.7 metres in height. Due to its low weight, it can be carried by air relatively easily.
It is protected by armoured plates on all sides, providing a high level of protection for the soldiers. It provides chameleon-like concealment using smoke grenades to create a smoke screen.
The SARATH BMP-II can neutralise all forms of ground-based and low-flying military targets due to its rapid-fire 7.62 mm medium coaxial machine gun, 30 mm cannon, and anti-tank homing guided missile of second-generation.