On Tuesday, January 11, India tested an improved ship version of the Brahmos supersonic cruise missile intended for the country's navy. The upgraded missile was launched from the INS Visakhapatnam destroyer. 
"With the recent successful ship to ship firing of NG Brahmos with a range of 400 to 600 km from INS Visakhapatnam, a new and significant step forward in IN's quest for dominance in North Indian Ocean, Bay of Bengal and the Arabian Sea," said Cmde. Arun Kumar (Retd), the author of 'S71 INS Chakra – The Pioneers and Her Men' and a veteran submariner. 
Indian research outfit the Defence Research and Development Organisation (DRDO) has officially put the figure as 350 to 400 Km. "Advanced sea-to-sea variant of BrahMos supersonic cruise missile was tested from INS Visakhapatnam today. The missile hit the designated target ship precisely," DRDO release said.   
"With this capability, the IN surface fleet operating from off home ports or forward bases at the A&N Islands and operating in conjunction with air surveillance assets will have all the choke points at entrances in its area of operation as indicated above within striking range. This strength will constitute a strong deterrent for navies from extraterritorial regions making forays into IN's areas of interest, fraught with unacceptable risks. This capability, coupled with the SSNs and conventional boats armed with long range anti ship Klub missiles constitutes a strong force to execute sea control in the desired area. With further induction of indigenously constructed platforms in years to come, IN is well poised to act as a guarantor of peace, stability and safety if navigation in this area," said Cmde Arun. 
This is consequent to an Inter Governmental Agreement signed in Oct 2016 at Goa in the summit meeting.
INS Visakhapatnam
The Indian Navy (IN) received the first 163-meter Project 15B destroyer on October 28, 2021. The lead ship (in a series of four) was named Visakhapatnam (Visakhapatnam, pennant number D66). It is being built by Mazagon Docks Limited (MDL) in Mumbai.
Visakhapatnam was laid down in October 2013 and launched in April 2015. Officials expected the ship to be accepted into the Indian Navy as early as November 2021 but was delayed due to the COVID pandemic.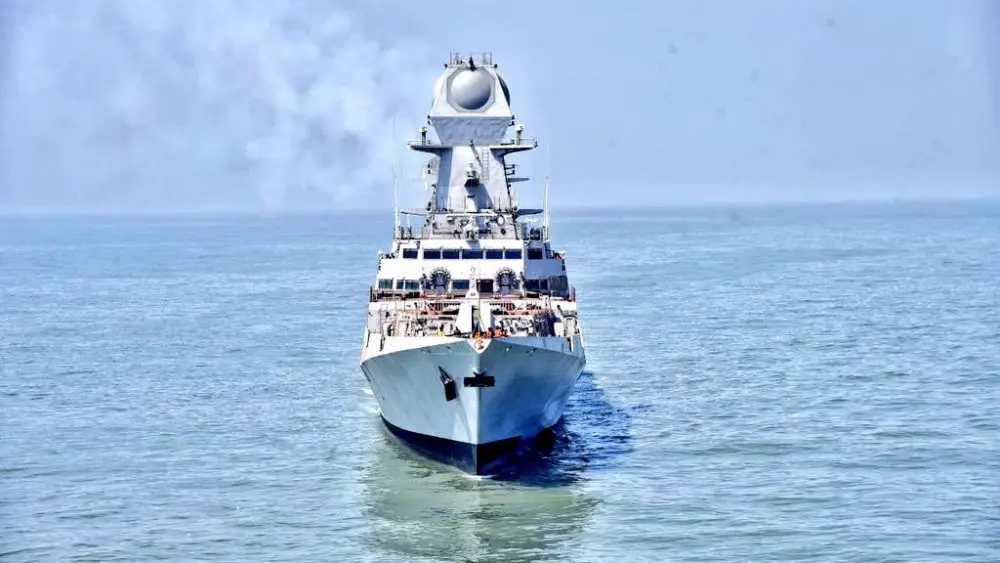 Visakhapatnam was developed by the Naval Design Bureau of the Indian Navy following the signing of a construction contract in January 2011. The design was carried out with the assistance of Russian specialists. As a result, the project received a modified superstructure, especially in the area of ​​the bridge.
Sister ships Mormugao and Imphal were launched in September 2016 and April 2019, respectively. The induction of these destroyers into the Navy is planned for 2022 and 2024. The last ship of project 15B, Porbandar, is to be launched in the current 2022 and commissioned in 2025. According to Western experts, the cost of each destroyer will be $1 billion.
Project 15B ships have a displacement of 7300 tons and is manned by a crew of 312 sailors. The ship class is a continuation of the destroyers of the Kolkata Class of project 15A, a series of three ships. The 15B project uses the same hull and propulsion system (four gas turbines) that provides a top speed of over 30 knots.
Armament includes 32 Barak 8 surface-to-air missiles in four sets of 8 cells of vertical launchers in the bow and stern, as well as 16 BrahMos anti-ship cruise missiles in two sets of 8 cells. A 76 mm Leonardo gun is installed in the bow of the ship (instead of the originally provided 127 mm gun). The last line of defense is provided by four AK-630 30-mm six-barreled automatic close combat naval gun mounts (CIWS). The destroyers also have two twin torpedo tubes and two RBU-6000 anti-submarine missile systems. The aft cockpit and hangar can accommodate up to two MH-60R helicopters.
The detection equipment includes the Elta EL / M-2248 MF-STAR S-band multifunctional radar with an active electronic scanning antenna (AESA), the Thales LW-08 D-band air search radar and the Bharat Electronics Limited (BEL) bow sonar HUMSA-NG. These devices are common to projects 15A and 15B. Other such equipment includes a BEL Nagin towed active antenna array, Shakti and Ajanta Mk 2 electronic warfare systems, Kavach Chaff launchers and Maareech torpedo countermeasures systems.