The country's premier defence research outfit, the DRDO, has announced a breakthrough in producing high-pressure compressor (HPC) discs through near-isothermal forging process.
"The DRDO established the near-isothermal forging technology to produce all the five stages of high-pressure compressor (HPC) discs out of difficult-to-deform, titanium alloy, using its unique 2000 MT (metric tonne) isothermal forge press," announced the Ministry of Defence (MoD) on Friday.
What is isothermal forging?
Isothermal forging is a type of creating metal parts with minimum deformities. In normal case, the metal to forge is usually at high temperature, but the die is at lower temperature leading to deformities in the final product resulting in additional process like machining. But metals like titanium are hard to machine and it makes sense to create the parts minimising the deformities. In isothermal forging, the die too is heated at a temperature close to the forging metal resulting in smoother finish which is a requirement in the plane engine.
What is DRDO's achievement in creating this technology?
DRDO's Hyderabad-based Defence Metallurgical Research Laboratory (DMRL) has developed complex titanium and nickel-based alloys that can withstand temperatures of more than 1,000 degrees Celsius which can be used to make the dies. DMRL has an isothermal forging press supplied by a German company called Wepuko PAHNKE GmbH. This is meant for research and development and not for mass production. Using this isothermal forge press DMRL & MIDHANI have jointly produced 200 HPC disc forgings pertaining to various compressor stages. These have been supplied to HAL's Engine Division in Bengaluru for fitting into the Adour 804/811 and 871 engines that power the Indian Air Force's Jaguar/Hawk Aircrafts.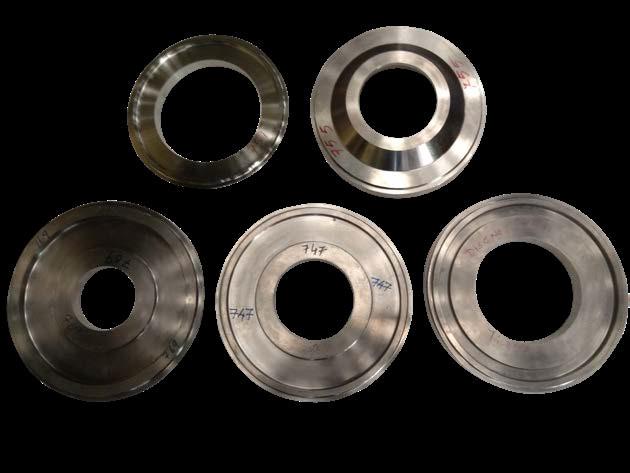 What is MIDHANI's role?

Mishra Dhatu Nigam (MIDHANI), the public sector metal maker has installed an isothermal forging machine in its complex where the HPC discs are produced. MIDHANI appointed Wepuko PAHNKE GmbH to convert its open die press to a closed die press. As per a presentation during an Transvalor International Simulation Days event in 2019, the MIDHANI isothermal forging dies achieved a temperature of 915 degree centigrade when the forge material temperature was 950 degree centigrade.
How does isothermal forging help Indian engine making capability?

India saves a lot of foreign exchange by producing  five-stage HPC discs which are required in large numbers and is a candidate for  indigenisation, a process which India has been undertaking for many decades.
How does Indian isothermal forging capability compares with the rest of the world?
The MIDHANI isothermal forging unit is of the capacity  2000 MT (metric tonne). Isothermal forging units exist around the world with up to 12000 MT capacity and are capable of producing larger parts.