German companies MBDA Deutschland, ESG Elektroniksystem – und Logistik-GmbH (ESG) and Krauss-Maffei Wegmann (KMW) are togehter developing "Future Long-Range Indirect Fire System" for the German Armed Forces. The Joint Fire Support Missile (JFS-M) unveiled at the ILA Berlin Air Show is modular artillery with a range of up to 499 km or 310 mi. It builds on the company's development of unmanned remote carriers for the European Future Combat Air System (FCAS). The project further expands and implements the JFS-M concept proposed by MBDA to the German Armed Forces.
Conducting fire at long range is and will be a key capability of any advanced armed force, as seen in the Russian Special operations in Ukraine, where infantry clashes are rare. In NATO countries, long-range fire control is mainly provided by the air force. Now, however, long-range weapons are being introduced to a greater extent by allied ground forces as well. The main advantage is flexibility, as there is no waiting for the air force and good weather and especially the ability to operate in areas with strong enemy air defense.
Just look at the deployment of HIMARS (High Mobility Artillery Rocket System) rocket launchers in Ukraine. As per the Ukrainians, within days, the HIMARS had destroyed an army staff and several large ammunition depots.
The GMLRS (Guided Multiple Launch Rocket System) missiles used in these attacks have a range of 85 kilometres. In addition, the introduction of the ER GMRS (Extended Range GMLRS) with a range of 150 kilometres and greater manoeuvrability is expected from next year. In 2025, Finland will induct the GM GMLRS.
In 2023, the MLRS / HIMARS rocket launchers will be equipped with a PrSM (Precision Strike Missile) with a range of at least 500 kilometres. HIMARS accommodates two MLRS and four PrSMs.
In all cases, these are guided missiles but flying on a predictable ballistic trajectory. This allows the enemy to use air defense to act against missiles and use artillery radars or other sensors and systems to detect the positions of rocket launchers and direct fire on them.
These challenges are solved by the JFS-M surface-to-air missile developed primarily for the needs of the Bundeswehr under the program Zukünftige System Indirektes Feuer großer Reichweite. The new guided missile is to be used with the artillery rocket systems MARS II/MLRS-E from KMW in the Bundeswehr and other platforms. In addition, ESG's existing command and weapon deployment system ADLER III is to be used. JFS-M has been adapted to fire from the rocket-pod containers of MLRS such as the M270 MLRS or High Mobility Artillery Rocket System or HIMARS.
According to the German portal Soldat und Technik, one "MLRS container" can hold three JFS-Ms. MLRS can carry, for example, three JFS-Ms and six classic GMLRSs. MLRS / HIMARS operators will be able to use ballistic missiles or missiles with a flat flight path.
The advantage of JFS-M is its low flight altitude and programmable flight path. The missile is thus able to avoid enemy air defenses, does not reveal the place of its launch and can fly around the areas where its own air forces operate. So, Allied helicopters and aircraft can operate between the rocket launcher and the target.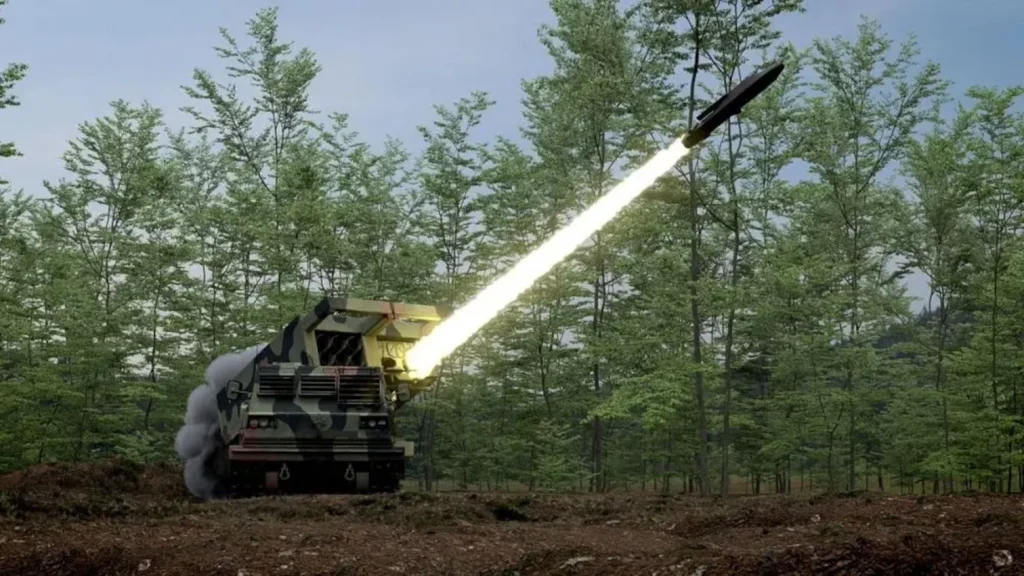 Due to the smaller dimensions and the use of the JFS-M jet engine, it allegedly costs much less than similar ballistic missiles. However, the condition for achieving an acceptable price is a sufficiently large series of production.
According to a press release, the range of JFS-M is up to 300 kilometres (prospectively 500 kilometres). The JFS-M is based on the RC100 jet drone from MBDA developed for the French-German FCAS (Future Combat Air System). The RC100 measures 1.8 meters in length and weighs 120 kilograms. However, the JFS-M will also receive an auxiliary launch missile block.
JFS-M is designed to destroy point or smaller targets, such as command posts, ammunition depots, fuel depots, but also radars, missile systems or air defense positions.
JFS-M guidance will provide satellite and inertial navigation, and an electro-optical sensor – a flight computer and machine learning systems, will allow, based on image information terrain, to determine the exact position of the missile and also automatically recognize and identify the target. There is also talk of using radars and electronic reconnaissance means. The manufacturer also declares a low radar and infrared trace of the missile.
The use of two-way data transmission is calculated – the missile can communicate with the rocket launcher, drones, aircraft and other missiles. For example, JFS-M can collect information during the flight and transmit it via drones or satellites, like Starlink, to other platforms and units.