Russian President Vladimir Putin and North Korean leader Kim Jong-un kicked off their five-hour summit on September 13 by taking a tour of the new Soyuz-2 space rocket launch facility located at the Vostochny Cosmodrome in the Amur region of the Russian Far East, likely discussing a wide range of possibilities in bilateral space-related cooperation. At the meeting, Putin expressed his satisfaction with the progress Russia had made in the field of space exploration.
While both leaders received a briefing regarding the ongoing assembly of a new Angara booster and were informed about the specifications of the Soyuz-2 launch vehicle, the BBC quoted Putin telling reporters that the DPRK leader had evinced keen interest in rocket engineering. During their visit, they explored the installation and testing facility, which included a fully modernised technical room designed to assemble the Angara rocket.
Curiosity Over Soyuz-2 Rocket
Even as Putin pointed out that, aside from the Vostochny and Plesetsk spaceports, Russia maintained its use of the Baikonur Cosmodrome for launching the Soyuz-2 rockets, Kim expressed curiosity about the attributes of the Soyuz rockets, particularly their engine capabilities. He was told that, when launched from the Vostochny Cosmodrome, the rocket had a lifting capacity of nine tons to low orbits.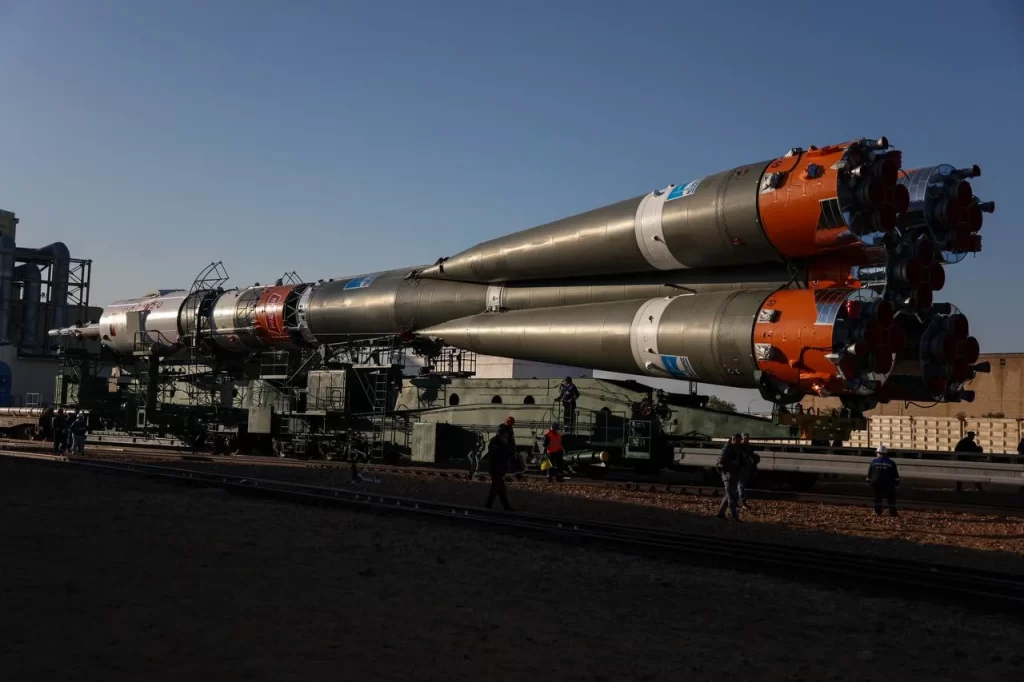 Putin emphasised that launching a rocket from the Vostochny Cosmodrome was more efficient when compared to launching from the Plesetsk or Baikonur spaceports. The building where they control the Soyuz-2 rocket can handle parts of the rocket falling on it. It is built with strong walls and a tough ceiling to keep people safe if something goes wrong during a launch. This is important for the safety of the personnel working there.
They fill the rocket's tanks with such fuel as oxygen, nitrogen, kerosene and naphthyl from special units that do not move. They have also decided to put the hoses for this process underground to make it safer. The entire Soyuz-2 complex area is 25,000 square metres.
Soyuz-2 Rocket Specifications
Soyuz-2 is a family of rockets with three medium-size stages. They were created and made by the Progress Rocket Space Centre in Samara, Russia. The Soyuz-2 rocket family also has a smaller version called the Soyuz-2.1v, which has two stages instead of three. It is designed for launching lighter payloads into space.
The Soyuz-2 rocket is famous worldwide because it is very dependable, can perform many different missions, and is really good at putting things in the right orbit in space. It is the main rocket for sending people to the International Space Station (ISS).
The Angara Rocket Programme
"Angara" is a series of modern Russian rockets designed with interchangeable modules powered by oxygen-kerosene engines to accommodate different payloads. This rocket family covers a range of classes—from light to heavy, capable of carrying payloads varying from 3.5 tons (Angara-1.2) to 38 tons (Angara-A5V) in low-Earth orbit. Importantly, the Angara rocket employs non-aggressive and non-toxic fuel components, contributing significantly to enhanced environmental safety, both around the launch site and in the regions where the used rocket parts fall back to Earth.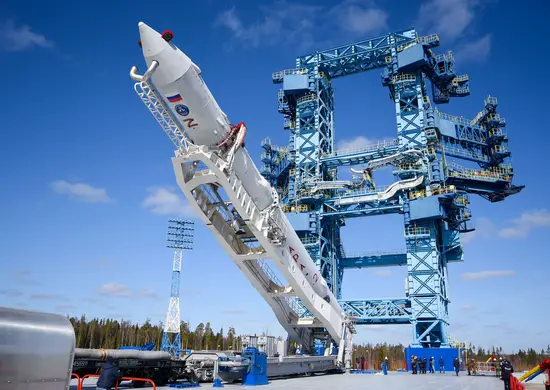 The construction of a launch pad for Angara rockets at the Vostochny Cosmodrome is nearing completion. This facility will enable scientists to carry out programmes for exploring the solar system and beyond it. Yury Borisov, head of Russia's space agency, Roscosmos, had earlier stated that the launch facility for Angara rockets would become operational by the end of this year. The facility spans 270 acres and consists of a 28-metre-tall launch structure, a command centre and oxygen, nitrogen and naphthyl processing units, and water storage tanks.
The 2 Main Russian SpacePorts
Vostochny and Plesetsk are the two main spaceports in Russia that launch rockets and satellites into orbit.
Vostochny Spaceport
Vostochny is a new and modern spaceport located in the Far East of Russia, near the border with China. It was built to reduce Russia's dependence on the Baikonur Cosmodrome in Kazakhstan, which was leased from the former Soviet republic. Vostochny has been operational since 2016 and has hosted several launches of the Soyuz rocket family, as well as the failed attempt to send the Luna-25 moon spacecraft in 2023.
Plesetsk Spaceport
Plesetsk is an older, more established spaceport near the Arctic Circle north of Russia. It was initially a secret military base for launching intercontinental ballistic missiles but was later converted into a civilian spaceport. Plesetsk has been operational since 1959 and has hosted many launches of various rocket families—such as Vostok, Molniya, Rokot and Angara. Plesetsk is also the most active spaceport in Russia, having launched more than 1,750 rockets as of 2023.
Vostochny and Plesetsk are important assets for Russia's space program, as they offer different advantages and capabilities for launching various missions.
For launching rockets to low-Earth orbit (LEO), Vostochny Cosmodrome is considered more efficient because of its location, modern facilities and lower position on the Earth's surface. Being in the Russian Far East, it is in a prime location for launching rockets into specific orbits—such as polar or sun-synchronous ones. It also has the advantage of having newer and more advanced infrastructure, making it capable of handling advanced rockets and payloads. Besides, its lower latitude means it needs less energy to reach certain orbits, making it more fuel-efficient. Moreover, using multiple spaceports, including Vostochny, reduces Russia's reliance on just one, which is strategically advantageous.
Why DPRK's Interest in Space?
Rockets used for satellite launches have an uncanny similarity with nuclear payload launches by intercontinental ballistic missiles (ICBMs). While launch vehicles put satellites into orbit, suborbital ICBMs release payloads that fall back to Earth on ballistic trajectories. With its ambitious nuclear weapons programme, North Korea may want to improve its delivery systems, which is why it is interested in Russia's space programme.
Two attempts by the secretive state to launch spy satellites in the past four months may be an added impetus. The country has vowed to build a third spy satellite in October this year. At a major political meeting in 2021, Kim had promised to develop spy satellites among many advanced weapons systems. The presence of Pak Thae-song, chairman of the DPRK's space science and technology committee in charge of the spy satellite project among the North Korean delegation to Russia, is a possible indicator that Kim is looking for Russian assistance in developing such systems.
A Russian-assisted satellite programme would be paramount to the country since images transmitted from space can accurately determine enemy positions, movements and on-ground battlefield activities of countries inimical, bolstering its defence strategies.
Speculation was also rife that the two leaders discussed the possibility of sending a North Korean cosmonaut into space. Author-reporter Anatoly Zak, head of the RussianSpaceWeb website, tweeted that a short-duration orbital joint crewed mission on a Russian Soyuz spacecraft was an unconfirmed possibility, although common sense says that the USS and its ISS partners would strongly oppose the move.