The Polish Navy will receive new submarines, said Deputy Prime Minister and Minister of National Defence Mariusz Baszczak on May 24 during the Defence24 Day conference. He noted that Poland had started implementing the Orka plan. Baszczak said that by year's end, Poland plans to purchase submarines and transfer the required technologies it expects to acquire through an offset order. 
He also said the ministry would soon disclose details on the submarine fleet's size, capabilities, and equipment. Poland wants its submarines to be able to go on long missions, carry lots of weapons, and be easily reconfigured. Furthermore, they should be able to move swiftly and secretly at high speeds while remaining submerged for long periods. In addition to torpedoes, the minister says these subs should carry manoeuvrable missiles that may be launched underwater and used to strike deep into the aggressor's territory.
Colonel Krzysztof Patek, a spokesman for the Armament Agency, was interviewed by PAP and asked about the purpose and capabilities of the proposed submarines. The primary function of the submarines will be to guard vital communication lines from enemy vessels, as seen from the so-called "green water" perspective (the Baltic Sea region). They can also be put to service in more conventional defence tasks, such as fending off an invasion. However, as the officer pointed out, they can also conduct offensive operations by limiting the enemy's freedom of movement.
He also made the point that submarines can be used to covertly track the movements of hostile ships and collect valuable intelligence. If the submarines were to operate in the ocean, or "blue water," as Colonel Patek put it, they could launch stealth missiles from below the sea's surface and conduct a secret strike anywhere in the world at any time.
What sorts of features should submarines have?
The ability to execute effective and unexpected counterattacks, or "fangs," as he described them, is crucial for deterring the opponent. He also stressed that long-range, long-endurance submarines could use torpedoes to undertake hunting operations and "search" for hostile units in far-flung operational locations.
Submarines can transport special forces, as was described by Colonel Patek, and they can undertake any assignment involving alliance collaboration. This includes NATO operations involving submarine fleets or fleet formation coverage teams. He pointed out that aircraft carriers have both surface ships and submarines protecting them against the latter.
Nuclear propulsion cannot be ruled out
The goal, according to the Armament Agency's spokesperson when asked about the range of the submarines Poland plans to acquire, is to purchase submarines with the longest range possible and the ability to remain submerged for lengthy periods. The newest innovations in Air-Independent Propulsion (AIP) systems for conventional systems are under consideration. However, nuclear propulsion alternatives must be considered because of their range of maritime possibilities. He said nothing would be done unless funds became available and the Polish Navy's ultimate demands were determined.
The acquisition of new submarines has long been expected as part of the strategy for technical modernisation. Plans for technical modernisation from 2013 to 2022, 2017 to 2026, and 2021 to 2035 all made the Orka project a top priority.
Initially, the Orka initiative was expected to cost the Ministry of National Defence around 10 billion PLN, and three to four new submarines were planned to be acquired. It has been said that Poland intends to buy modern submarines with long-range manoeuvring missiles.
The Polish armed forces only have one submarine, the ORP Orze (Kilo Class), constructed in the Soviet Union and entered service with the Polish military in the mid-1980s. In addition, the Type-207 Norwegian Kobben class small submarines (customised German Type 205 submarine) that the Polish Navy has used since 2002 have been retired.
It should be noted that the Polish Ministry of Defence contemplated purchasing two Swedish-flagged "Sodermanland"-class submarines in 2019.
The Possible Competitors
To briefly review, the Orka programme was initiated in the early 2000s to replace the four Kobben-class submarines that Norway had acquired. Naval Group (known as DCNS at the time), German TKMS, and Swedish Kockums were all interested in the business opportunity worth around €2.4 billion.
Additionally, the French Naval organisation had put itself in a winning position by entering into industrial cooperation agreements with the MARS-Nauta shipyard and the Polska Grupa Zbrojeniowa (PGZ) public defence organisation. In addition, the French business promised that Scorpene would be able to fire the Naval Cruise Missile and that there would be a total of 2,000 new jobs created in Poland due to the project.
Florence Parly, who became the French Ministry of Defence minister in 2017, put negotiations with Poland over the possible sale of three conventionally powered Scorpene Class submarines, one of her top priorities. The next step was to satisfy Poland's demand that its three units be given the means to transport cruise missiles.
Baszczak, however, is not under any illusions, as he also stated that he had "observed the Australian bidding model" for submarines, which is not necessarily a good sign "when you know how it ended".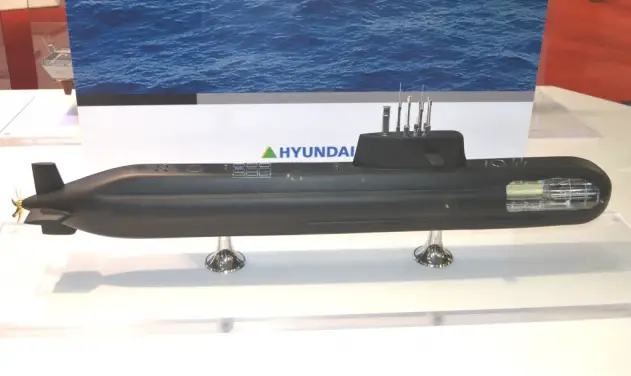 Baszczak stated that manufacturers from Europe and outside Europe would be allowed to submit plans. Hanwha Ocean [formerly Daewoo Shipbuilding & Marine Engineering] and Hyundai Heavy Industries, South Korean manufacturers of the "Dosan Ahn Changho" Class submarine (a modification of HDW Type 214), could compete with Naval Group, ThyssenKrupp Marine Systems, and Kockums. The Korean submarine has six Vertical Launch Systems [VLS] for firing "Hyunmoo 4" surface-to-sea ballistic missiles. It is not unimaginable that Korea will emerge victorious given the contacts that Warsaw has established with Seoul in the armaments business, including F/A-50 light combat aircraft, K-2 Black Panther tanks, K-9 Thunder howitzers, and several K239 "Chunmoo" rocket launchers.