Spencer Elden, who was pictured as a baby on the cover of the iconic Nirvana album 'Nevermind', filed a lawsuit in Los Angeles on Tuesday, claiming that he was sexually exploited as a child. The cover was released 30 years before and shows the image of a naked baby in the water of a swimming pool: in front of the 4-month-old baby, the image of a dollar bill tied to a hook was inserted.
As per a CBS report, Spencer Elden, now in his 30s, claims that Kurt Cobain's band – with record companies, directors, and photographers – violated federal child pornography laws and caused him permanent damage. Each of the 17 people called into question is asked for compensation of $ 150,000.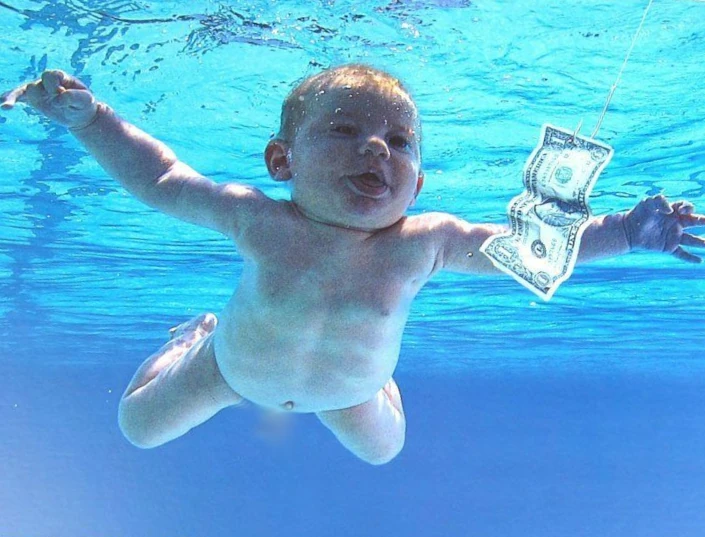 Elden believes that his "identity and name are forever linked to the commercial sexual exploitation" that he was forced to experience "as a child". In essence, damage suffered "from when he was a child until today", according to the documents filed with the Federal Court in Los Angeles. The subjects cited, starting with the living members of the band, Dave Grohl and Krist Novoselic, are accused of having "produced and marketed the image" without taking steps "to protect Spencer and avoid widespread sexual exploitation" of the image itself.
The child's parents have not signed a release authorizing the use of their son's image. CBS writes that the record company Geffen Records initially shipped 46,521 copies of Nevermind to retailers, hoping to sell a total of 200,000 copies of the album. The album has surpassed 30 million copies sold.