It has been 35 years since the Indo-Sri Lanka Peace Accord was signed between India and Sri Lanka in July 1987, which catapulted the Armed Forces into a neighbouring country without thought, planning or preparation. 
In nearly three years of intense military operations, the Armed Forces suffered over 1200 KIA (Killed in Action) and 3000 seriously injured. None of our KIA was brought home to their motherland but was consigned to ashes on the Island itself or buried there, many in unmarked graves. 
"Our's is not to reason why,
But to just do and die !"
I was just a Major when I was asked to report to HQ 41 Infantry Brigade in February 1988 at Jaffna Fort. Although we were called the Indian Peace Keeping Force (IPKF), in reality, we were not. We did not question it then and just followed orders, conducting our daily operations with complete determination and effort. There was a job to be done, and the level of engagement was high. The daily operations were relentless, and our formation headquarters kept up the pressure to dominate our area of responsibility and keep the LTTE on the run. Our initial casualties were high because troops were not trained for guerilla warfare. We were, in fact, training to fight a regular armed force if the need arose when the Accord was signed, changing the entire complexion of the planned military operations. 
When a country goes to war, all government resources are pooled to work for the common war effort and support the military effort. We did not know it then, but in Operation Pawan, sadly, it was not so. The central intelligence agencies R&AW and IB were working on a different wavelength and were in constant touch with the LTTE leadership! The Tamil Nadu Government was hostile to our own military, and the state was a safe haven for many injured militants under treatment. Our mounting base was Chennai, where there was no support from the State Government. It was difficult to understand how our then Prime Minister, Rajiv Gandhi, fell to the guile of Sri Lanka President Jayawardene and agreed to help prop up his Government. Our Prime Minister disregarded the centuries-old historical and cultural ties between the Tamils of Sri Lanka and the people of Tamil Nadu. He also misjudged the tenacity and preparedness of the Tamil Tigers under Vellupillai Prabhakaran. That they were not even made signatories to the Accord was a big blow to their faith in the Indian political leadership. The Prime Minister's eagerness to please the Tamil electorate with a swift accord which would end all strife was bad judgement. And to cap it all, our military assessment of the situation was grossly wrong in our eagerness to please the political leadership. We blundered in with an ill-prepared division size force and kept compounding our mistakes.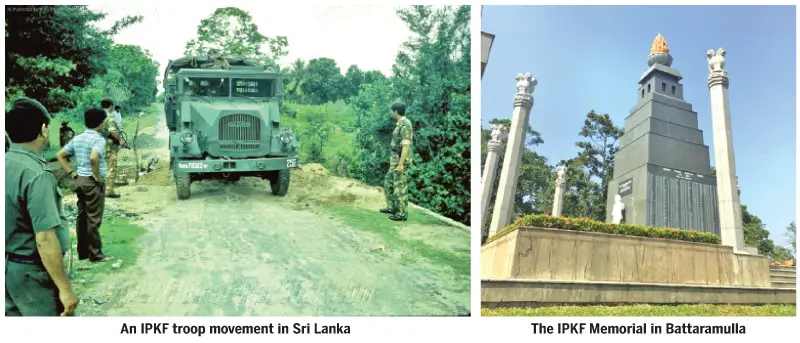 This did not deter us at all because we were not privy to it then. We did our job as we know best throughout the nearly three years of intense conflict. Units learnt to operate in the harsh jungles of the Vanni forests and beat the LTTE at their own game. First, we cleared the Jaffna peninsula and then dominated the areas of Mullaitivu, Mannar, Vavuniya, Trincomalee and Batticaloa. To say that we fought with one hand tied behind our backs is an understatement. We did not use our full military might to keep civilian casualties down. The Sri Lankan Army was confined to its barracks and did not contribute in any way to the operations as outlined in the Accord. We performed very well in spite of this and waged a successful war as we knew best. The results were there for the world to see. 
The IPKF suffered many casualties throughout the nearly three-year war, mainly due to the militants' hit-and-run tactics and jungle terrain. Unfortunately, all KIA were either cremated or buried there. The souls of over 1200 officers and soldiers are still on that Emerald Isle. Though our units fought well, in the finest traditions of the Indian Army, we returned home to a silent Nation. Why has our leadership abandoned us? We did not ask any questions when we were despatched to fight this war in another land. At the hour of our return to our country, our Government remained a mute spectator. 
Today, even 35 years later, we IPKF veterans who fought shoulder to shoulder on that Island stand alone in remembering our soldiers who were left on the Island. Just as our Nation honours all our soldiers who made the supreme sacrifice for our country, these valiant men need to be remembered and honoured so that they did not die in vain. 
The Government gave us orders, and we never let them down. Those 1200 soldiers will know peace only when their souls find eternal solace in our motherland. Sri Lanka built an IPKF memorial to honour our valiant soldiers who made the supreme sacrifice. But our own country has not done so. Just like we celebrate short wars like Kargil or the historic 14-day war of 1971, Operation Pawan too is a celebration of a successful and long-drawn-out military operation. If the US honours its Vietnam veterans even to this day, what stops my country from doing so? Our troops fought in the highest traditions of our Armed Forces, with valour and grit, under very trying circumstances. Let us commemorate their valour by dedicating a day to honour and remember their sacrifices. 
A dedicated group of Op Pawan veterans got together two years ago to revive their battle accounts and to enable the present dispensation to commemorate Operation Pawan and honour those who made the supreme sacrifice and whose mortal remains were cremated on the Island itself or lie buried there, many in unmarked graves. We hope that their pleas are heard and requests granted. The Nation owes it to them.