Ordnance Factory Varangaon, a small arms manufacturing factory under Ordnance Factory Board (OFB), Ministry of Defence (MoD), Govt of India, has installed a Manufacturing execution system (MES) to monitor productivity and quality. Product life-cycle management (PLM), Enterprise Resource Planning (ERP) and MES are being used for integrated modern production management.
The OFB MES incorporates Digital Industry 4.0 systems or the Fourth Industrial Revolution which refers to the latest standards in organization and control of the industrial value chain.  
OFB products including ammunition are under frequent criticism from its users, the Indian Armed Forces, for quality. The OFB has taken steps to rectify the quality issues and the number of complaints has been reduced as per OFB's online Customer Complaint Monitoring System (CCMS). In addition to CCMS, OFB has also implemented an Internal Complaint Monitoring System (ICCMS).  The quality assurance personnel have also been employed at various levels including Quality Patron, Quality Sherpa, Quality Marshall and Quality Guide.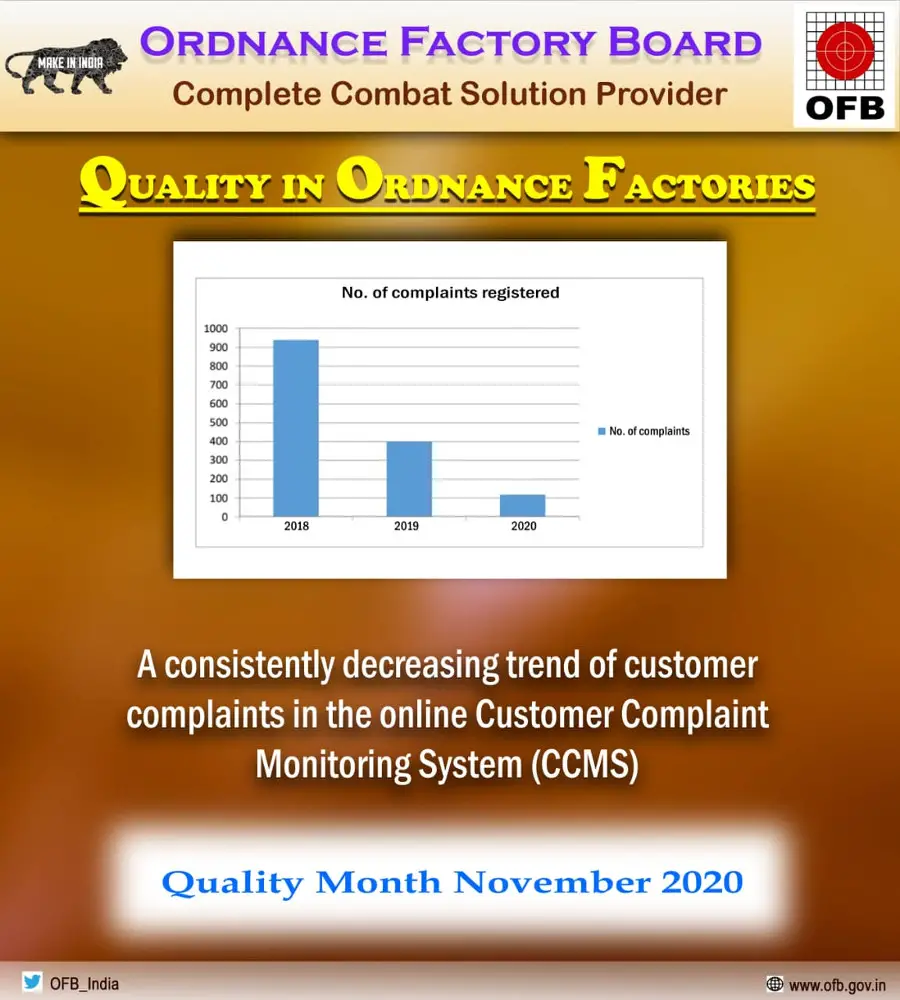 OFB Varangaon is scheduled to supply 5.56*45 mm North Atlantic Treaty Organization (NATO) MI93 Ball ammunition to the US civilian market. The 5.56*45 mm NATO MI93 Ball ammunition is an intermediate cartridge bullet since it is shorter than battle rifle cartridges but has higher length than civilian or personal weapon cartridges.
The Kolkata headquartered Indian Ordnance Factories Organisation consists of 41 Ordnance Factories producing various equipment for the Indian Army, Indian Navy and the Indian Air Force. In 2017, the MoD directed the OFB to formulate a Standard Operating Procedure (SOP) on quality Policy in association with the Director-General Quality Assurance (DGQA) and in consultation with all the stakeholders. As per the directive, a 'Quality Management System in Ordnance Factories' was evolved.
Spread over 3037 acres, OFB Varangaonis located about 20 km from Bhusawal which is on the northside of Mumbai-Nagpur Highway No. 46. OFB Varangaon manufactures 5.56mm cartridges for INSAS rifles, 7.62mm cartridges, A-7 Ammonution and 12.7mm Ammonutions.