Myanmar (formerly Burm) opposition news source "Narinjara News" published an article titled "Pakistan fails to find a solution to Myanmar's military junta's JF-17 nightmare" that discusses issues within the Myanmar Air Force regarding the acquisition of Chinese-Pakistani produced JF-17M Thunder fighter jets. Myanmar became the first foreign country to acquire the lightweight JF-17 (FC-1) fighter. While the apparent bias of the publisher must be taken into account when reading this material, there have been repeated reports of severe technical issues with JF-17 aircraft operated by the Myanmar Air Force. It is also important to note that, according to some reports, airframe defects and durability issues have plagued Pakistan Air Force JF-17 aircraft.
According to the article, tensions have arisen between Islamabad and Naypyidaw over the recent delivery of JF-17 fighter aircraft to Myanmar.
The article states that Min Aung Hlaing, the leader of Myanmar's military junta, expressed his displeasure with Pakistan's Prime Minister Shehbaz Sharif and the Chief of the Pakistan Army Staff, General Asim Munir because all JF-17 Thunder aircraft that Pakistan supplied to Myanmar from 2019 to 2021 were deemed "non-operational." In 2018, Myanmar received its first JF-17M fighter aircraft.
Due to technical malfunctions, recently acquired multirole JF-17 Thunder bombers have been grounded. Myanmar's military junta signed an agreement in 2016 to procure JF-17s jointly manufactured by Pakistan Aeronautical Complex (PAC) and Chengdu Aircraft Industries Corporation.
Shortly after receiving these aircraft, the Myanmar Air Force was compelled to suspend flight operations due to defects and structural issues with the airframe. In 2022, an identical problem arose with the aircraft fleet. There are eleven JF-17 fighter aircraft in the nation, but they are presently inoperable due to technical issues.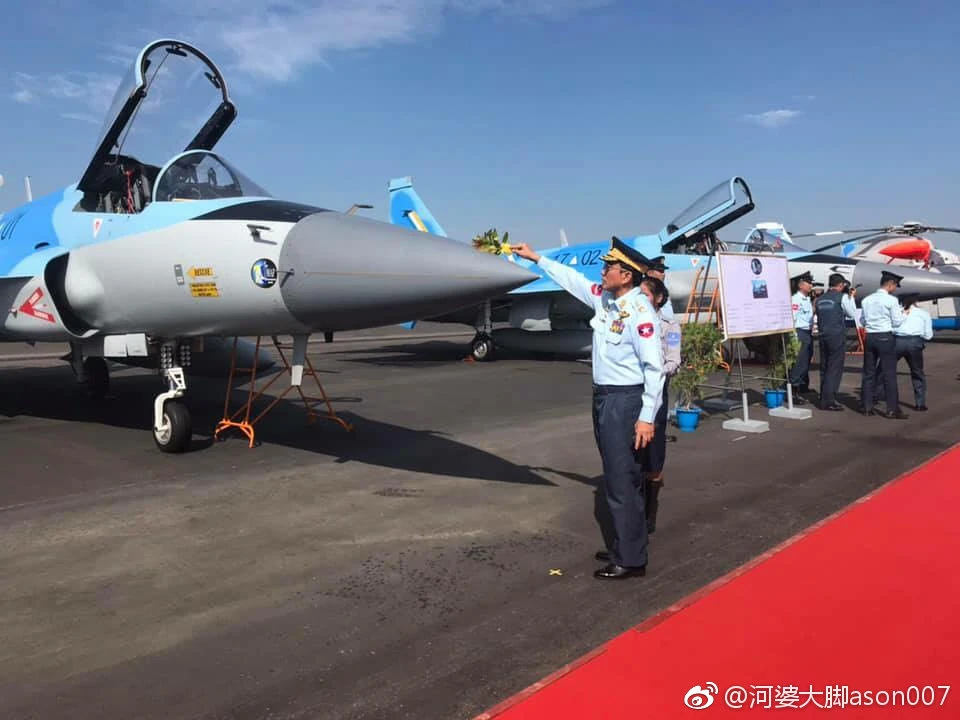 In September 2022, Pakistani aeronautical engineers secretly visited Myanmar and unsuccessfully attempted to resolve the problems. According to sources, the military junta is now incensed and has sent a "stern message" to Islamabad demanding accountability for the situation.
Concurrently, the junta is pressuring Beijing to intervene. A message from the top leadership of the Chinese Communist Party to General Min Aung Hlaing prompted the recent visit of the Chinese ambassador to Myanmar in Naypyidaw.
Pakistani versions of JF-17 Thunder aircraft are built with a Chinese airframe, a Russian Klimov RD-93 engine, and Western avionics, resulting in higher operating and maintenance costs than other modern weapon systems.
After repairs, JF-17 aircraft, according to international aerospace experts, will be "challenging to operate" even with the requisite technical expertise. This implies that Myanmar's Air Force requires technical problem-solving specialists. The military junta had intended to dispatch its technical experts to Islamabad for modernisation and technical maintenance training, but these plans have been put on hold.
The Chinese-made KLJ-7A1 radar, which, according to the experts, does not provide effective air target detection or the use of medium-range "air-to-air" missiles, is one of the JF-17 aircraft's other critical features. According to one expert, this radar's lack of precision renders it ineffective. In addition, there are "other difficulties," such as the aircraft fuselage's inability to withstand overloads.
Myanmar's junta significantly relies on the power of its aviation, using the Myanmar Air Force to deliver strikes against ethnic armed revolutionary organisations and the civilian population. They are negotiating with China and Pakistan for assistance in improving the capability of "air-to-surface" missiles used on JF-17 aircraft. Even though the military junta has spent billions of dollars on this endeavour, it is not a straightforward process.
Sources indicate Pakistan is trying to renegotiate a contract for new JF-17 variants. These new variants will presumably be developed by the same partnership between Pakistan Aeronautical Complex (PAC) and the Chinese company Chengdu Aircraft Industries Corporation.
There have been no reports that suggest whether or not the military regime in Myanmar has approved this new proposal as of yet. According to informed sources, the military junta is extremely dissatisfied because the inability to use these aircraft thwarts the majority of its plans to increase airpower for delivering precision strikes against Myanmar resistance forces operating under the banner of the People's Defence Force (PDF), the armed wing of the NUG.
Following the crisis caused by the JF-17 aircraft's malfunction in Myanmar, Pakistan's efforts to sell this aircraft to other nations, particularly Latin America, have stalled.
As a result of Myanmar's military junta's refusal to engage in new negotiations to purchase aircraft from Pakistan, other nations are unwilling to collaborate with Pakistan.
In addition to Myanmar, Nigeria is known to operate 3 JF-17 aircraft. Argentina is one of the few nations that has so far declined to acquire JF-17 aircraft from China or Pakistan.