Sweden and Poland are negotiating the sale of the GlobalEye Airborne Early Warning and Control (AEW&C) aircraft. These aircraft will allow Poland to detect, monitor, and target low-flying objects like Russian cruise missiles. However, GlobalEye provides much more than that; it is a multiplier of combat capabilities for air, land, and sea units.
Poland has a relatively concentrated ground-based radar network. In optimal conditions, however, each radar can detect a missile flying at 100 metres in altitude at a range of approximately 50 kilometres. This is because of the radar horizon, terrain's topography, artificial obstructions, and other impeding or limiting factors. KH-55, a Russian cruise missile with a low-altitude trajectory, flew across the Polish-Belarusian boundary in December 2022 and crashed in central Poland near Warsaw. The missile's remains were discovered in mid-April. Polish radars detected the Kh-55 missile but could not accurately track it or ascertain its position, flight direction, or impact site.
The issue of detecting low-flying targets can be resolved by increasing the radar network's density on the ground. However, the most effective solution is to place radars on an airborne platform, such as aerostats or aircraft, such as AEW&C (Airborne Early Warning and Control) platforms. AWACS (Airborne Warning and Control System) aircraft, specifically the E-3 Sentry equipped with a rotating radar enclosed in a distinctive circular radome, operate around the eastern NATO border.
Poland has discussed the need for AWACS for many years, but concrete purchase plans have yet to be presented. A few days ago, Polish Defence Minister Mariusz Blaszczak announced ongoing negotiations with the Swedish corporation SAAB to purchase GlobalEye aircraft. The acquisition is directly related to the case of the lost KH-55 missile and the exposure of Polish air defence weaknesses.
At a Northern Group forum meeting, Polish Defence Minister Mariusz Blaszczak announced publicly for the first time that Poland has made significant progress in acquiring early warning aircraft from Sweden. The nation is currently engaged in extensive negotiations. He anticipated it would be successful quickly. Founded and led by the United Kingdom, this discussion forum focuses on security and defence issues in Northern Europe. The Netherlands, Germany, Poland, Denmark, Finland, Iceland, Norway, Sweden, Estonia, Lithuania, and Latvia are additional members.
The number of aircraft sought was not disclosed, but there is speculation that at least four aircraft will be required. This would enable the deployment of at least one aircraft long-term.
GlobalEye's primary sensor is the non-rotating Erieye ER (Extended Range) radar, a form of AESA (Active Electronically Scanned Array) radar concealed beneath an eight-meter-long radome. The Erieye radar also employs the unique Brazilian aircraft R-99, which is built on the Embraer ERJ 145 platform.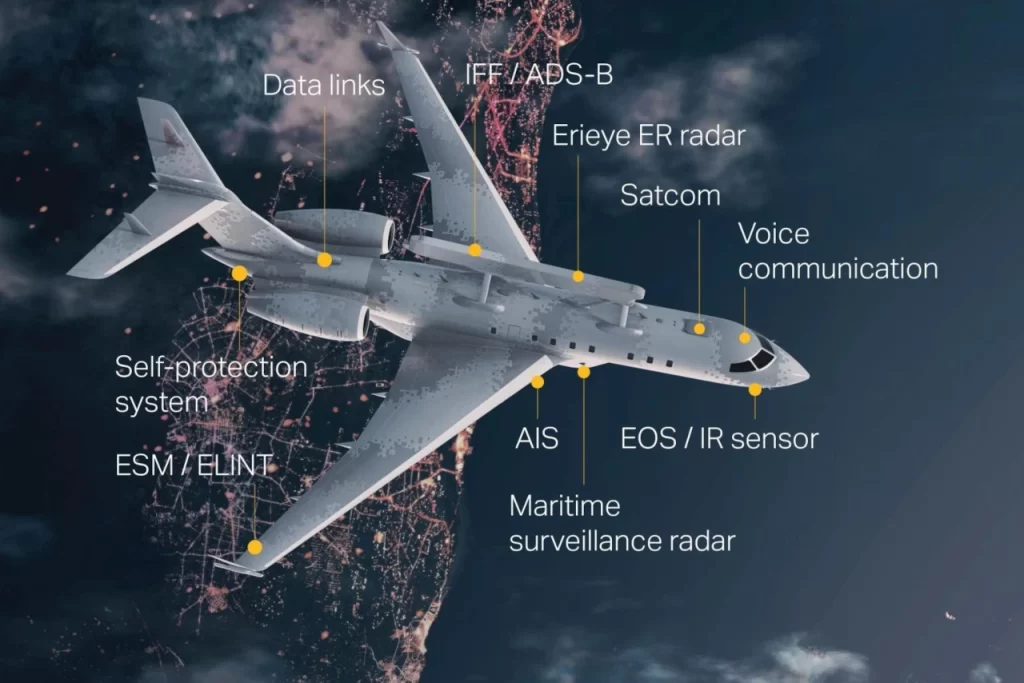 The GlobalEye aircraft is equipped with several additional sophisticated sensors. The GlobalEye sensors include the Star Safire 380HD electro-optical sensor, electronic surveillance/countermeasures systems, an Identification Friend or Foe (IFF) transponder, an Automatic Dependent Surveillance-Broadcast (ADS-B) receiver for aircraft positional/identification signals, an Automatic Identification System (AIS) for ship positional/identification signals, and self-protection capabilities. However, it is up to the customer to decide whether additional sensors are necessary.
The essential component is the Erieye ER radar, which reportedly has an instrumented range of 450 kilometres, although some sources cite 550 or even 650 kilometres. However, it's capacity to detect a target the size of a fighter aircraft is likely to be around 400 kilometres, and for cruise missiles, "a few hundred kilometres." The precise capabilities of the radar are classified.
Likewise essential is the Seaspray 7500E radar. It is a Synthetic Aperture Radar (SAR) capable of Ground Moving Target Indication (GMTI). Seaspray can generate radar images of the Earth's surface and objects (such as combat vehicles) and track moving vehicles (car-sized and larger) using the GMTI mode.
GlobalEye is an effective tool for detecting ships at sea. Its radar apparatus can even detect a submerged submarine's periscope. GlobalEye can detect periscopes and other small surface objects up to 150 kilometres away, such as water scooters.
The Polish GlobalEye could fly along the Belarusian-Polish or Lithuanian-Belarusian border and monitor the entire Belarus airspace. It could also monitor the movement of armoured vehicles at least tens of kilometres into Belarusian territory.
Therefore, GlobalEye substantially improves the Polish Air Defence capabilities and provides the Polish command with an overall situational awareness of what is occurring in the airspace and on the ground in Kaliningrad, Belarus, Ukraine, and the Baltic Sea.
The GlobalEye system can be deployed on numerous aircraft types. The initial implementation of GlobalEye was on the Saab 340 turboprop aircraft. The platform for the United Arab Emirates fleet is the Bombardier Global 6000 aircraft. The UAE has ordered five planes. Last year, Sweden also ordered two Global 6000-based aircraft (with an option for two more) for delivery in 2027. Poland will presumably choose the proven Global 6000 aircraft as the third customer.
GlobalEye's endurance on the Global 6000 platform is up to 11 hours. Additionally, the smaller dimension of the business jet permits its use at smaller regional airports.
GlobalEye is being proposed to NATO as a potential replacement for the organization's current fleet of 14 E-3 Sentry planes as part of the Alliance Future Surveillance and Control (AFSC) programme. The E-7 Wedgetail, which is a more powerful aircraft, is one of the aircraft's competitors.