German company Rheinmetall has just introduced the latest addition to the next-generation Lynx family of combat vehicles. The technology group based in Düsseldorf has developed a variant of mechanized fire support of the Lynx KF 41 armoured vehicles. This new variant offers users excellent fire support and anti-tank protection.
Lynx 120 potentially allows the German manufacturer to take part in an Indian tender to supply a light tank. 
Utilizing the Lynx KF 41 modular chassis and the scalable large-tower turret concept, the Lynx 120 is a high-performance solution with huge growth potential and guaranteed combat advantage. Rheinmetall Defense Australia recently introduced the Lynx Combat Support Vehicle (CSV) variant, and a fire support version is now available.
The basic idea of ​​the Lynx 120 design concept is to provide a combat system that offers maximum operational performance combined with logistical advantages within a reasonable time frame and at a realistic price.
Western observers differ in their assessments of the new combat module. Some believe that it is unmanned, others doubt it. Visually, it resembles a smaller and lighter version of the Leopard 2A7+ turret but has a more streamlined shape. The 120 mm smoothbore gun, capable of firing even DM11 programmable detonation projectiles, is covered by a casing similar to the Lance module on the KF41. Smoke grenade launchers are arranged in two rows along the sides of the tower. There is an optical-electronic station and a remote-controlled 12.7-mm machine gun on the tower's roof.
Additional equipment that significantly increases the crew's situational awareness is the all-around surveillance system, which consists of 360° cameras with automatic target detection and tracking. 
Special protection modules enable a specific response to ballistic threats, improvised explosive devices, explosively shaped penetrators and artillery fire. These can be mounted quickly with a limited number of tools. In addition, the Lynx 120 can be easily equipped with AMAP-ADS, a hard-kill active protection system developed by ADS Gesellschaft für aktive Schutzsysteme, a subsidiary of Rheinmetall. The ADS is used to destroy rocket-propelled grenades and anti-tank missiles. Additional armour packages and active protection systems are available on customer requirements.
Various countries around the world have shown interest in the next-generation Lynx as a replacement for their ageing combat equipment. The platform is currently a leading bidder in modernization projects of combat vehicles of the Australian and Slovak Armed Forces and is competing for the American Optionally Manned Fighting Vehicle (OMFV) program. In 2021, Hungary became Lynx's first customer. 
Indian Army Light Tank Tender
The recent confrontation in Ladakh between China and India revealed that traditional MBTs are too heavy for mountainous terrain, which limits their scope. In the Himalayas, light and medium vehicles, such as the Chinese Type 15 mountain tanks, perform better.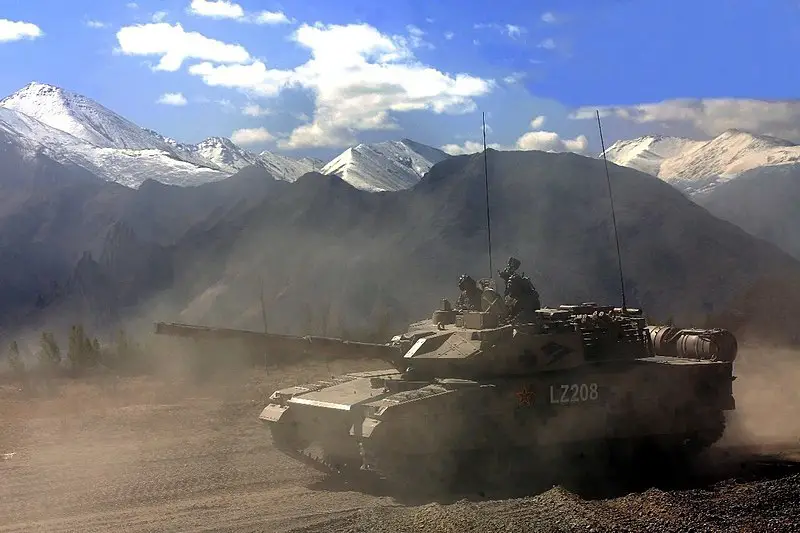 Since there was no effective counter in Indian armour against the Chinese light tank, the Indian Army decided to buy light tanks. The Indian Army estimates that it requires about 300-350 light tanks. 
Frontier India has earlier reported that the Indian Army is soliciting offers for less than 25-ton tanks to be used for operations in High Altitude Area (HAA), marginal terrain (Rann), amphibious operations, etc.
The competitors
The Russians were the first to suggest their tanks, including amphibious tank Sprut-SDM1 and a lighter version of the T-90 tank. (Read Rosoboronexport's light version of the T-90 tank could interest the Indian Army and Russia tests amphibious tank Sprut-SDM1 in the Black Sea)
 Sprut-SDM1 is still under testing, and the lighter version of T-90 is still a concept or maybe in a prototype stage.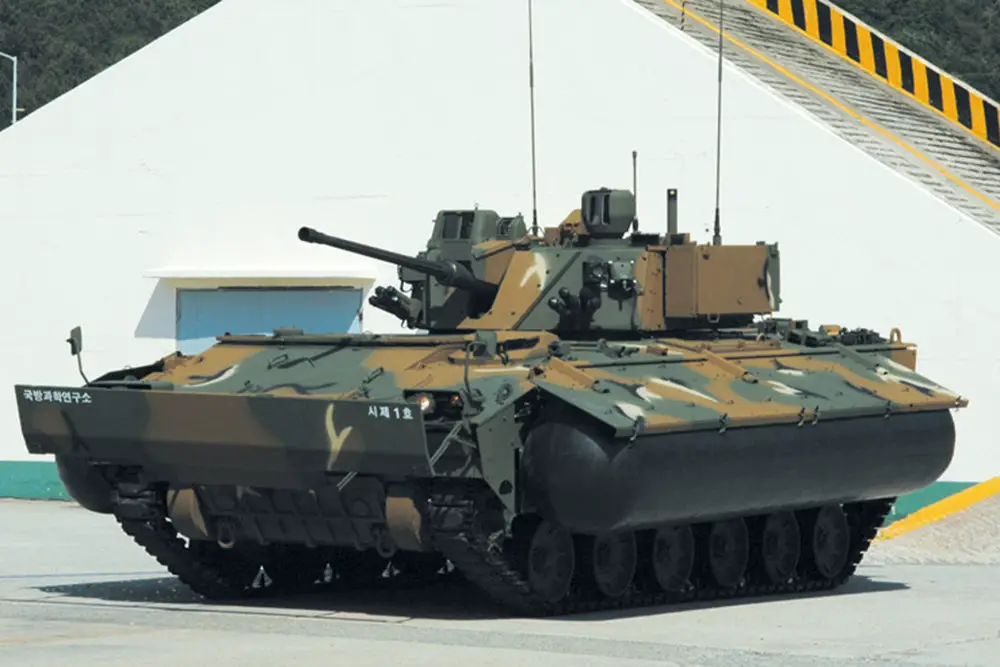 The South Koreans have suggested Hanwha Defense K21-105 medium tank. The tank was created with the Belgian weapons manufacturer, CMI Defense. The Belgians provided a habitable module (tower) CT-CV 105HP equipped with a 105 mm cannon with an automatic loader. This turret is designed for two crews. The gun can fire all 105-mm NATO standard projectiles, including Mecar M1060CV, which is specially designed for this gun and guarantees penetration of NATO-standard rolled armour with a thickness of more than 550 mm at a target from a distance of 2000 m under an angle of 60 degrees. It can also fire the long-range Falarick 105 ATGM manufactured by CMI Defense. The module has day and night sights with a thermal imager, a hunter-killer system, a panoramic view, a laser rangefinder, and ammunition is stowed in an automatic loader. In terms of its combat capabilities, this weapon is practically in no way inferior to the weapons of a full-fledged MBT and weighs just 25 tons.
An Indian option?
Some History
The Indian Defense Research and Development Organisation (DRDO) tried to create its light tank based on the BMP-2 in the first half of the 90s when the PT-76s were still in service but outdated. 
A French turret with a 90-mm gun and a 7.62-mm coaxial machine gun was installed on the hull of a used BMP-1 for demonstration. It didn't inspire the Indian Army, and then a more powerful 105 mm gun was used. The tower received a modern fire control system, which significantly increased the accuracy of firing while standstill and on the move.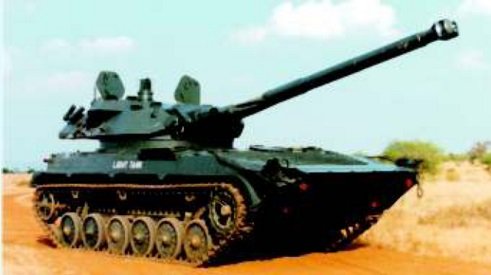 Because the prototype was somewhat heavier, the maximum speed with the 300-horsepower engine decreased to 60 km / h. The hull did not undergo any significant changes. Even though the tests were successful in the mid-90s, all work on this light tank stopped. The project was Pakistan specific.
Current development
DRDO, along with Larsen & Toubro (L&T), has proposed a light tank for the Indian Army with a High Altitude Operable Power pack of 1000hp. The proposed 30- 35 ton tank is designed to fire multiple ammunition. DRDO says the tank may be the "highest altitude operable tank in the world".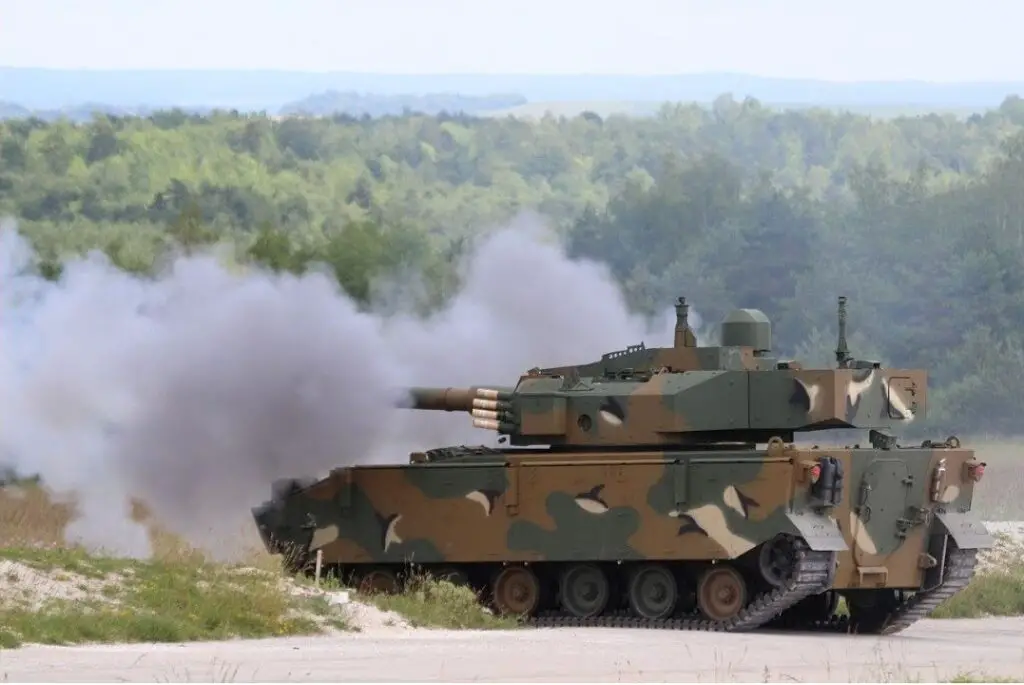 L&T has used the Vajra chassis, incidentally acquired from South Korea, and fit a turret and a 105 mm gun secured from Belgium's CMI (Cockerill Maintenance & Ingénierie) which is now called John Cockerill (with Cockerill 3000 Series turret – Cockerill 3030 and Cockerill 3105). The MTU Friedrichshafen MT 881 Ka-500 8-cylinder water-cooled diesel engine with 1000 hp Power and Transmission is being used by Vajra and powers the light tank too.