The year 2020 is the birth century of one of the most popular Indian cartoonist and illustrator RK Laxman. Speaking in the 'Laxman Legacy' live streaming event, Padma Vibhushan recipient and renowned nuclear scientist Dr R Chidambaram said that RK Laxman had a view of satire which differed from George Orwell's definition.  "He (Laxman) never said anything with venom or prejudice. He only wanted to improve the condition of the common man. All those things have perennial value. George Orwell described satire as the revenge of intellectual on the privileged or those in power. I don't think Laxman ever thought of it in that sense. He thought of it in a positive sense. Laxman considered cartoon as graphical satire."
Laxman Legacy is a Facebook page created to celebrate RK Laxman's legacy and is organizing a series of Facebook live events with renowned personalities who have known him in the past. The event was moderated by Usha Laxman (Director, RK IPR Management Pvt Ltd), Ruchira Sawant (who works in the field of science popularisation and Co-Founder MakeShift) Farry Vaiz who has specialised in marketing management. Dr Chidambaram was a family friend of RK Laxman.
"RK Laxman used to read around 35 newspapers every day, both Indian and foreign, to gather ideas for topic of the comics," said Usha Laxman.
He loved India
Speaking about RK Laxman's love for India, Dr Chidambaram said "He loved India. He once went to London for a few months holiday and even then he was publishing his cartoons and I think the cartons were titled 'cartoons from abroad.' He was offered a job there. He refused and he said he wanted to go back to India. All funny things happened only in India."
Common Man Cartoon
On the topic of the cartoon 'Common Man' which RK Laxman is famous for, Dr Chidambaram said: "RK Laxman had aged fifty or sixty years but the age of his cartoon 'Common Man' has remained the same with a bewildered look."
"The remarkable thing is his sketching was so fast. During his school days, he was not fond of anything else except drawing. If you see other peoples cartoons, they have to mention who is the character before you can recognise it. But if you see RK Laxman's cartoons, the moment you see the character you know who it is. One of the interesting parts is that the character's height will grow as his stature grows. If the person's reputation goes down then the height of the character will also go down in size.
"In his autobiography 'The Tunnel of the Time' he jokingly says, 'I searched for common man everywhere.' He went around the crowds and asked them are you a common man? Everybody said I am not a common man. Finally, RK Laxman says 'the common man found me'," said Dr Chidambaram.
The Intelligent Crow
RK Laxman was fond of animals and birds, particularly the crow. "His wife once told a reporter that he is fond of the crow as not only it is a beautiful bird but it is also very intelligent," said Dr Chidambaram.
It is a fact as a study from Cambridge University says that crows intelligence may rival many nonhuman primates.  
Nuclear Cartoons
Narrating about RK Laxman's cartoon's on the nuclear sector, Dr Chidambaram said "When we built our first nuclear power plant Apsara which was commissioned in 1957, Mr Lakshman did a cartoon in which some of the nuclear components were moving into BARC (Bhabha Atomic Research Center) in a bullock cart. But the beauty of the cartoon was the wheels of the bullock cart were atomic orbits. The wheels have been put aside and the bullock looks distressed. With one stroke of a line, he can put in an expression. Both 1974 and 1998 nuclear explosion were contained explosions but he drew cartoons with a mushroom cloud."
Scientific Cartoons
RK Laxman also used to contribute to a Scientific journal Resonance and the title of the cartoon was 'Science Smiles' and used to contribute cartoon making fun of scientists and science.
Resonance – Journal of Science Education was started in the year 1996 by the Indian Academy of Sciences.  
Denial of US Visa for Dr Chidambaram
Dr Chidambaram himself was a subject of RK Laxman's cartoon. Dr Chidambaram (who was the then Chairman of the Atomic Energy Commission and Secretary to the Department of Atomic Energy) was denied a visa to the United States. RK Laxman drew a cartoon with a well-dressed man sitting on a sofa in the US Consul General and the Consul peeps out and tells his assistant 'He is some sort of a racketeer. It's Ok. No harm in issuing a visa to him.'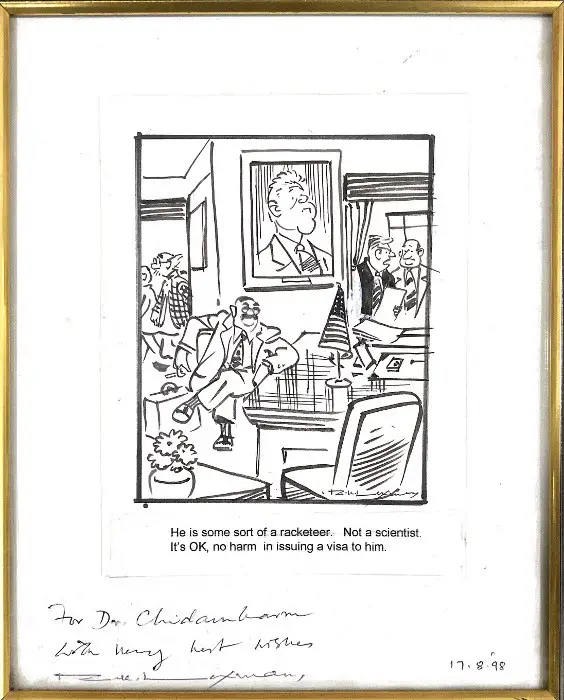 "Later, Mr Laxman told me that the Consul himself wanted that originally drawn cartoon. But he told the Consul that he had already decided to give it to Chidambaram," said Dr Chidambaram.
"To be fair, the US Ambassador said that it (visa denial) was a mistake as it was for a non-nuclear scientific purpose," added Dr Chidambaram.
Artistic Freedom
RK Laxman had a hesitation for accepting the Padma Bhushan Award from the government as he had been critical of the then Prime Minister Indira Gandhi in his cartoons. "He was critical of all in the political system. He had a fear. He thought that by offering him the award, the establishment is trying to buy him off. So, he hesitated to accept the award.  But he thought his brother RK Narayan who was fifteen years senior to him and had drawn pictures for short stories, essays etc. had received the award. And so, he thought of his mother. His mother would be happy if both her sons had Padma Bhushan. So he accepted it." said Dr Chidambaram. RK Laxman had published critical cartoons during the Emergency days.
Most Famous Cartoonist
Speaking about the popularity of RK Laxman, Dr Chidambaram said "Before RK Laxman, I used to read Punch a British satirical magazine and then Shankar Speaking from Shankar Pillay. Shankar himself was a cartoonist. He did help develop cartoonist like Abu Abraham (Attupurathu Mathew Abraham) and Vijayan (OV Vijayan). But today if you search the Google for the famous cartoonist, RK Laxman comes on top."