Russian and Japanese space agencies, Roscosmos and the Japanese Aerospace Research Agency (JAXA), have inked an agreement to create a Spektr-UF ultraviolet space observatory. The mission is also known as World Space Observatory Ultraviolet (WSO-UV)
The two agencies had revealed in February, that they were discussing the possibility of creating an ultraviolet spectrograph for Spectra-UF meant to observe exoplanets.
"Since 2021, Japan has been a full-fledged participant in the project. An agreement has been signed between Roscosmos and the Japanese space agency on the manufacture by the Japanese side, together with the (Russian) Institute of Astronomy and the Space Research Institute, of a spectrograph for studying exoplanet atmospheres," said Mikhail Sachkov, deputy director of the Institute of Astronomy of the Russian Academy of Sciences, to the press.
Astrophysical observatory "Spektr-UF" (World Space Observatory – Ultraviolet) is planned for observing the region of the ultraviolet spectrum inaccessible to ground-based telescopes. Spektr-UV is similar to the US Hubble Space Telescope.
The observatory is designed to 'study the physical processes in the early Universe, the formation of stars, the evolution of galaxies, the processes of falling matter into black holes, the atmospheres of planets and exoplanets and comets'.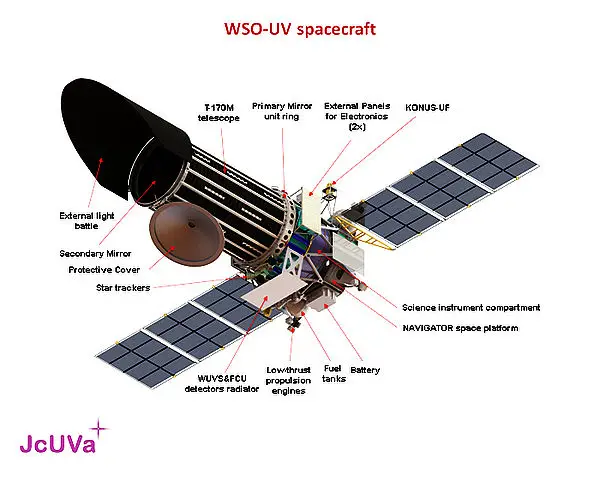 The space telescope will have a main mirror with a diameter of 1.7 meters. It will be equipped with high and low-resolution spectrographs and cameras for constructing high-quality images in the ultraviolet range.
Russia and Span are designated to do the key jobs of the project. Spain is working on the receiver for the radiation of the far ultraviolet channel and a set of filters to the device of the field block cameras. Spain and Russia are also jointly creating a ground-based scientific complex. Japan is creating the ultraviolet spectrograph for the telescope to observe exoplanets.
The Spektr-UF observatory is planned to be launched into space on the Angara-A5M rocket from the Vostochny cosmodrome after 2025.