The Russian troops have completed testing a new system for creating minefields, consisting of a special control complex and combat vehicles ISDM Zemledeliye and UMZ-K Klesh. The system is capable of installing barriers of any configuration complexity in a short time. This eliminates the danger to civilians and the troops.
Depending on the tactical situation, an Artificial Intelligence-based automated control system (ACS) decides where to place the minefields, their configuration, and what types of mines to include in their composition. The system directs the UMZ-K and ISDM combat vehicles for performing the tasks.
Now in the final stages of testing, the minelayer UMZ-K Klesh weighs 15 tons without ammunition mounted on a KamAZ-43501 Patrol and has a light bulletproof vehicle. The ammunition is located in a semi-open body, separated by an armour plate from the driver's cab. Six launchers are installed on unique rotary bases with vertical guidance mechanisms. In the stowed position, they are located vertically, with their trunks up. For mine-laying, they are deployed in the desired direction, and the mines are ejected. In one pass, UMP-K can install from one to three rows of minefields. It takes the crew no more than 15 minutes to lay a minefield.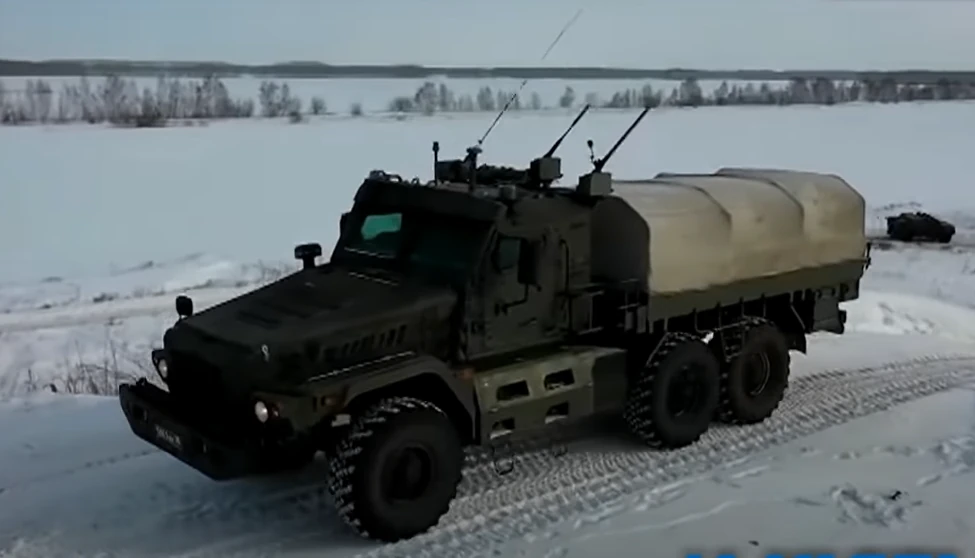 The remote mining engineering system (ISDM Zemledeliye) completed its trials last year. Outwardly, it looks like a multiple launch rocket system. Installed on an eight-wheeled armoured chassis of KamAZ, it has two packs of 25 missiles mounted with mines. Each container can be armed with anti-personnel and anti-tank ammunition in any proportion. The system creates minefields at a distance of 5 to 15 km. At the same time, it can set a different configuration of the obstacle, including passages friendly troops.
Smart Mines
The remote mining systems can use intelligent mines. In particular, POM-3 can distinguish a person from an animal and hear footsteps against the background of vibrations from passing equipment. The anti-tank PTM-4 is equipped with a non-contact magnetic target sensor, and for detonation, it does not need an armoured vehicle to hit it with a wheel or a caterpillar. The mine is triggered under the bottom.
The PTKM-1R anti-roof mine is equipped with a sensor capable of detecting a target at a distance of 150–250 m. When an armoured vehicle is in the affected area, a submunition is launched. It takes off several tens of meters, detects the target with a thermal imager, and hits the object with a shock core made of hot metal.
All modern engineering ammunition is equipped with self-destruction systems. If the enemy did not go to the minefield, it will become unusable after a certain period. This eliminates the danger to local residents and the troops.