South Korea has published a book 'Kimchi in the Eyes of the World' amid a cultural feud with China, which is attempting to club it with its own version Pao Cai, a salted and fermented vegetable condiment from China's Sichuan province. Like Pao Cai, Kimchi is also a spicy fermented pickle of Korean origin, typically made with cabbage. The Korean Culture and Information Service (KOCIS) affiliated with the Ministry of Culture, Sports and Tourism, which has published the book, has explored the culture of Kimchi through stories of non Koreans who have tasted the vegetable dish, the method of making the spicy condiment and its social and historical context.  
Kimchi is one of the keystones of Korean identity. Kimchi along with pop music and soap operas, is one of the most well-known South Korean cultural exports. Kimjang (or gimjang), the traditional process of preparing Kimchi, was listed as an Intangible Cultural Heritage by UNESCO in 2013. Even though it is a cultural export, Korea relies on Kimchi's physical import and about 30 % to 35% of it comes from China.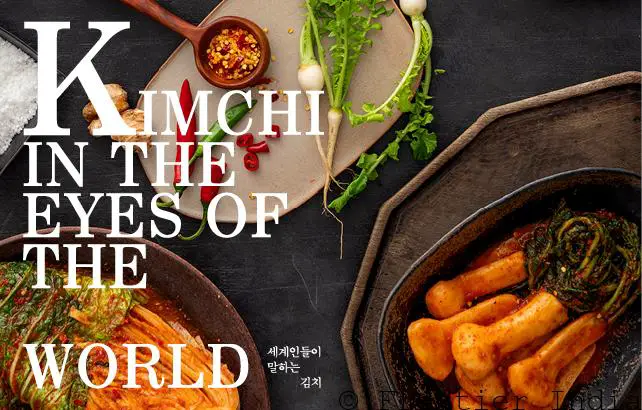 In December 2020, when the International Organisation for Standardisation (ISO), the Switzerland-based global standards body, released latest regulations for the making, transportation and storage of pao cai, the document stated that the regulations did not apply to kimchi. But Global Times, the Chinese official mouthpiece, called it  "an international standard for the kimchi industry led by China".
Made up of six sections, the book includes columns by experts, including the British journalist Tim Alper.  
The book has recipes using kimchi, like kimchi fried rice and kimchi pancakes. The different types of kimchi are also explained, including the diced radish kimchi and "chonggak" kimchi, ponytail radish kimchi, with ingredients from other countries.
The last section of the book is a Q&A, explains the history of kimchi and how the traditional Korean dish is different from Chinaese pao cai.