Shakti Kapoor turns 69 today. His daughter Shraddha Kapoor posted a  sweet and adorable throwback picture to wish her dad Happy Birthday. The stree actress captioned the picture by calling her dad 'baapu'.

In the picture, the father-daughter duo is seen posing together for a selfie in an elevator. The duo looks perfect while twinning in black in the photo. She captioned the post, Happiest Birthday my Baapu

Actor Shakti Kapoor is famous for his popular roles in Bollywood. He has played many iconic characters on screen and is one of the most famous Villian in Bollywood.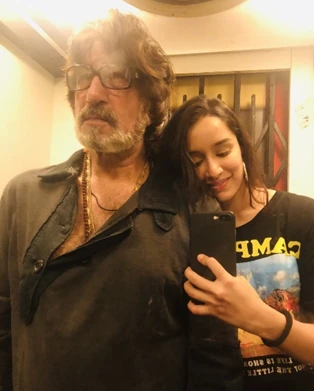 Shraddha Kapoor shares a very sweet bond with her father Shakti Kapoor. She had previously shared that she considers Shakti Kapoor as her best friend. The actor revealed how her parents, especially Shakti Kapoor, pamper her by fulfilling all her wishes. Shraddha also shared that her father never hesitates before buying her any luxurious indulgences. Her dad did not hesitate even once before buying a sports car she wanted. Shraddha Kapoor considers her father as a source of inspiration. She can watch her father's movies again and again.  'Andaz Apna Apna' is her favourite film starring her father Shakti Kapoor
Shraddha Kapoor is known for her brilliant acting skills. She has played some diverse roles apart from this Shraddha can also speak in diverse accents. She once revealed that she can speak like a pro in various accents, including Russian and British.
Shraddha Kapoor will be seen in her upcoming movie with Ranbir Kapoor in collaboration with filmmaker Luv Ranjan.