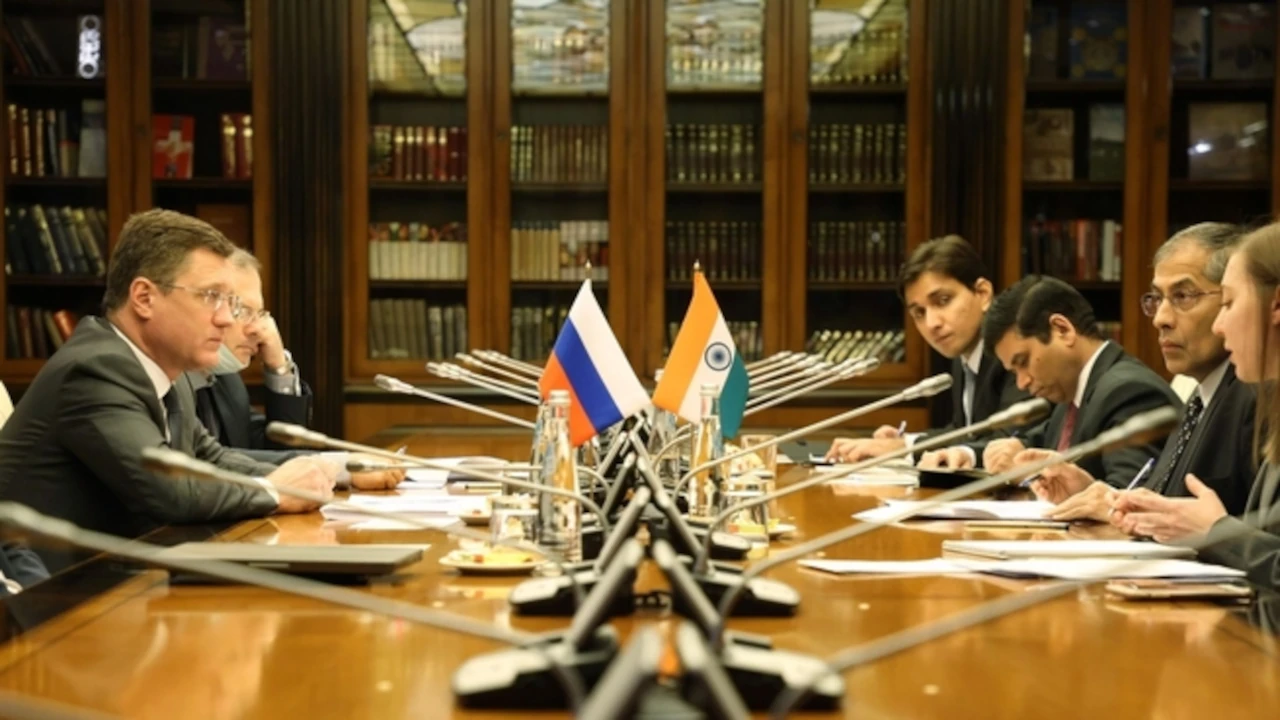 The President of the Federation of Indian Export Organizations (FIEO), Ajay Sahay, announced Monday that India would begin using the Rupee in trade transactions with Russia starting the following week. Early in November, the Indian government authorised using the national currency in international commerce transactions. In the summer, the Reserve Bank of India released a circular on such trade calculations.
Significant risks are associated with the Russian switch from dollars to Indian Rupees in international trade. In the previous two years, the Indian Rupee has lost more than 10% versus the US dollar and 25% against the Russian Ruble. Moreover, Russian exports to India are many times greater than Indian imports. This means that the vast majority of the Indian Rupees Russia will get for its energy resources will be unusable. 
The local currency trade switched on after the global seizure of Russian assets denominated in dollars and euros. In addition, any "hostile" currency on Russian accounts can be blocked immediately. Some Russian banks have already acquired approval to open rupee-denominated accounts in Indian banks, with perhaps ten such accounts already opened in Russian banks, according to Indian media.
Since the days of the USSR, Russia and India have been partners for a very long time, but their relationship in 2022 has altered dramatically. In particular, Russia has significantly increased its oil exports to India, resulting in abnormally low global oil prices.
Trade imbalance
However, the trade imbalance also poses substantial problems, as the increase in Russian supply merely exacerbates the surplus in Russia's favour. According to the FIEO, the shift to trading in rupees will make it possible to avoid a trade (dollar-denominated, Ed.) deficit with Russia. According to the organisation, imports into India from Russia are about ten times greater than exports. 
The trade volume between Russia and India increased by 46.4% to $13.5 billion in 2021. However, if the imports from Russia totalled $9.1 billion, India could only export items worth $4.4 billion. As a result of the increase in the index, Russia is now India's seventh-largest trading partner, up from the 25th position.
And neither nation will reduce the expansion of bilateral trade. The Deputy Prime Minister of Russia, Alexander Novak, and the Ambassador Extraordinary and Plenipotentiary of India to Russia, Pawan Kapoor, indicated their willingness to deepen cooperation in the trade of oil and other energy resources. So as not to rely on EU and UK limitations on insurance and tanker chartering, Russia even offered India assistance in the leasing and construction of large-tonnage tankers.
Both the countries have a targeted an annual trade of $30 billion. Russian Foreign Minister Sergei Lavrov, during talks with his Indian counterpart Subrahmanyam Jaishankar in early November, discussed the prospects for military-technical cooperation, including the joint production of modern weapons, interaction in nuclear energy, and collaboration in the space sector. "We attach great importance to space exploration in such areas as satellite navigation, space science, and manned programs," Lavrov said. 
On the eve of this meeting, Russia asked the Indian leadership to help supply almost five hundred goods for various industries, which Russia itself cannot purchase due to international sanctions. Jaishankar said that India is ready to start spare parts deliveries for Russia for planes, cars and trains. So Delhi plans to increase exports to Russia and reduce the trade deficit.
Russia may have the opportunity to somewhat balance the trade balance with India if, as counter deliveries for Russian energy carriers, India can increase the supply of falling imports of Western equipment, vehicles and components. 
Partially convertible Rupee
The Indian Rupee is partially convertible: it can be exchanged at market prices in some instances, but authorisation is necessary for larger quantities. Instead of maintaining the Indian Rupee as a freely floating currency, the Indian banking regulator occasionally intervenes to keep exchange rates within acceptable levels. The Rupee is fully convertible for all trades and remittances. However, it is not exchangeable for capital account transactions (for example, foreign investors are not allowed to buy short-term government or corporate bonds). Therefore, ownership of the Rupee is frequently connected with risks and hassles for major transactions.
The Chinese yuan has replaced the dollar and euro in Russia, whereas the Indian Rupee is not traded on the Moscow Exchange and hence has no demand. However, Moscow and New Delhi are actively increasing national currency settlements for essentially political motives. Such a service will aid in easing Russia's foreign sanctions burden. Consequently, deliveries from Russia are paid for in Indian rupees, while deliveries from India are paid for in Russian rubles. However, such transactions are still settled in a third currency, such as the yuan, dollar, or euro. This may be more convenient, but politicians have motivations for engaging in such conduct.
In 2022-2023, there is a possibility of a worsening trade imbalance as Russian exports are projected to grow faster than imports. It is due to the movement of a portion of the hydrocarbon supply from Europe and Western nations to India. In addition to oil and other mineral products, Russia supplies India with and can boost sales of items such as precious metals and their products, aluminium and other non-ferrous metals, electrical machines, specialised vehicles, pharmaceutical, chemical, and rubber goods. There was substantial growth in Indian imports of these products from Russia in 2021. India can import gold and diamonds from Russia, bypassing the Western exchanges. Like crude prices, India can get a significant discount for these commodities, which can be used for domestic consumption. These commodities are also part of foreign exchange drainers in India.
The pharmaceutical, chemical, and mechanical engineering industries dominate India's exports to Russia. In addition, India has tremendous export potential to export food, textiles, clothes, and footwear.
Rupee Ruble trade is safer
Despite the constraints mentioned above, it makes sense for Russia to increase reserves in 'extra' rupees. First, the Rupee cannot be frozen, unlike the dollar and the euro. Reserves of rupees contribute to the safety of settlements. Second, India has the potential to become a significant "transhipment" state for Russia's "parallel imports." India, unlike, for example, China and Turkey, is comparatively less involved in trade and political ties with the United States; that is, there are fewer possible hazards of secondary sanctions for the country when trading with Russia. Thus, Moscow will acquire not only Indian commodities from New Delhi but also things from other countries. In this instance, rupees will be utilised in additional ways. However, the use of the Rupee for Russian imports is anticipated to be less than the revenue from exports. 
However, all settlements will not be conducted solely in rupees. Other currencies, notably the ruble, will also be used. For rupees to be a manageable and sufficient amount for settlements, swapping them for other currencies at an appropriate exchange rate is essential.
Rupee Ruble commerce does not pose a danger to the Dollar because Russian trade is small compared to the whole quantity of Indian international trade. In 2020, India exported $279 billion worth of commodities while receiving $372 billion worth of goods. The Rupee Ruble exchange was active during and briefly after the fall of the Soviet Union.