South Korea, not among the top ten suppliers of weapons and military equipment until very recently, plans to become the fourth largest exporter of products from the military-industrial complex within the next five years. This goal was set in light of the fact that South Korea has recently joined the list of countries that are among the top ten suppliers of weapons and military equipment. The information was released following the "Meeting on the export strategy for military-industrial complex products in 2022." According to the data that is currently available, Seoul has opportunities to accomplish its goal.
After the conference, the Ministry of Industry, Trade, and Natural Resources of the Republic of Korea issued a statement outlining the new, more aggressive mission. At this event, which was presided over by the President of the Republic of Korea Yoon Suk-yeol, the goal of increasing South Korea's share of global arms exports to five per cent by the year 2027 was endorsed. This would allow South Korea to reach the top four suppliers of products associated with the military-industrial complex. The United States, Russia, China, and France are currently considered to be the world's top four arms exporters. Korea's goal is to overtake at least one of these countries.
Zooming exports
It is essential to acknowledge that, despite the goal's being exceedingly ambitious and difficult, Korea has strong grounds for believing that it is possible, even though this is something that must be acknowledged. In recent years, the export performance of the Korean military-industrial complex has been growing by leaps and bounds. If in 2020, South Korea sold weapons and military equipment worth $3 billion, then the figure more than doubled last year – $7.2 billion. Even more impressive figures are expected this year. Warsaw is purchasing more than $12 billion worth of military hardware from South Korea. This includes 180 tanks from Hyundai Rotem, as well as artillery, ammunition from the Hanwha group and fighter planes from Korean Aerospace Industries (KAI). Poland is in a rush to build up its defences in the face of the conflict between Russia and Ukraine that is taking place next door. Tank production in Poland is an area of discussion between Hyundai Rotem and a potential Polish business partner. To date, the Republic of Korea has concluded contracts for supplying weapons and military equipment for $17 billion.
Advantages of the Ukraine war
The war in Ukraine worked out very well for Seoul because they could take advantage of it. Because of their assistance to Kyiv, several European countries swiftly began to deplete their supplies of weapons; however, regular suppliers needed more time to rebuild their arsenals. It was a zenith moment for South Korea, which has a highly established military industry but has frequently been excluded from markets in Europe and North America. At this time, countries from the European Union, the United States of America, and Canada have all made deals to buy military equipment, ammunition, and weapons from Korea.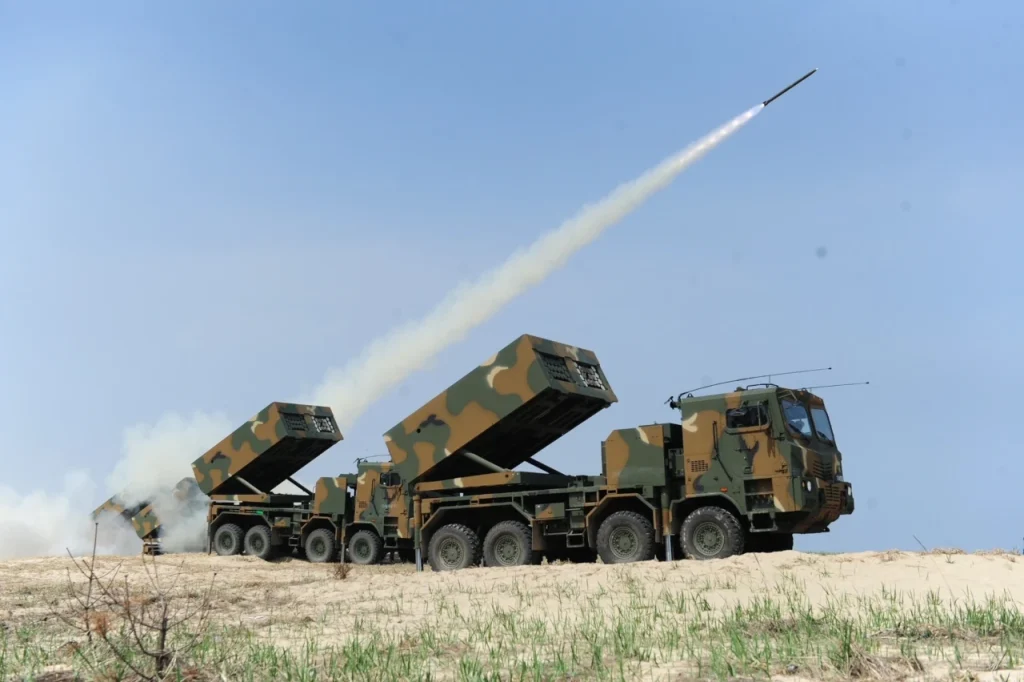 Rest of the world
Korean exports are also doing very well in other parts of the world. Egypt and Malaysia are currently negotiating the purchase of the same model of KAI aircraft, while the Philippines have already begun deploying them. The United Arab Emirates has decided to acquire a surface-to-air missile system from LIG Nex1, a South Korean defence firm. The value of the transaction is billions of dollars.
The Australian government has given Hanwha Aerospace a contract for over 700 million Australian dollars to deliver armoured vehicles and self-propelled artillery. The facility's establishment, which will be the first international production facility for a South Korean defence contractor and is planned to go live in 2024, is now underway at the company.
Restructuring defence industry
As investors foresee a long-term improvement in the defence industry, the stock market has surged. KAI, Hyundai Rotem, and Hanwha Aerospace have all increased by approximately 40% so far in 2022, while Hanwha Aerospace has grown by approximately 50%. Investment firms believe that all three companies, plus LIG Nex1, will continue to increase their sales and profits in the long term.
South Korea has begun restructuring businesses in an effort to bolster its defence industry. In September, Korea Development Bank selected Hanwha Group as the preferred bidder to acquire Daewoo Shipbuilding & Marine Engineering (DSME), the world's third-largest shipbuilder, from Hanwha Group.
Hanwha indicated that the acquisition of DSME's naval vessel business would create an integrated "land, sea, and air" military portfolio.
According to Hanwha, the acquisition will contribute to the expansion of submarine and battleship exports to Middle Eastern, European, and Asian client bases.
Government support
After the meeting, President Yoon Suk-yeol stated that the military-industrial complex industry is one of the primary drivers for the future expansion of the country's economy and the foundation for other areas of modern technology. He promised to be an active supporter of its businesses, particularly about investment, research and development, and financial assistance for the localization of component manufacture. Yoon Suk-yeol brought attention to transforming the defence industry into an industry focused on exports. "The export of military products is turning into the basis for cooperation between countries … The export of conventional goods is necessary for economic growth, and the supply of military-industrial complex products is vital for ensuring national security," he stressed.