Tata Advanced Systems Limited (TASL), the TATA groups defence manufacturing venture, has taken the Intellectual Property rights for the Grob Aerospace's (now a part of H3 Aerospace Group) high-altitude, long-endurance (HALE) G600 aircraft, the derivative of a stretched version of Grob G180 SPn very light business jet. Grob G600 was positioned as the smart version of the US dumb Northrop Grumman's RQ-4B Global Hawk unmanned air vehicle. Grob G600 was about 90% cheaper than the Global Hawk, despite being manned by two pilots.
The Indian Air Force (IAF) retired its MiG-25R reconnaissance aircraft which flew at heights between 65,000 and 85,000 ft citing its high cost of maintenance and newer alternative technologies like the availability of satellite surveillance and UAV's. The IAF has no replacement for this aircraft. The Indian Navy operates the MQ-9B SeaGuardian UAS, a derivative of the RQ-4B Global Hawk, which is considered expensive.  
Military planners around the world have been rethinking their dependence on satellites and UAVs for HALE reconnaissance. In a manned reconnaissance, the pilots can quickly maneuver the aircraft and select the primary interest. The UAVs and satellites simply relay the imagery over the high bandwidth data link while the ground controllers do the sorting and assignment of the primary interest.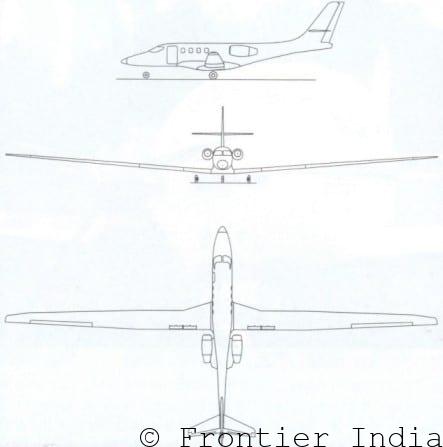 The Grob G180 SPn is a composite body and wing aircraft using two Williams FJ44-4A turbofans and the same was selected for the G600 project. The G600 project had a wingspan of about 35.6 meters, a length of 18.65m, a payload capacity of 1,250 kg, and an estimated endurance of 33 hours. It was designed to operate at an altitude of about 60,000ft and a range of around 10,000 km (5,540 nm). The flight electronics were from the French company Thales. The ER version was designed for an endurance of  21,000 km with 4 additional tanks at the rear of the fuselage and could be refueled in-flight. The aircraft would be manned by two pilots and two mission specialists if required. The role of the pilots was to fly the aircraft in general flight conditions like navigating airspace, taking off, landing, and redirecting the aircraft. Once over the target, the aircraft's autopilot would relieve the pilots of their duties for longer hours of reconnaissance.  
Some of the TASL specifications for the HALE are lower than the original specifications as it plans to offer it to the Indian armed forces which do not operate on a scale the US and some European armed forces do. The TASL version is proposed to operate at 41000 ft with a maximum ceiling of 45000 ft. The endurance proposed is around 3400 km and for about seven hours.
A manned HALE reconnaissance aircraft suits the Indian Armed forces as they operate at some of the most inhospitable terrains including the mighty Himalayas, the Thar desert, and the vast Indian Ocean where connectivity is a problem.