The present and future of the Greek Armed Forces are being presented at the large and significant defence exhibition DEFEA-23 that is taking place in Greece between 9 – 11 March.
The Greek defence event has attracted dozens of companies demonstrating their technological achievements, including the BAE amphibious AAV7A1, the Greek-modified Leopard-2 A4 armoured tank, and the German TOMA KF41 Lynx.
Tanks and other armoured vehicles have re-entered the Greek public consciousness due to their extensive use on the battlefields of Ukraine and Greece's announcement that it is interested in modernising a portion of its armoured fleet.
Visitors to DEFEA will be able to learn about the most recent innovations and get a close-up glimpse at the Leopard 2A4GR combat tank used by the Greek military. Based on lessons learned during the conflict between Russia and Ukraine, the Greek Leopard 2A4 tank now features explosive anti-armour. The Greek company EODH is responsible for developing the Leopard's additional external active and passive armour. After all, Ukraine's initial reaction after receiving the Western-provided Leopard 2A4 tank was to cover it in cheap Kontakt-1 explosive reactive armour.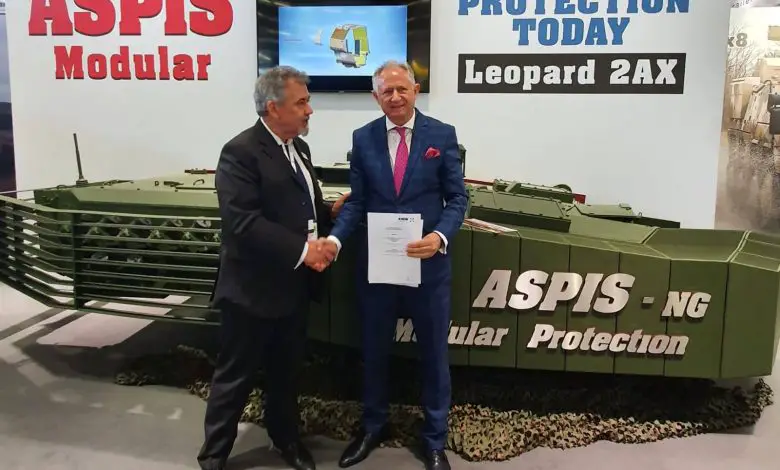 Feuding NATO member states Greece and Turkey are equipped with mostly similar Western weapons, including the Leopard Tanks.
Turkey created the "Altay" main battle tank with South Korea. Being sanctioned by Germany and lacking engines, production of this main battle tank was discontinued; however, it has recently been substituted with Korean engines, reviving the "Altay" main battle tank production line. Odd, since the latest South Korean tanks are powered by a German MTU diesel engine producing 1500 horsepower.
The Greek Army has been unable to acquire or independently produce new main battle tanks. To meet the challenge posed by Turkey, it is upgrading its Leopard 2A4 main battle tank with an EODH-made ASPIS Modular NG-MBT heavy armour system ( (ASPIS – Advanced Integrated Platform Protection System).
The ASPIS-NG armour system includes both passive and reactive modules and explosive and active detonation reactive modules. The way it's made lets it react to multiple hits, and when armour parts get damaged, the tank crew can replace them right where they are.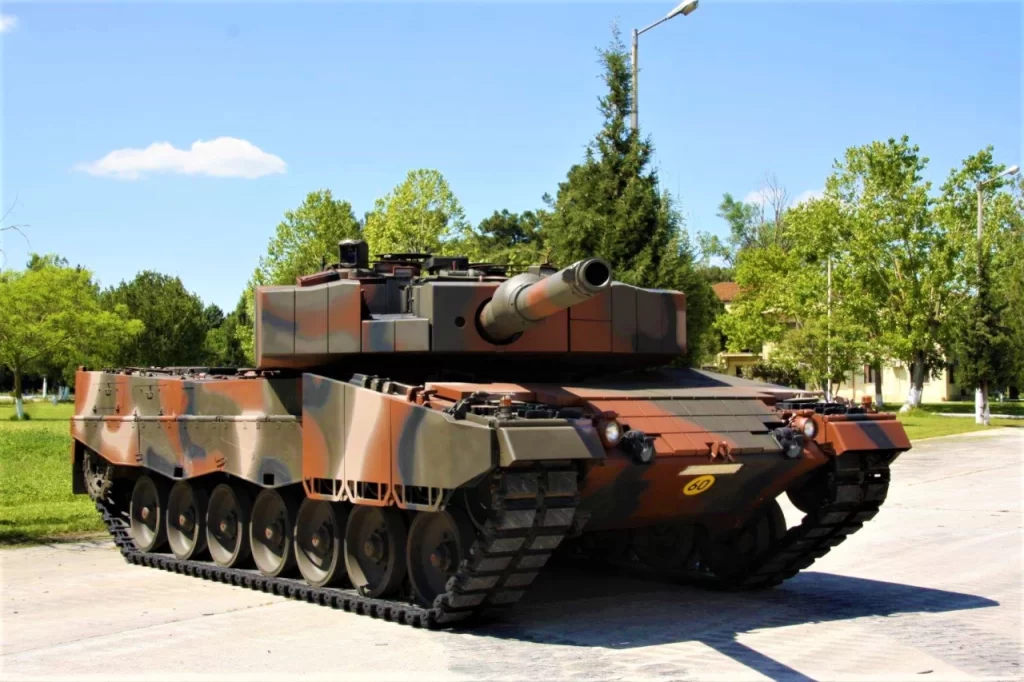 Some anti-explosive modules are small and mounted on the front of the hull, while others are huge and mounted on both sides and in front of the turret.
This armour is neatly coded on the armour like bricks, and its shape is extremely similar to the Russian "Kontakt-1" explosive reactive armour. The Greek-made product is known to be superior to the Kontakt-1 explosive reactive armour. It combines passive and active ballistic protection and seamlessly integrates into the tank's design. Anti-tank missiles and the latest generation of APFSDS long rod armour-piercing projectiles are only two examples of the threats this "double anti" explosive reactive armour can counter. A grille protection system has also been added to the rear of the turret.
The anti-explosive and passive armour modules are sandwiched between the turret's primary armour. The passive side skirt armour is mounted on the original vehicle's body outside the heavy side skirt.
When turned on, the millimetre-wavelength radar sensors on the tower roof can identify incoming threats coming at the roof from a high angle and set off guided explosive charges at the right time. This feature will be handy against Bayraktar Kızılelma and Bayraktar TB 2 or other UAVs Turkey can field in the future.
The turrets of numerous Turkish "Leopard" 2A4 main battle tanks were blown off by explosive ammunition during the Syrian war, and the resulting images dominated headlines worldwide. The tank's minimal protection measures are insufficient.
The armour of the Greek military's Leopard 2A4GR main battle tanks can be upgraded to give them a higher level of protection, allowing them to be more effective in combat. This protection could be a profitable export item when other countries modernise their Leopard 2A4 tank.
When it comes to the manufacture of defence equipment, EODH is not a lightweight company. The company has been in business for more than 18 years and has just established its cutting-edge production facility, in which it intends to invest and expand. Consequently, EODH has become a significant global partner in developing, designing, and producing various defensive market protection systems. The company operates in Greece, Europe, and the Middle East. Because of their innovative and creative problem-solving strategies, EODH has established itself as one of KMW's most reliable partners in manufacturing the Leopard 2A7 tank, the Boxer 88, and other TOMAs now in production.
Greece possesses a significantly larger number of Leopard tanks than any other European country, with approximately 350 Leopard 2s and 500 Leopard 1s combined. There are 183 older Leopard-2A4s among them. Regarding tank power, Greece and Turkey are roughly tied for first place among NATO's European members.