The class of 1977 of Kendriya Vidyalaya / Central School IIT Delhi got together after 45 years of having passed out from school. Some boys and girls now in their late fifties or early sixties met after their teenage years.
The schoolmates have been meeting off and on, and one of the juniors from the school, Deepinderpal Singh, through social media, managed to string us students and teachers now in their golden years together on a common platform. The teachers have been felicitated in the past, and it has always been wonderful to meet them now. Of course, in those days, some seemed like the devil incarnate.
During our get-together, we were back to the days of 1975-76-77, when we were adolescents and the right to rebel was our birthright. The college students of those days were a mighty force, and the college unions used to be havoc for the law and order as the local transport buses would be highjacked, and the city of Delhi would be under siege to ensure the demands were met. In hindsight, it is obvious that it was the handiwork of the political parties that marshalled the students union to achieve their end aims.
This was appealing to the young minds who were being brought up in movies like Deewar with the Mr AB as the angry young man. There were, of course, the mushy love stories too, but that was much against the thought process of the Macho Man.
As young boys, it was but natural to try out smoking and drinking as the heroes and villains seemed to use these magic agents to woo the love of their life or knock the hell out of their opponent.
Those were the days when other than physical games, there was no other medium to keep the young minds occupied.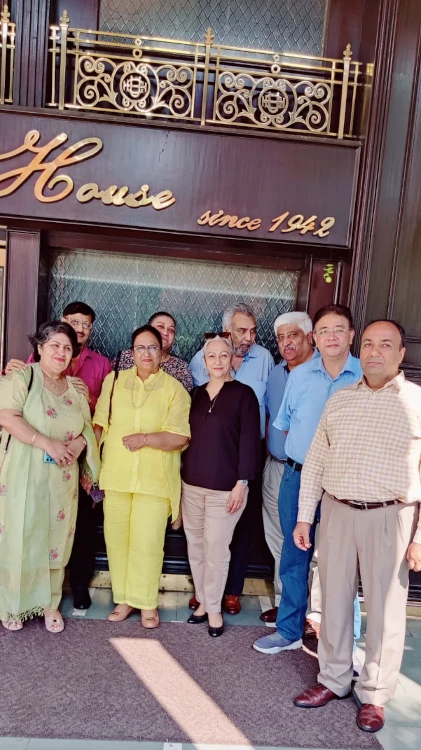 There were studies, of course, but not on the Priority List.
As an after-thought and now in the early sixties, having lived 60 % of the average human life and correlating to the younger generation of this day and age, we must have been a formidable challenge to the teaching faculty of the school.
Our class teacher was Late Mr Ishwar Dass Sharma, a mathematics teacher, and we were under his charge from mid-school till we passed out. He, as a teacher, invested his time and money to make sure we would become good citizens and, of course, super mathematicians. Those days there were no restrictions on physical punishment; in fact, most parents would augment that at home for all the misdemeanours done at school.
Like in the corporate world, the Boss is always right. During our days in school, the Teachers were always right. It was painful, but the fact is it remains an absolute truth even to this day.
Mr Pandey was our Hindi teacher, and for some reason, we had chosen (were shoehorned into it) Higher Hindi as a subject. The "badi matra" and the "choti matra" in the Devanagri script were corrected by the "ear massage" or the "foot ruler" treatment on the palm.
Mrs Dixit was our English teacher and taught us well. The guru mantra of Wren and Martin ensured that marks were scored on the grammar paper.
Mrs S Kapoor was our Chemistry teacher, mature and probably a few years elder than us would handle us well, and most times, there were no issues in her class.
Mr Dinesh Gupta was our Physics teacher and taught us well, and there were challenges, too, as the naughty mind would look for a reason to play the prank.
I saw the movie " To Sir with Love". I quote two paragraphs which may not have been identical to the environment we were in those days but are fairly representative of the environment. While most kids were good and came from good homes, we excelled at riding roughshod over our teachers. As students, we had to live up to a reputation (hardly any for young teenagers) in a battle of wills with our teachers, leading to pranks unthinkable, but now a reason to laugh about and reminisce the days gone by.
We are where we are due to their unrelenting and tenacious hard work to shape us up and become responsible citizens. In deep gratitude and respect to all our teachers, a humble thank you.