The Rockwell B-1 Lancer variable-sweep wing bomber is one of the U.S. Air Force's deadliest tactical jets. It has a 24 Joint Direct Attack Munition (JDAM) capacity, four more than its B-52 Stratofortress ancestor. The B-52 was initially intended to be replaced by the B-1, but it received a new lease of life when the Stratofortress was converted into a platform for standoff cruise missile launching and an expanded role as a deterrent weapon. Relegated to a tactical role, B1 underwent five historical phases in the role. 
According to Col. Joseph Kramer, commander of the 7th Bomb Wing, managing aircraft, airmen, logistics, and technology are all important aspects of leading a B-1 bomber wing on a long-range attack mission.
Describing B-1's tactical functions in a USAF feature on its official portal, Col. Kramer says the aircraft has undergone five historical phases.
At first, B-1 was intended to deliver nuclear weapons. It would fly low toward its target before rising to a specific attitude and dropping its payload. With this technique, its stealth and quickness would be crucial.
The traditional tactic of dropping regular, inaccurate bombs was used in its second phase. 
The B-1 delivered 2,000-pound guided bombs that landed within tens of feet of the target during the third phase of its mission.
The B-1 carried an improved targeting pod that allowed it to loiter overhead and target individual vehicles with pinpoint accuracy during its fourth phase. It was particularly successful in the U.S. Central Command (CENTCOM) area of operations.
The B-1 can launch guided cruise missiles like the long-range guided anti-ship missile (LRASM) hundreds of miles from its target and precisely attack it when it is in its fifth and current phase of operations. This stage will make switching to the new B-21 Raider easier in the near future.
Changing Role of B1 bombers
The mission is evolving. The B-1 could fight a future conflict from its base. The B-1 could take off from Dyess, go to its destination, and then circle back to Dyess to stock and prepare for another mission.
Col. Kramer and his staff would maintain the B-1 fleet while switching to the B-21. However, because it is a 30-year-plus plane, aviators will have limited training flights. The objective is four sorties each month, and additional flight simulator practise time for emergency drills. The 7th Bomb Wing is implementing innovative virtual reality training.
Each level of skill for aircraft maintainers—basic at level 3, journeyman at level 5, and subject matter expert, supervisor, and leader at level 7—must undergo one monthly training day. The training days also apply to defender specializations, ammunition, and gasoline.
B-1B Lancers
B-1B – supersonic strategic bomber with a variable-sweep wing is one of three types of U.S. Air Force heavy bombers. The aircraft was designed to destroy strategic enemy targets using nuclear and conventional weapons and support general forces. This technique was used in U.S. Air Force operations in Kosovo, Afghanistan, Iraq and Syria.
Lancer was created to replace the Boeing B-52 aircraft under the (Advanced Manned Strategic Aircraft) AMSA program since 1965. Because it took so long to get to the hardware flying, AMSA was referred to as "America's Most Studied Aircraft."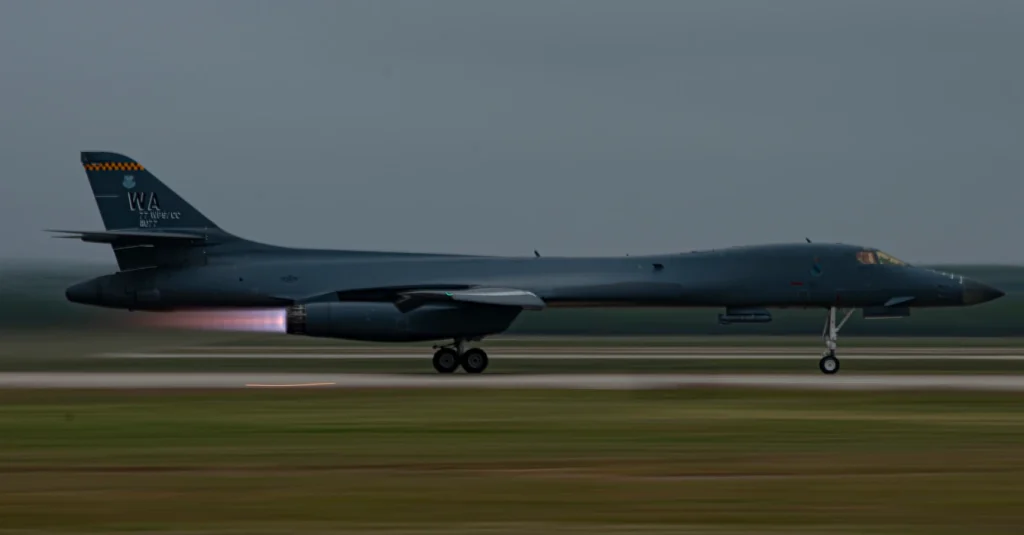 B-1 Lancer is the first combat aircraft in the world to implement elements of stealth technologies. Four aircraft were built for flight testing. The first flight of the prototype B-1A took place on December 23, 1974, but three years later, for political reasons, it was decided to terminate the program. Work on the creation of the bomber was resumed after President Ronald Reagan came to power in 1981. The basic version of the B-1 Lancer has been in operation since 1984. 
 In 2017 these bombers were adapted to carry up to 24 AGM-158C LRASM (Long-Range Anti-Ship Missile) anti-ship missiles. A pair of B-1B lancers, equipped with 48 LRASMs, is enough to sink a Baltic or the Black Sea-sized fleet without entering the enemy airspace.
Based on the JASSM-ER, the LRASM is an air-launched cruise missile created for the Air Force and Navy. It has low-observable characteristics but is a different seeker for locating ships, and like the JASSM-ER, it may have a range of up to 925 kilometers (575 miles).
Project BAMA
Col. Kramer says the 7th Wing is constantly improving the aircraft and process efficiencies. A recent piece of equipment, under Project BAMA, speeded up the process of loading the Joint Air-to-Surface Standoff Missile AGM-158s onto the B-1. BAMA stands for Bomber Aluminum-Rail-Set Multipurpose Adapter.
The 7th B.W. Weapons Standardization Section proposed mounting the missiles on aluminium rails on a trailer to avoid requiring two bomb lifts. Engineers at Eglin Air Force Base built the BAMA, which was then shipped to Dyess in January 2022 for testing, assessment, and validation. The experiment was a success. As a result, in July 2022, engineers from Air Material Command will mass build the BAMA at Eglin. At Ellsworth Air Force Base, the 7th and 28th Bomb Wing will each get 12 BAMAs.
Bomber Task Force and Red Flag
Participation in Red Flag Exercise at Nellis AFB and Bomber Task Force operations to improve operational effectiveness all contribute to increased Unit preparedness. According to Col. Kramer, BTFs also integrate with allies' air forces and show that the 7th Bomb Wing can fight from Dyess. The capabilities are also a means of messaging to the adversaries.
As per Col. Kramer, Reset, Prepare, Ready, and Availability, the bridge to the future, are the foundational tenets of the new force generation concept. What does the Wing need to accomplish in terms of posture for deployment or contingencies to create tasking for aircraft? That indicates that substantial maintenance is required during Reset, and training is required during Prepare. The Wing must be able to create aircraft before commitment during Ready, and aircraft commitment is required during Available. 
Bombers are prepared to take off from the Dyess runway, carry out their mission, and then land back at Dyess to reload. Col. Kramer continues by saying that this is true now and in the future.