The Sukhoi Su-30MKI has long served as the backbone of the Indian Air Force (IAF). This multi-role combat aircraft was jointly developed for the IAF by the Sukhoi Design Bureau and Hindustan Aeronautics Limited (HAL). In some aspects, this aircraft is even better than the French Rafale jets India has recently acquired.
For instance, the Su-30MKI has a reported top speed of Mach 2 (double the speed of sound) and a maximum take-off weight of 38.8 tonnes. In comparison, Rafale has a top speed of 1.8 Mach at high altitudes. Its maximum take-off weight is 24.5 tonnes. Another criterion where the Su-30MKI has the edge over the French jet is "service ceiling". Service ceiling essentially refers to the altitude at which the aircraft's climb rate becomes slow to the point that it can be considered to have practically reached the maximum height it can achieve. The Su-30MKI's service ceiling of over 17,000 meters, while that of the Rafale is capped at 15,240 meters.
This difference in capability, which seems to bend in favour of the Russo-Indian jet, has raised questions about the IAF's decision to acquire Rafales.
Technologically Advanced
The Rafale fighters have several advantages over the Su-30MKI. 
For instance, the French fighter uses an RBE2 Active Electronically Scanned Array (AESA) radar, while the Su-30s that India operates use the Passive Electronically Scanned Array (PESA) radar. The latter relies on one large transmitter, while the former relies on multiple small transmitters. A platform using the AESA system not only has a lower chance of being detected due to its use of multiple frequencies but also provides benefits such as increased reliability and smaller size and weight. Rafale's AESA system is also able to function in severe jamming environments.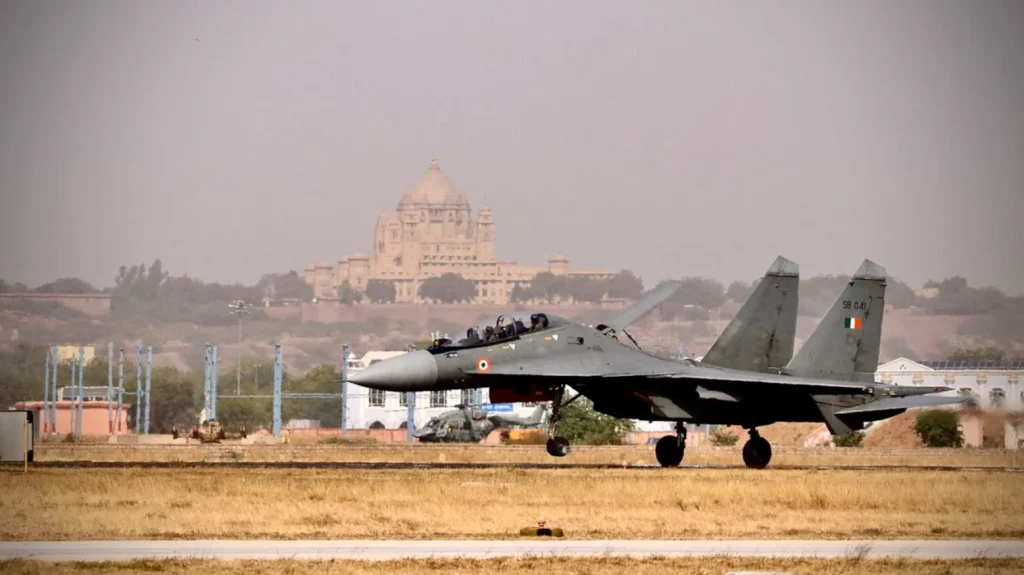 Rafale also has superior electronic warfare (EW) suite that Thales and MBDA have jointly developed. Dassault Aviation claims that this EW suite, called Spectra, provides a "multi-spectral threat warning capability against hostile radars, missiles and lasers." This EW suite's long-range detection, identification, and localisation capabilities provide high situational awareness to the Rafale fighter. The high degree of sensor fusion in the Rafale fighters eases the burden on the pilot compared to a Su-30MKI.
Additionally, it has been reported that the Rafale can supercruise at low supersonic speeds. The Russo-Indian fighter does not have the same capability. 
Stealth and Weaponry
Rafale, touted as a 4.5 generation aircraft, has semi-stealth features. It has a comparatively low radar cross-section (RCS). RCS reflects how detectable an object is by radar. The RCS of the present version of the Rafale fighter is around one sq meters, while that of the Su-30 MKI is greater than four sq meters.  
In addition to stealth, the French jet has a higher payload capacity, with a maximum payload of 9,500 kg. It also has 14 hard points for carrying weapons. The Su-30MKI, on the other hand, can carry a maximum payload of 8,130 kg and has 12 hardpoints.
The weapons package of Rafale is also qualitatively better than any current IAF fighter. Rafale can carry the MICA air-to-air missiles (AAM), which is useful in close dogfights and in its beyond visual range (BVR) functioning as well. Rafale comes equipped with the Meteor and SCALP missiles. The former is a 190-kg projectile with a BVR of over 100 km, capable of travelling at Mach 4. On the other hand, the SCALP is an air-to-ground, long-range deep strike missile over 300 km. Rafale can be used for the nuclear delivery role. The Su-30MKI is capable of carrying, among other weapons, the BrahMos supersonic missile.
Being able to carry capable missiles neutralises the effect of the comparatively lower service ceiling of the French fighter. This is because most BVR missiles can reach a maximum altitude of 20,000 meters and can target aircraft that are 5,000–10,000 meters above the launch platform. 
Other Advantages
It is imperative to note that arms deals are seldom based on merely technical considerations. The level of transfer of technology (ToT), whether the offset requirements will be fulfilled, what the overall acquiring and operating cost is, etc., are essential factors that a government considers before signing a deal. Another important aspect relates to which aircraft one's allied nations are operating. Having the same aircraft allows for a high degree of interoperability. Moreover, in recent years, contribution to the "Make in India" initiative has also become substantial in the defence sector.
Political clout and diplomatic relations are other potential influencing factors in the selection of the aircraft. For instance, France has more political influence compared to Sweden. That might affect the sales of both Rafale and Saab's Gripen. However, the impact of this political power is very dynamic and hard to pinpoint.
A Synthesis
Comparing these two platforms shows that each has certain aspects in which they excel. The Rafales must not be seen as replacements for the Su-30MKIs, but as aircraft that will work alongside these and other fighters that the IAF currently operates. It is also necessary to mention that other than technical aspects, the environmental conditions, pilot skills, team coordination (in case it is a team mission), available data, etc., also matter. Squadron strength, pilot training, and coordination between various aircraft that IAF currently uses (including Rafales and Su-30MKIs) will be important for India's airpower.