The Swedish firm SAAB had particularly productive months for exports in June and August. The Philippine government signed a Memorandum of Understanding (MoU) with the company in mid-June to purchase JAS-39 "Gripen" fighter jets for the Air Force.
In August, there were reports that Brazil, a longtime customer, was about to buy 34 more "Gripen" fighter aircraft. The Brazilian Air Force ordered 36 Gripen F-39E/F from Saab in 2013.
Having been successfully transferred to countries like the Czech Republic, Hungary, South Africa, and Thailand, the "Gripen" fighter plane had a good sales run in the past. Around that time, Saab projected that the Gripen could produce 400–450 aircraft in both single- and twin-seat versions.
But in the last ten years, the "Gripen" hasn't gotten many fresh orders after losing out in international military aircraft competitions to the U.S. F-35A, the "F-16V," and the "Rafale." Despite being more expensive, "traditional clients" like Thailand, the Czech Republic, and nearby countries like Denmark, Norway, and Finland are buying F-35 fighter planes. If Sweden successfully joins NATO, Swedish defence equipment will have increased market access in NATO nations.
At the same time, Sweden's defence industry appears to be stagnant. There are few export-ready companies in the Swedish defence sector, particularly fighter jets, surface boats, and ground weaponry. Asia, the Middle East, and North America were minor markets for Swedish defence firms. The "Gripen" was primarily purchased by European countries. The Czech Republic's decision to buy the F-35 instead of the "Gripen" in 2022 significantly hit Saab's export revenue.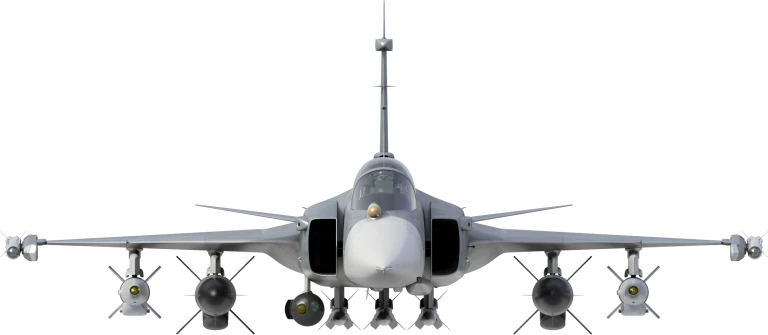 The Swedish defence manufacturing industry is losing momentum each year due to a need for more investment in research and development aimed at the next generation of equipment. Swedish defence firms are falling behind due to inconsistent export revenue and insufficient R&D spending. In this context, new orders from Brazil are critical.
From 2014 to 2002, Brazil has inked contracts with Saab for 40 JAS-39E fighter jets. This order's deliveries began in 2019 and are expected to be finished by 2027. If 34 more "Gripen" aircraft are ordered, the Brazilian Air Force will have 74 "Gripen" aircraft.
Brazil is using the purchase of additional "Gripen" aircraft as leverage to continue promoting its KC-390 medium military transport aircraft to Sweden, aiming to meet Sweden's needs for replacing its present C-130 transport aircraft fleet. Furthermore, Brazil is aggressively investigating prospects in other European markets, intending to open up the market for its aircraft industry through these efforts.
The Brazilian Air Force has concluded that 108 "Gripen" aircraft will be required, which will be procured in three separate batches.
The Brazilian Air Force ordered the "Gripen" because the country has always favoured aircraft with lower operational costs and longer lifecycles. According to published estimates, Saab's "Gripen" fighter jet costs around half the price of competitors such as the "Rafale" and F/A-18. The arrangement was reached primarily because Saab provides more comprehensive technology transfer for fighter jets than Dassault and Boeing.
Saab has recently been actively altering its target markets, possibly in recognition of the "Gripen's" weakness compared to the F-35. In November 2022, the Swedish government approved transferring "Gripen" aircraft to the Philippines. Since 2016, Saab has maintained a sales office in the Philippines, reflecting the company's continuous interest in the country as a possible market for its fighter aircraft.
This year has seen various discussions between Sweden and the Philippines governments concerning the "Gripen" project. In mid-August, the Philippine Air Force chief travelled to Sweden to evaluate the "Gripen." Swedish Ambassador Tornberg expressed confidence that the "Gripen" fighter aircraft could meet the Philippine Air Force's modernisation requirements during a meeting with Philippine Defence Secretary Teodoro. In addition, the two countries signed a Memorandum of Understanding in early June, formalising their agreement to collaborate on defence resource acquisition.
Sweden is still competing in the South Asian region for the contract to provide India with a Multi-Role Fighter Aircraft (MRFA, MMRCA 2.0 – Medium Multi-Role Combat Aircraft 2.0).
Lockheed Martin's F-21, Boeing's F-15EX, Dassault's "Rafale," Russia's MiG-35, and Saab's "Gripen" compete for this contract. Even though the "Rafale" eventually won the first MMRCA programme a few years ago, Saab has not given up on this opportunity and is aggressively campaigning for and pitching the "Gripen" for the MMRCA 2.0 programme.
 The transfer of Gripen to Ukraine is being heavily debated, but it appears that it will only happen if Sweden joins NATO.
While Sweden's defence industry has issues, it is working hard to fix them by expanding into new markets, delivering competitive prices, and transferring technologies. Sweden may still grow exports while remaining competitive in the global arms market.