As Indian citizens keep a wary eye on the 3rd wave of the COVID-19 pandemic, experts have started sounding warnings that it might be even worse than the  2nd wave. The death and misery faced by the citizens and the apathy by the Indian administration and the administration of some states during the second wave have taken a toll, especially mental and economic. As per World Health Organization (WHO), the Delta and Delta Plus variants emerging from India are "expected to rapidly outcompete other variants and become the dominant variant over the coming months".  The Delta variant of coronavirus is eight times less sensitive to antibodies generated by vaccines as compared to the original strain that came from China's Wuhan, according to a new study. The study performed at three centres in India, including Sir Ganga Ram Hospital shows that the new variants generate greater transmission among the fully vaccinated.  WHO Director-General Tedros Adhanom Ghebreyesus has warned that in countries (like India) with low vaccination coverage, terrible scenes of hospitals overflowing are again becoming the norm.
A report named 'Covid-19: The race to finishing line', published by SBI Research on the 5th of July stated that the COVID third wave is likely to hit the country in August and it will peak in September. "Going by the current data, India can experience around 10,000 cases somewhere around the second week of July. However, the cases can start rising by the second fortnight of August," the SBI report said.
On the other hand, IIT Kanpur's study Sutra model for COVID-19 shows the third coronavirus wave can have three kinds of impacts. As per the study, the third COVID wave will be a "ripple" in case there is no significantly faster-spreading mutant. Another study by IIT Kanpur showed that the third wave of Covid-19 is expected by September to October this year.
Frontier India spoke to Physician and Infectious disease specialist, Dr. Neeraj Tulara from the Dr L H Hiranandani hospital, who is in the COVID team as a front-line warrior over the past 15 months. 
Dr. Neeraj has completed his post-graduate diploma in 'Infectious Disease' from Australia. He is an editor for the SM tropical journal, Biomedical sciences USA, and is a reviewer for Annals of Internal Medicine, USA, and many other journals. He has published various scientific articles in various national and international indexed journals. Dr. Tulara finished his graduation from SMS Medical College – Jaipur, Rajasthan, and post-graduation in Internal Medicine from Jaslok Hospital, Mumbai in 2004. He worked in the Holy Family Hospital, Nanavati Hospital before joining Dr. L H Hirananadani Hospital in 2013.
Q: The world has seen a continuous mutation of the COVID-19 virus and now faces the risk of the Delta and delta plus variants. Why is the virus constantly mutating and is it going to keep mutating and how is the vaccination drive helping to control the virus?

Virus mutation is imminent. Every virus keeps changing its structure to survive. It is survival of the fittest and every living creature in this world tries to survive by changing itself. The COVID-19 virus is also doing the same and that's why we are seeing new and new mutants like delta and delta plus as time passes. Vaccination does help even for the mutant strains because immunity developed by vaccines protects, even if not fully, then at least partially. Even if you get the disease, it'll be very mild as compared to non-vaccinated people. Hence the vaccination is the hope and weapon we have right now to fight this battle. 

Q: People are seen to be avoiding the vaccine in fear of catching a new Variant of the virus. Can the mutation of the virus lead to a point where we will have to come up with an entirely new vaccine? There are a lot of misunderstandings regarding this among the general public, can you provide some clarity on this?

Multiple and ongoing mutations in the virus can make the vaccine partially ineffective, that's the concern for everyone. A similar thing happens in the Influenza virus where a frequent change in its structure makes it resistant to vaccines. Hence, flu shots have a shelf life of only one year and don't protect you from flu next year and you need to take a new shot every year if you need to be protected against flu. Will this happen with the COVID-19 virus also? No one knows that. It's too early to claim since the virus is a novel one and not everything is known about this virus so far. Time will only give us an answer, but vaccination is the only answer to develop herd immunity and to contain the virus spread and end this pandemic.

Q: With the lockdown at a little ease, people have started to go out trekking and taking vacation trips to places, is this, and if yes, then how much is this contributing to the upcoming 3rd wave?
With the ease of lockdown, people are out on the road and this is a big contributing factor in the 3rd wave. If people don't follow covid appropriate behaviour, then we might face an even worse situation than the 2nd wave. So, we need to be serious and take all precautions while going out and meeting people. If anyone can save us from this 3rd wave, then this is ourselves and our covid appropriate behaviour. If you survive, then you can always travel all around the world, but if you get engulfed by covid then there is no tomorrow, so better to stay safe and not to travel until this danger of covid is curbed.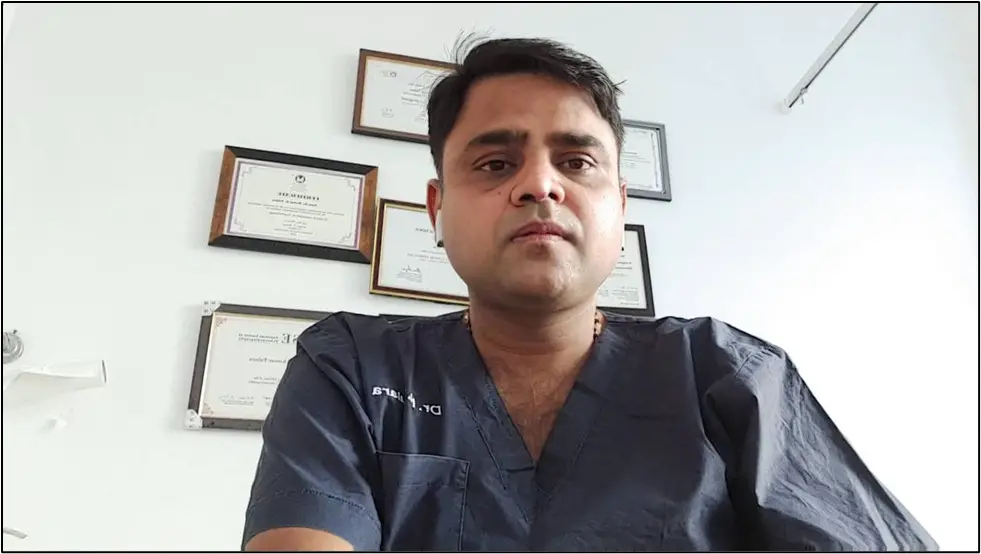 Q: How is the predicted 3rd wave looking right now? How big of an impact will the wave cause and what preparations should the authorities, the medical infrastructure, and the general public should be doing?
Pandemics always have many waves, and they die down with time. So, a 3rd wave is imminent, and no one can stop this from coming in the real sense. The only thing in question is 'How big will it be?' And whatever the scale, it can only be prevented by vaccinating more and more people and taking all safety precautions to stop the spread. We need to be ready and prepared for the 3rd wave because this is a reality. We need to be much better prepared as compared to the 2nd wave, whether it is health infrastructure, medicines, or oxygen supply, etc. The general public has to follow strict COVID appropriate behaviour to reduce the peak and intensity of 3rd waves.
Q: Under the fear of another wave hitting the nation, people are either being careless about it or panicking. What would you like to convey to the people of India?
Everyone has to follow all the precautions against the COVID-19 virus and encourage more and more people to take vaccines. Please follow covid appropriate behaviour, don't let your guards down, and support the vaccination drive of the nation. We don't need to be scared of the virus, but be careful about its spread. We've had enough in the last one and half years. The 3rd wave is going to come, but who will get affected in this 3rd wave? That no one knows. There is no scientific evidence for claims like 'Children will be more vulnerable'. I believe these are all predictions and there is no science behind them yet. Let's prepare to the fullest, let's not leave anything for tomorrow and be ready to fight a war with the COVID-19 virus, like never before. So have a safe practice today for a better tomorrow. Covid is here to stay so we need to protect ourselves and our near and dear ones by following all safety precautions and vaccinating every individual.