Boeing plans to equip the JDAM (Joint Direct Attack Munition) guided bomb with a jet engine. The planned PJDAM (Powered JDAM) has an expected range of 550 km. Boeing plans on using the available industrial capability to produce JDAM bombs or Mark 80 series aerial bombs.
Through the development of the PJDAM, Boeing is meeting the enormous demand from military forces worldwide for long-range precision weapons. Using bombs from the Mark 80 series, which are mass-produced, easily accessible, and relatively inexpensive, is essential to PJDAM's success. These Mark 80 bombs are typically put to use in the manufacturing of precisely guided JDAM bombs as well as Paveway ammunition.
Newer variants of JDAMs use satellite navigation and laser guidance, contributing to their increased potential. The United States Air Force (USAF) is conducting experiments with radar and infrared guidance as part of a Quicksink programme. The USAF tries modified JDAMs to hit moving naval targets as part of the Quicksink programme.
The US possesses significant industrial capacities for producing JDAMs, including Mark 80 series bombs and guidance systems. This should not come as a surprise, given that NATO policy is predicated on achieving aerial superiority and eliminating the enemy from the air. This philosophy aligns with the enormous stocks of aerial bombs, at least in the United States. On the other hand, the Russian military significantly emphasises its extensive artillery.
Throughout the past quarter-century, the US has manufactured more than 520,000 JDAM bombs, most of which have been used in military operations in Iraq and Afghanistan. Currently, 10,500 JDAMs are manufactured each year. However, the yearly industrial capacity is greater than 50,000 JDAMs. 

The US Air Force stores JDAM bombs and smaller GBU-39/B Small Diameter Bombs in its warehouses. Before Russia invaded Ukraine in June 2021, the USAF asked to buy only 1,919 JDAM bombs for fiscal year 2022. This is 88% less than they requested in fiscal year 2021 (16,800 units). In 2019, the most units were made (30,872). This means the warehouses have a lot of goods in them and can be used for business purposes.
Many countries worldwide still want long-range air-to-ground weapons that are cheap, easy to make, and can be used immediately. 
There are powerful weapons like the AGM-158 JASSM (Joint Air-to-Surface Standoff Missile), glide bombs like the AGM-154 JSOW (Joint Standoff Weapon), and European missiles like Storm Shadow and Taurus. However, these missiles are very expensive and not easy to find. Stocks are usually only a few hundred or a few thousand. They aren't meant to be used on the front lines daily; they are meant to be carefully planned attacks on strategic static targets.
On top of that, these are very specific and limited weapons that are mostly used by the US military. The US partners don't have many precise air weapons or almost none.
Boeing's PJDAM system is designed to meet these requirements
Boeing and the Australian company Ferra Engineering have recently agreed to keep working together to make JDAM-ER and advance PJDAM. The Australians are responsible for designing and making the bombs' wing kits. Boeing picked the TDI-J85 engine (890 N) from Technical Directions to power PJDAM. This will give it the range of 550 kilometres that was wanted.
In August, Boeing said that testing different versions of the "jet bomb" in a wind tunnel was finished. Boeing will make a digital twin with their information and test it in a virtual world.
The PJDAM is built on the Mark 82 bomb. However, it doesn't look like there is a problem with making more powerful models using Mark 83 (450 kg) and Mark 84 (907 kg) bombs.
Boeing says that any plane carrying the JDAM can also carry the jet-powered version without problems. The jet-powered PJDAM with a Mark 82 warhead is the same size as a normal GBU-31 JDAM with a Mark 84 warhead so that it can be used in the F-35's internal weapon bays. Satellites and lasers can be used to guide PJDAM.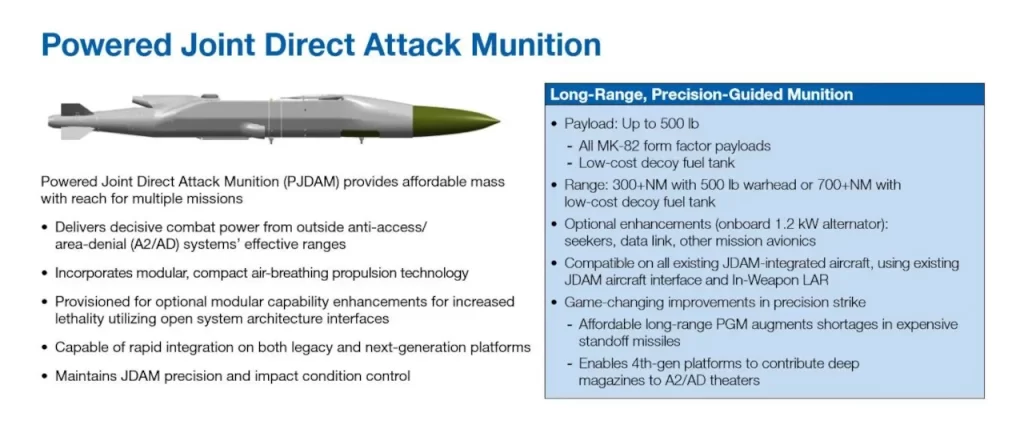 PJDAM has a 1.2 kW generator that can power extra sensors like radar or transmission systems. PJDAM can also be used as a decoy. An extra fuel tank can be put in place of the Mark 82 bomb to make the range 1,100 kilometres.
The price is the most important consideration. The Mark 82 warhead adds a few thousand dollars to the price of a JDAM package, sold for $20,000 to $30,000. The TDI-J85 is a relatively inexpensive tiny jet engine that could cost tens of thousands of dollars. There will be extra charges for installing the folding wing guidance and extended range kit.
PJDAM is predicted to cost between $50,000 and $100,000. This is a huge savings compared to the one million dollar cost of a single JASSM. The fact that PJDAM can be mass-produced and deployed is also essential.