The abundant resources beneath the ocean floor have been recognised for over 150 years. In 20,000 Leagues Under the Sea by Jules Verne, from his submarine Nautilus, Captain Nemo refers to "significant deposits of ores, zinc, iron, silver, and gold" and saw the future in them. For centuries, the ocean and its resources have been confined to fishing, pearl collecting, and coastal operations. As the demand for various raw materials continues to rise and terrestrial mineral reserves continue to be depleted, it is critical to investigate and develop the mineral resources of the ocean floor. 
The Indian government's Deep Ocean Mission (DOM) is focused on creating cutting-edge tools for mining the ocean's depths. The United States, Russia, France, Japan, China, and India will all be part of a select club of maritime superpowers.
India's efforts to explore the deep water could increase international knowledge of scientific and physiological processes and inspire fresh approaches to global improvement. At least in part, India's motivation for adopting the DOM is its desire to increase its standing in international waterways and profit from ocean resources.
The International Sea Bed Authority (ISBA) of the United Nations has designated an area of approximately 75,000 square kilometres in the Central Indian Ocean Basin (CIOB) for India to exploit polymetallic nodules (Mn, Ni, Cu, Co) located at a depth of approximately 6000 metres. The estimated quantity of total resources is approximately 380 million metric tonnes. The UN International Seabed Authority has approved the 15-year consent period. 
The Ministry of Earth Sciences has engaged the Indian Space Research Organisation (ISRO) as a collaborator in the execution of the Deep Ocean Mission (DOM). An autonomous institute under the Ministry of Earth Sciences, the National Institute of Ocean Technology (NIOT) is developing Samudrayaan – manned submersible Matsya 6000 capable of transporting three individuals to an ocean depth of 6,000 metres. ISRO's Vikram Sarabhai Space Centre (VSSC) is creating a 2.1-meter-diameter titanium alloy human sphere for the manned submersible.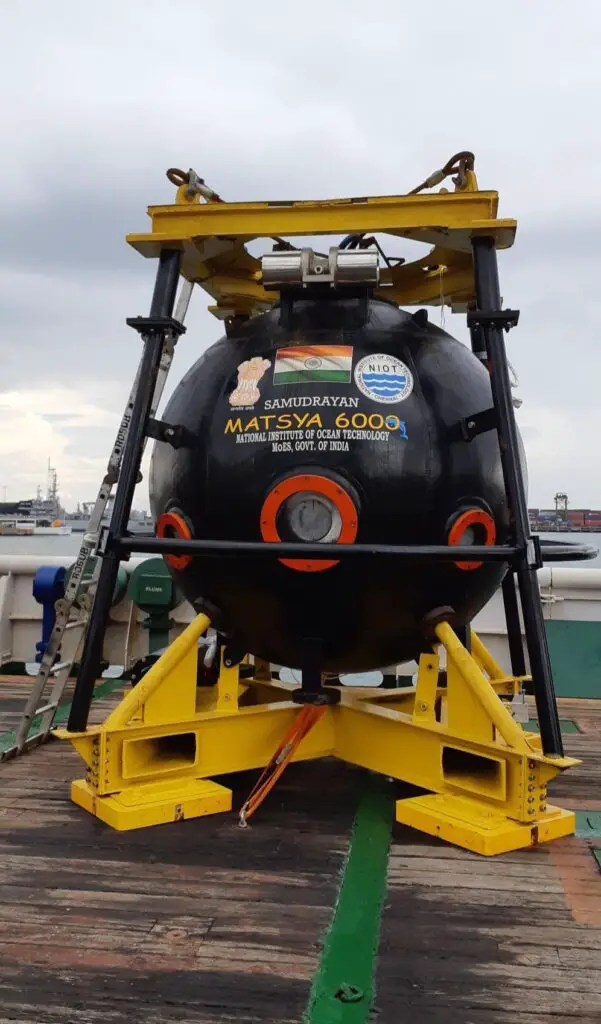 Previously, India used a Remotely Operable Vehicle (ROV) – ROSUB 6000. On April 1, 2010, the Ocean Research Vessel Sagar Nidhi departed Mangalore for the Poly Metallic Nodule (PMN) site in the CIOB to conduct qualification trials for ROSUB 6000. The initial trials of the ROV were carried out to a depth of 1250 metres. A turbulent sea with a sea state of 5 was observed. The initial deep water demonstration was carried out at 5290 metres on April 14, 2010. An average descent speed of 25 metres per minute was maintained during this operation. Each system underwent testing at depths of 50 m and 3000 m before reaching 5000 m. Electrical issues were identified when the ROV reached its maximum depth of 5256 metres, but they were resolved by returning the ROV to the surface.
India, boasting an expansive Exclusive Economic Zone (EEZ) spanning more than 2.2 million square kilometres, comprises 1382 islands, nine coastal states, and a substantial population along its coastline. By efficiently using a mere 10% of its maritime resources, the nation could adequately meet its energy demands for the following century. Preliminary inquiries indicate the presence of 380 million metric tonnes of polymetallic nodules in the Central Indian Ocean basin. These structures are thought to conceal manganese, cobalt, iron, lead, zinc, and copper, which are worth an estimated $110 billion together. In line with India's efforts to develop a blue economy, the DOM places a high value on the sustainable utilisation of ocean resources to promote economic growth, improve livelihoods, create employment opportunities, and protect the health of ocean ecosystems.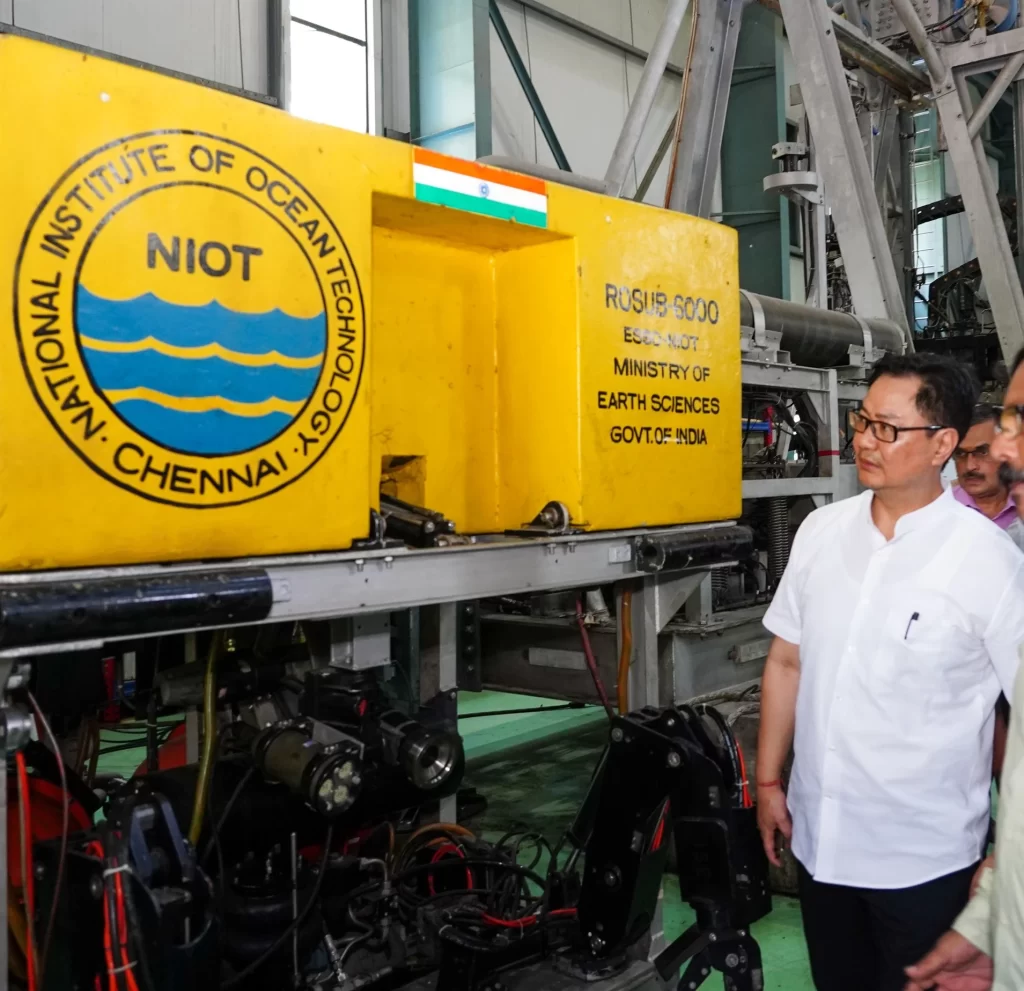 The Areas of Emphasis of the DOM
Man-operated submersibles, underwater robotics, and remotely operated vehicles (ROVs).
Advanced technological advancements in deep-sea mining, particularly on polymetallic deposits containing substantial amounts of nickel, cobalt, iron, and manganese.
Advising on ocean climate change by developing advisory services comprising observations and models for decadal to seasonal projections of climate variables.
Facilitate the investigation and preserve deep-sea biodiversity through technological advancements in conjunction with the NIOT, Centre for Marine Living Resources and Bhabha Atomic Research Centre (BARC).
Participating in exploration and deep ocean surveys, including research on the design and construction of offshore desalination facilities propelled by Ocean Thermal Energy Conversion (OTEC) and using oceanic energy and freshwater sources.
Foster research, industrial application, and product development advancements by establishing an advanced marine station for ocean biology in collaboration with MoES and affiliated institutions.
Opportunities for India
Investigating microorganisms and searching for innovative biomolecules with potential industrial and biomedical uses is transforming the field of drug discovery and medical progress.
The extraction of valuable minerals from polymetallic nodules, including iron, nickel, cobalt, copper, and wind turbines, is indispensable for technologies including solar panels, smartphones, wind turbines, and batteries.
Advancements in technology for exploring and preserving deep-sea biodiversity include DNA repositories, taxonomy, genomic studies, bioprospecting, and anti-fouling technologies.
Carbon extraction from sediments is a potential outcome.
Leveraging microorganisms resistant to high temperatures from hydrothermal vents to propel developments in PCR technology and antibiotics.
Contributes to our comprehension of the effects of climate change, cyclones, tsunamis, and global warming on terrestrial organisms, thereby influencing our reactions.
The Difficulties Ahead
Achieving a paradigm shift in access, inclusion, and equity for exploration, science, and technology in the deep ocean.
Ensuring that technological advancements and applications in the blue economy do not compound existing inequalities.
Enforcing initiatives that effectively promote accessibility, inclusiveness, and fairness in pursuits related to the deep ocean.
Establishing bidirectional and quantifiable approaches to resolve these issues effectively.
Principal Concerns
Establishing indigenous solid leadership and management is critical throughout the entire lifecycle of DOM initiatives, from inception to completion.
Although engaging international partners for guidance, training, and technological assistance is crucial, this should maintain the significance of domestic partners.
Priority is given to inexpensive, user-friendly technology that operates without external intervention or intricate repair mechanisms.
Co-development of specialised training priorities with domestic partners to reduce reliance on external expertise.
The deployment capability of technology should be optimised for domestic vessels and compatible with the specific deep-ocean conditions of the nation.
Facilitating opportunities for ongoing financial support from private and governmental entities in light of the advanced technological demands of DOM missions.
Priorities for engaging stakeholders should be established with in-country partners, with cultural and linguistic diversity duly considered.
Collaboratively establishing priorities for capacity building with partners in the host country, incorporating specific metrics to track and verify efficacy.
By capitalising on the knowledge and proficiency of entities and individuals specialising in diverse fields such as meteorology, hydrography, oceanography, and the Indian Navy, research institutions and hydrography are effectively leveraged.
Consistent and comprehensive monitoring of critical initiatives at the highest levels, with periodic reviews.
Responding to apprehensions expressed by environmentalists and oceanographers concerning the potential detrimental effects of resource exploitation, specifically seabed mining, on marine ecosystems.
Conclusion
The Deep Ocean Mission can help us learn more about these mysterious ocean regions. If India's DOM is adopted globally, it might pave the door for a new era of scientific exploration that teaches people everywhere more about the value of marine life. In addition to significantly impacting the blue economy, this mission will solidify India's status as a worldwide and regional powerhouse for marine biology and biotechnology research.
India has made significant scientific progress in its quest to mine the ocean for information. Understanding the deep sea, sustainable extraction of its resources, and managing global crises could all be drastically improved by the results of the Deep Ocean Mission.