I am from a military family of those who mostly served in the Indian Army with distinction. My late brother Major Prem Nath Bhatia, VrC of 6 Kumaon, severely wounded in the 'Battle of Walong' was a legend groomed by another bigger IAF legend, our maternal uncle, late Group Captain KL Bhatia VrC of Badgam, Leh, Uri and Poonch fame in 1947 War with Pakistan over Kashmir and I wrote numerous well-read published articles on him.
At the onset, I would admit, though I have written a few articles on my late uncle, I am limited in my endless writings on the Indian Army, especially my regiment, 'The Kumaon Regiment'. But for my grandkids, 13-year-old grandson Aahaan Bhatia and 11 years old granddaughter Ariaana, studying in Lawrence School, Lovedale, Ooty, who gifted me this book while visiting us in Noida during their recent winter holidays, 'I'd Rather Fly Chopper' written by AVM Rajesh Isser, AVSM, VM (Retd) who is an ace IAF helicopter pilot. Quoting Willard Wigan, 'Flying helicopters is what I do for fun' sums up the missionary zeal
and passion of the retired Air Vice Marshal Rajesh Isser, AVSM, VM of the Indian Air Force (IAF), who was commissioned in the Indian Air Force (IAF) on December 29, 1982, and superannuated on June 30 2019, over 8000 hours of flying to his credit, including combat experience in Sri Lanka, Indian Peace Keeping Forces (IPKF) 1987-88, Siachen Glacier, Kargil (1999), and Congo  (UNPK 2003-04), has described his hobby as flying helicopters. Since 1983, he has participated in a variety of operations with all of the Special Forces of the Indian Armed Forces, during which he held the position of a Category A flying instructor. In addition to that, he has undergone training with the National Security Guards (NSG) to become a member of a helicopter crew for special operations. Over the course of his 37-year career, he has served in a variety of operational commands as well as staff positions. He was able to evacuate 46 people from rooftops, treetops, small eroding islands, and a capsized boat by rope ladders and winching from the swirling and ferocious Siang River, which resulted in him being awarded the Vayu Sena Medal (Gallantry). This was done on June 2, 2000, in the East Siang district at Passighat, which had been inundated by flash floods causing widespread devastation. He was also awarded AVSM for his distinguished service and has written numerous thought-provoking articles and four books- 'The Purple Legacy: Indian Air Force Helicopters in Service of the Nation', Peacekeeping and Protection of Civilians: The Indian Air Force in the Congo and Air Power in Irregular & Hybrid Conflicts' and the latest 'I'd Rather Fly a Chopper'. From the first VS-300 helicopter in the first chapter, he narrates lucidly numerous air helicopter operations and anecdotes to the IAF's fleet history in the end epilogue, but whatever has been captured, this book is neither his autobiography nor a comprehensive analytical study of flying operations but simple, a lucid absorbing narration of his experiences in flying helicopters in plains, deserts, high altitude, IPKF, Siachen, under the enemy's nose, the UN peace Keeping missions, Kargil War and so on.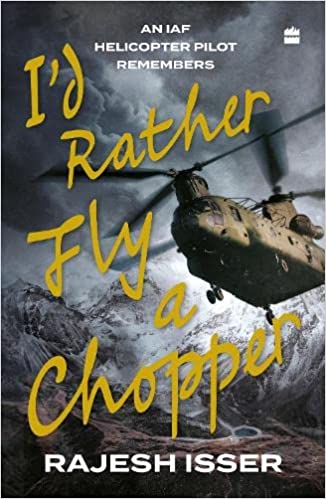 Though commissioned a decade later, he has covered IAF operations in the Bangladesh Liberation war fluently, flashing back memories of my participation in the war as a staff officer in HQ 62 Mtn Bde. In the opening chapter, 'Chopper-Chopper Everywhere,' he describes helicopter aptly as 'Ubiquity' or the ability to be present anywhere; the book is divided into three parts 'Stranger than Fiction, Action Chronicles and Touching All Corners' stories and anecdotes full of his professionalism, bravery, common sense (so uncommon otherwise), leadership, integrity, scuttle laced with humour. The perfect execution of any flying mission is carried out by pilots' professionalism, perfect execution thriving as much on mental and physical robustness as on camaraderie.
While reading and enjoying the book, I too could recollect as a young officer being chopper dropped chasing Mizo hostiles or constructing makeshift helipads in thick mountainous jungles with no habitation for miles around to evacuate injured/ sick soldiers or a tracker dog during thick of counter-insurgency operations in 1966-67! Nothing thrilled us more on a long-range patrol (LRP) column for months, getting our rations, ammunition, medicines, and New Year mail in the first week of March, along with a trot of rum and cigarette packets chopper dropped in the eerie wilderness! That's the importance of choppers valued by the foot soldiers slogging in military operations!
The author flew numerous types of helicopters for more than 35 years in terrain and weather conditions from Siachen to deserts, northeast in counter-insurgency and humanitarian missions in floods, Andaman & Nicobar, Sri Lanka Operations, Kargil, hostile missions in UN Peace Keeping Mission in Congo and Sri Lanka (IPKF) VIP sorties encountering numerous anecdotes with snakes, elephants, leopards and remote fauna and flora interacting with occasionally with difficult seniors and friendly colleagues, helpers, administrators and locals whom he commended appropriately.
On February 1, 2023, the Union Finance Minister Nirmala Sitaraman, while presenting the union budget, stated construction of 50 more new airports and heliports would bring more airlines and helicopters into the public domain, and many more will get the opportunity to fly in them and fly them too. Therefore, it is natural more young men and women aspiring to be helicopter pilots should read this book of role model chopper pilots, which is equally recommended as a must-read book both by military and civilian helicopter pilots. His role in heliborne operations and rescue missions, so often mentioned in numerous difficult flying conditions, is praise-worthy and needs to be emulated by all fliers, armed forces and those aspiring to be civil or military pilots. This 227 pages book, with large numbers of black & white photos, is published by Harper Collins, priced at Rs 399, is available through Amazon, and will be an invaluable addition to every library.