Weekend getaways are the new norm as India's young population is adventurous and is always on the "go". The introduction of new cars/SUVs and excellent roads has encouraged road travel to enjoy precious moments by dwelling on the rich Indian culture and history.
Rajasthan is a state that has much to offer along with its culture, tradition and hospitality.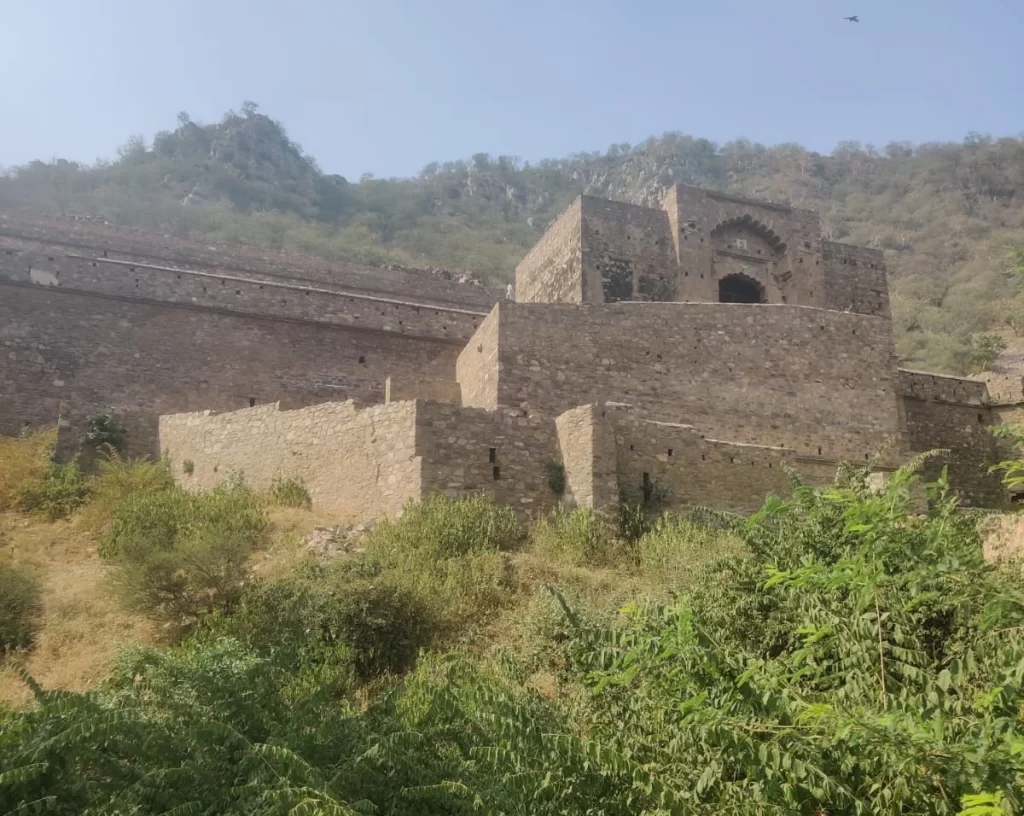 Getting There
The new highways constructed make the travel a wonderful experience. The journey is on the Delhi-Mumbai Super Expressway or North-South corridor. This expressway stretches for approximately 1,250 kilometres (777 miles), making it one of the longest expressways in India.
The expressway passes through several states, including Haryana, Rajasthan, Madhya Pradesh, Gujarat, and Maharashtra. It's aimed to decongest traffic on the existing Delhi-Mumbai National Highway 48.
This modern expressway has several advanced features like wayside amenities, advanced traffic management and tolling systems. The Green Initiative has ensured that the divider of the eight-lane highway has beautiful flowers, which makes the drive very pleasant. This would not only enhance the environment but also help in carbon absorption.
The expressway is not just for transportation; it has boosted economic activities along its route, promoting balanced regional development and decongesting metropolitan areas.
Bhangarh Fort
Bhangarh Fort, located in the Alwar district of Rajasthan, India, is often referred to as one of the most haunted places in India and Asia. Its eerie reputation and associated legends have drawn tourists and ghost hunters worldwide.
Bhangarh Fort was built in 1631 by Raja Madho Singh, the younger brother of Emperor Akbar's general, Raja Man Singh. The fort once housed a thriving town, but it's now in ruins. The fort's haunted reputation revolves around two main legends.
Princess Ratnavati – According to one popular legend, a magician named Singhia fell in love with the beautiful Princess Ratnavati of Bhangarh. Knowing he couldn't win her heart, he tried to use black magic on her. He saw the princess's maid buying oil and enchanted it to make the princess fall in love with him upon its application. However, Ratnavati saw through his plan and threw the oil, which turned into a boulder and crushed the magician. Before dying, Singhia cursed the palace, condemning its inhabitants to death without rebirth.
The Ascetic Guru Balu – Another story is about a sadhu (ascetic) named Guru Balu, who lived in the area of the fort. He had permitted the fort's construction so that the fort's shadow never fell on his home. As the fort grew in height, its shadow began to engulf the abode of the ascetic. Angered by this, the ascetic cursed the fort to destruction.
Current Status and Regulations. Due to its reputation, the Archaeological Survey of India (ASI) has set up visitor guidelines.
Entering the fort after sunset and before sunrise is strictly prohibited.
There are warning signs by the ASI cautioning tourists about the supposed haunted nature of the fort and advising against staying after dark.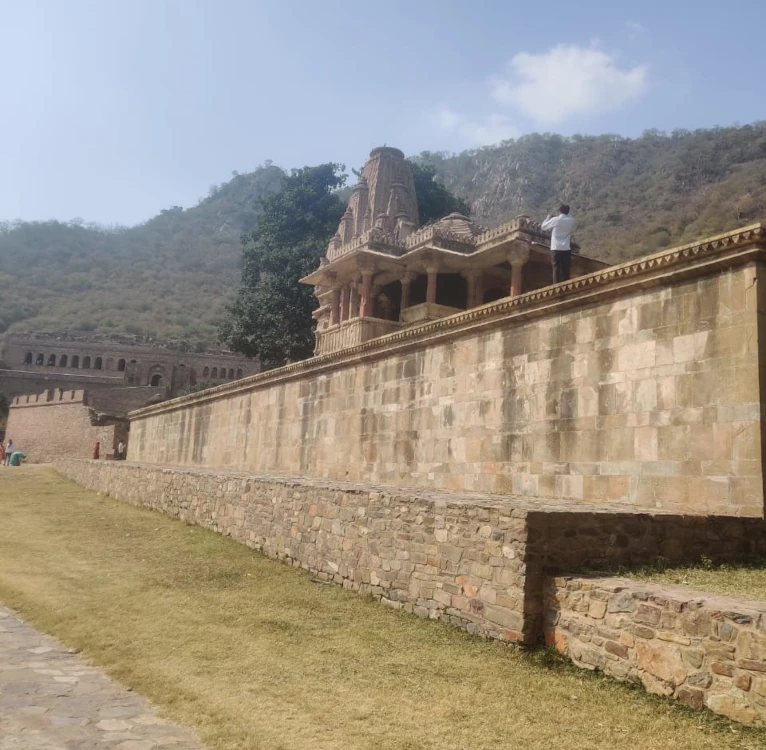 Is it Really Haunted?
There's no scientific evidence to confirm the supernatural occurrences at Bhangarh Fort. Most stories are based on local legends and tales passed down through generations. Many visitors report feeling eerie, but it's worth noting that such feelings might be influenced by the fort's reputation and the suggestive environment, especially when visiting near dusk.
Bhangarh Fort is a place wrapped in mystery and local folklore. Whether you believe in the supernatural or not, it's a historically rich and architecturally significant location that tells tales of its glorious past.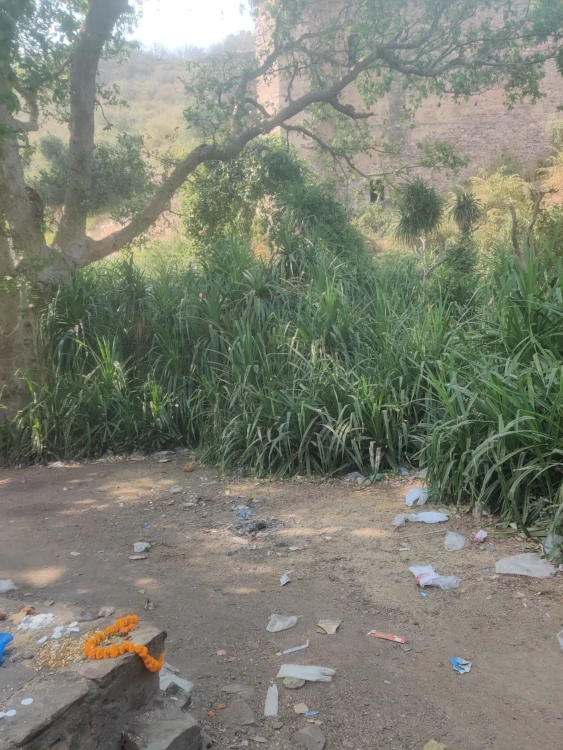 Sariska Tiger Reserve
Sariska Tiger Reserve is a renowned wildlife reserve in the Alwar district of Rajasthan, India. It was established in 1978 as a tiger reserve under the Project Tiger initiative. Sariska is essential to India's efforts to conserve its tiger population. Sariska is a popular destination for wildlife enthusiasts and tourists alike. Jeep and Canter safaris are a preferred way to explore the reserve.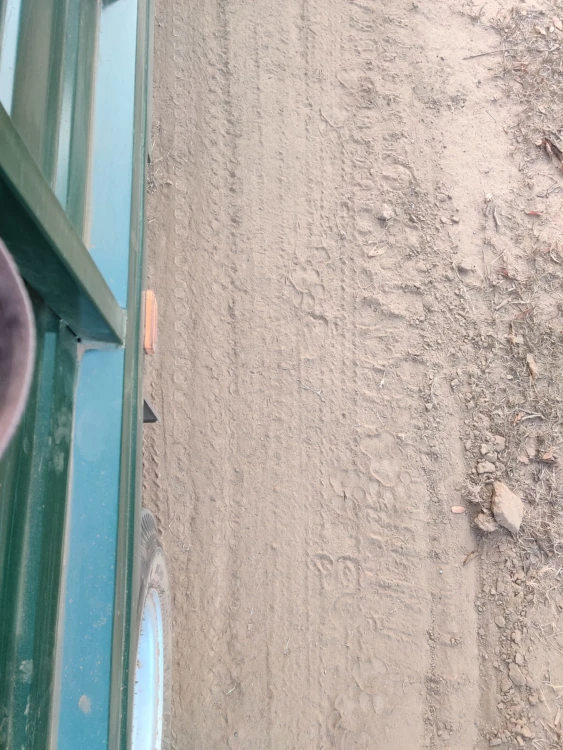 Geography and Landscape
Sariska covers an area of approximately 866 square kilometres and boasts a diverse landscape consisting of dry deciduous forests, grasslands, cliffs, and rocky landscapes. The Aravalli range surrounds the park, which provides a scenic backdrop to the wilderness.
Flora and Fauna
Flora. The dominant vegetation in Sariska is dry deciduous forest, with dark (Anogeissus pendula) trees covering a significant part of the reserve. Besides dhok, the forest has a mix of grasses, shrubs, and other trees.
Fauna. Apart from the Bengal tiger, which is the star attraction of the reserve, Sariska is home to a variety of other wildlife.
Mammals. Leopard, jungle cat, striped hyena, golden jackal, chital (spotted deer), sambar deer, nilgai (blue bull), chinkara (Indian gazelle), wild boar, and more.
Birds. The reserve is a haven for bird watchers with over 200 species of birds, including peafowl, crested serpent eagle, sand grouse, bush quail, and the Indian eagle-owl, among others.
 Reptiles. The reserve hosts a variety of reptiles like the Indian python, the Indian cobra, and various species of lizards and snakes.
Various accommodation options, from luxury resorts to budget stays, are available around the park for visitors.
Sariska Tiger Reserve is a testament to India's commitment to wildlife conservation, reflecting its successes and challenges. Its rich biodiversity and proximity to major cities like Jaipur and Delhi make it a significant destination for domestic and international tourists.
Local Communities
The local communities surrounding Sariska Tiger Reserve play an integral role in the overall experience for visitors. The unique blend of nature, wildlife, and human culture makes Sariska more than a wildlife destination.
Cultural Heritage
The region around Sariska is steeped in Rajasthani culture and traditions. Rajasthan is known for its rich history, colourful attire, vibrant music, and dance. The local communities are proud of this heritage and are always eager to share it with visitors.
Warm Hospitality
One of the most endearing aspects of visiting Sariska and its surrounding areas is the warm reception tourists receive from the locals. Whether it's a local guide telling you ancient legends of the region or the resorts serving you a traditional Rajasthani meal, the warmth and hospitality are genuine.
Local Cuisine
The traditional Rajasthani food, known for its unique flavours and varieties, is something every visitor must try. Local delicacies like "dal baati churma", "gatte ki sabzi", and "ker sangri" are not only delicious but also offer a taste of the region's history and culture.
Arts and Crafts
The local communities around Sariska are skilled in various traditional arts and crafts. Visitors can buy handmade items like pottery, textiles, and jewellery. By purchasing these, tourists get a souvenir, support the local economy and help preserve these ancient crafts.
Eco-tourism and Community Involvement
Over the years, there's been a push towards involving local communities in eco-tourism initiatives. This ensures that tourism directly benefits the local economy and promotes conservation efforts. When locals see tangible benefits from preserving wildlife and the environment, they become their most passionate protectors.
Interactions with Locals
Interactions with the local community were one of the most memorable parts of their trip. Sharing stories, learning about daily life, understanding traditions, and sometimes even participating in local festivities provide a wholesome and enriching experience.
In essence, while the majestic tigers and the scenic beauty of Sariska Tiger Reserve are significant draws, the local communities' warmth, hospitality, and rich culture leave an indelible mark on the hearts of visitors, making them yearn to revisit.