At least six people have died, two of them confirmed on Saturday since riots broke out in Bangladesh last Wednesday when mobs of Muslims attacked the Hindu minority after disseminating images in which the Quran was allegedly placed on the lap of a Hindu god Hanuman.
The incident occurred at the Durga Puja pandal in Cumilla, about 100 km southeast of Dhaka.
On Saturday, the lifeless body of a Hindu citizen was found in a pond in the district of Noakhali, said the deputy chief of the Local police, Shah Emran.
The mobs shouted anti India slogans and denounced Prime Minister Sheikh Hasina's closeness to New Delhi.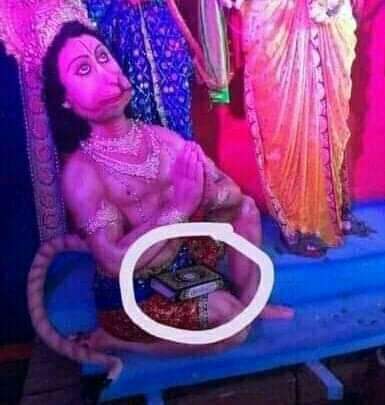 The Indian Prime Minister Narendra Modi and the embassy officials called up Dhaka only to be reminded of Narendra Modi Government's own record of anti Muslim incidents.
In a speech delivered virtually to devotees at Dhakeshwari National Temple on Thursday, Hasina said: "We expect that nothing happens there (in India) which could influence any situation in Bangladesh, affecting our Hindu community here… " However, as a diplomatic gesture, she added, "The incidents… are being thoroughly investigated. Nobody will be spared. It doesn't matter which religion they belong to. They will be hunted down and punished."
The Hindu community in Bangladesh has been under increasing attacks after the Hindutva-focused BJP party led by former RSS Pracharak Narendra Modi won the national elections in India.