The violence occurred after the courts refused to remove Tarek Bitar, a Lebanese judge, investigating the explosion at the Beirut Port.
Protest by supporters of Shia groups Hezbollah and Amal Movement was held to demand the removal of Tarek Bita. Some unknown shooters fired on protesters from rooftops on Friday near the Palace of Justice. This led to clashes between masked shooters and the snipers, resulting in the death of six persons and thirty two were wounded. 
Bitar, appointed to the Beirut Criminal Court four years ago, has dealt with cases, mainly regarding murder and drug dealing.
In February, the Judge was appointed to investigate the Beirut Port blast, a move supported by a significant public, especially families of those who lost their loved ones in the explosion.
Not just the Amal Movement and Hezbollah, even the Christian Marada Party is against his appointment.
Who is Tarek Bitar?
Born in 1974 to a Christian Family in Aydamon in Akkar province in northern Lebanon, Tarek al-Bitar, completed his primary and high school education in Tripoli. He later graduated from Lebanon University Faculty of Law in 1999.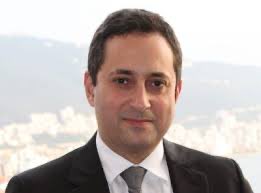 Bitar has served at different levels of the judiciary in Tripoli between 2004 and 2010. He was appointed as the Northern Chief Prosecutor for seven years in 2010.
While heading the Beirut Criminal Court since 2017, he successfully reduced the judicial files of more than 900,000 to below 500,000 in his four-year tenure.
On Feb. 20, 2021, the Lebanese Supreme Judicial Council appointed Bitar to investigate the explosion at the Port of Beirut in 2020. He replaced Fadi Savvan.
In July, he released low-profile detainees in the first few months of his investigation.
As part of the investigation, Bitar has sought parliamentary immunity for several lawmakers, who are ministers, when they testify. He now faces backlash from some politicians.