On October 10, Dr Abdul Kadir Khan, the "father of Pakistan's nuclear weapons technology", died in a hospital.
Khan was born on April 1, 1936, in Bhopal, British India. After the independence of India and Pakistan in 1947, he immigrated to Pakistan with his family in 1952.
He graduated from Karachi University Metallurgy Department in 1960 and went to West Germany and the Netherlands for higher studies.
Khan earned his PhD in Metallurgical Engineering from the Catholic University in Belgium in 1972.
His employment at URENCO was a turning point
Khan, who started working in the URENCO nuclear consortium formed in partnership with the UK, Germany and the Netherlands to research and develop uranium enrichment in 1972, gained access to the facility's most important areas and confidential documents with the successful work he achieved there.
After India's 1974 nuclear test, Khan offered the then Prime Minister of Pakistan, Zulfikar Ali Bhutto, to participate in Pakistan's nuclear weapons program.
He returned to Pakistan after his proposal was accepted and became a Pakistan Atomic Energy Commission (PAEC) member in 1976. In the same year, Han established the "Khan Research Laboratory".
Pakistan conducted its nuclear test in 1998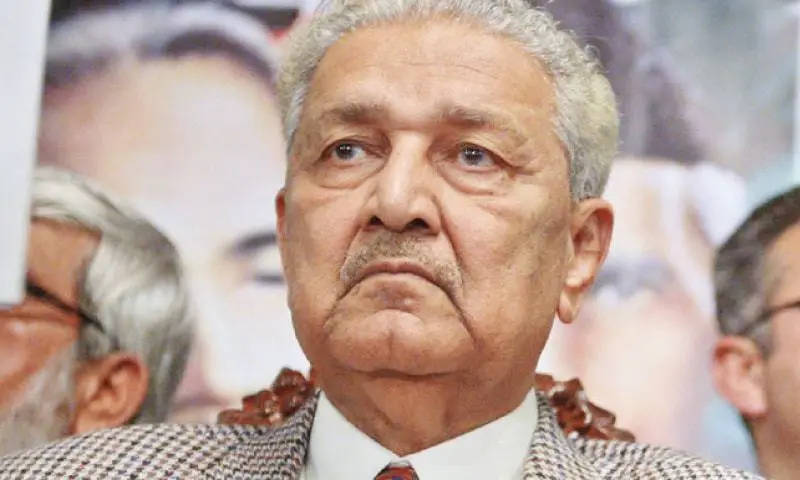 Khan carried out his research in Pakistan. After India's second nuclear test in 1998, Pakistan also conducted its first atomic test.
Khan became a key figure in Pakistan's nuclear arms rivalry between New Delhi and Islamabad.
Accused of 'stealing' nuclear technology
Khan was accused of "stealing uranium enrichment technology" in 1979 after returning home from the Netherlands.
The Dutch government launched an investigation against Khan, claiming that Pakistan had access to URENCO's nuclear technology information through Khan. In 1985, a local Dutch court sentenced Khan to 4 years in absentia. Khan appealed this decision and was cleared of this charge after a while.
Allegations of nuclear information leaks to Iran, North Korea and Libya
The United States accused Khan in the 1990s of selling highly sensitive nuclear technology to North Korea in exchange for missiles capable of carrying nuclear warheads. Khan was later alleged to have similarly sold atomic secrets to Iran and Libya.
He began serving as a Science and Technology Advisor in 2001 under the former President and Prime Minister of Pakistan, Pervez Musharraf.
Evidence of Khan's role in the spread of nuclear technology was sent to Pakistan by the United States in 2003.
Thereupon, Khan, whom Musharraf dismissed in January 2004, was taken into custody.
Khan was under house arrest from 2004 to 2009
On February 4, 2004, Khan admitted to transferring nuclear technology to Iran in 1989-1991 and North Korea and Libya in 1991-1997. One day after this confession, Musharraf announced that he had forgiven Khan. However, Khan remained under house arrest until 2009, when the court released him.
In his later statements, Khan retracted his statements on February 4, claiming that he was forced to make these statements by Musharraf.
Khan, who lived a secluded life after the house arrest order was lifted, died on October 10, 2021, in the hospital he was taken to due to his deteriorating health condition. Khan, who died at the age of 85, was deemed worthy of many awards, including 2 Pakistani state medals. Khan has two published books and many articles.