Boeing said in a press release on Tuesday that several US combat aircraft controlled four autonomous MQ-25 Stingray unmanned aerial vehicles simultaneously during a digital exercise on Intelligence, Surveillance, and Reconnaissance (ISR) missions.
The release said that Boeing has digitally demonstrated a new open autonomy architecture for MQ-25 that will allow the US Navy to improve mission effectiveness by integrating manned-unmanned teaming (MUM-T) capability at speed and scale. A team led by Boeing almost showed how other planes could use the MQ-25's architecture to do tanking and ISR missions.
The release said that Boeing's P-8A Poseidon maritime patrol and reconnaissance aircraft, Boeing's F/A-18 Block III Super Hornet fighter jet and Northrop Grumman's E-2D Advanced Hawkeye command and control aircraft were all part of the manned-unmanned teaming demonstration.
Boeing MQ-25 Advanced Design Director Don Gaddis said in the press release that when the MQ-25 is paired with the carrier-based E-2D or the land-based P-8A patrol aircraft, large ocean areas can be monitored, identified, and targeted.
Boeing said that the different planes' operational flight programme software and data links were used to give four virtual, autonomous MQ-25s ISR missions.
Boeing MQ-25A Stingray
The Boeing MQ-25A Stingray drone is a project for the US Navy. The drone is meant to replenish the naval air wing of nuclear multi-purpose aircraft carriers. It was originally developed as a reconnaissance and strike drone, but then it was decided to convert it into a refuelling tanker. Its main task is to ensure more effective combat use of F / A-18E / F Super Hornet and F-35B / C Lightning II carrier-based attack aircraft by significantly increasing their range and flight duration. In addition, Stingray also performs the tasks of reconnaissance and target designation.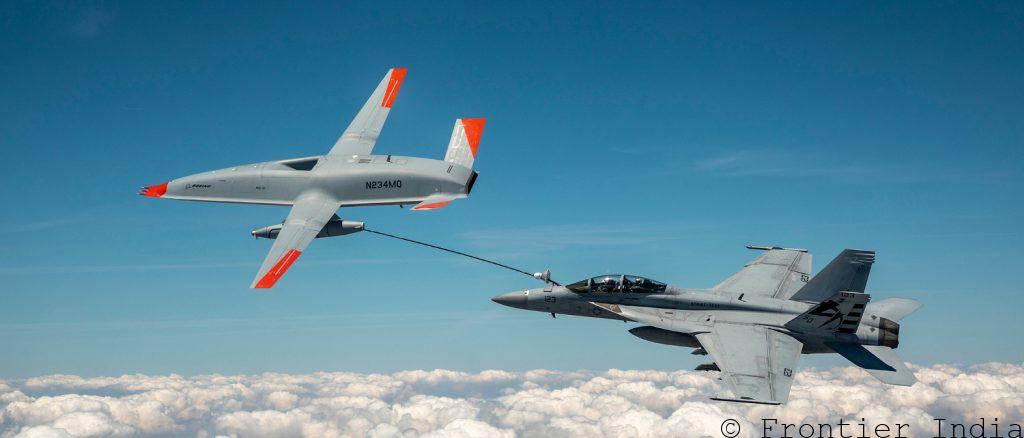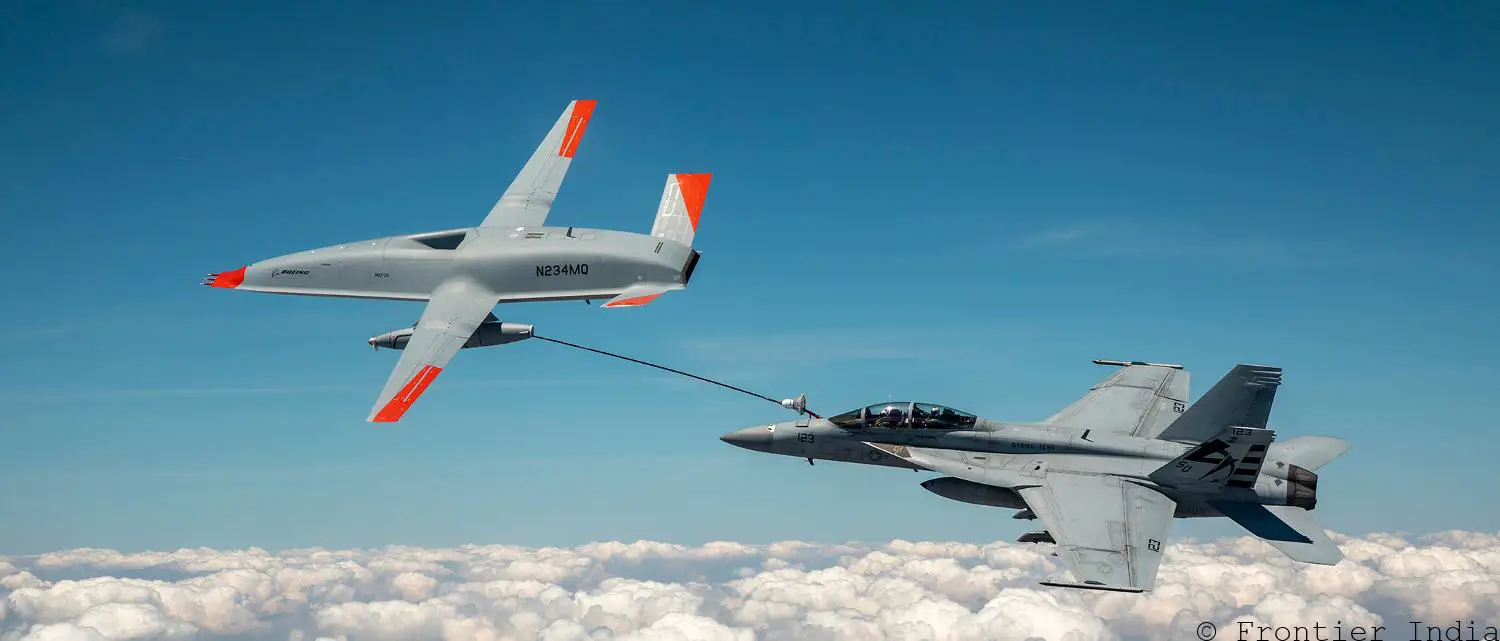 Four companies had tendered for the ariel refuelling tanker project. The Sea Ghost drone tendered by Lockheed Martin was based on the RQ-170 reconnaissance drone. Boeing created a variant of the Phantom Ray, which was also called the Ghost Ray. General Atomics submitted a version of the Sea Avenger UAV that had been modified. And Northrop Grumman had proposed a "flying wing" version of the X-47B unmanned aerial vehicle (UAV).
American companies General Atomics Aeronautical Systems, Inc. (GA-ASI) and Pratt & Whitney (P&W) have created the PW815 bypass turbojet engine, which is designed for the advanced MQ-25A Stingray. 
The PW815 turbofan engine is part of the new PurePower PW800 series. Several versions of this series have already been chosen and approved for use on Gulfstream business jets. The developer says that the PurePower PW800 motors are very efficient and require little maintenance because they are made with a single-piece bladed disc and the latest digital control system (FADEC) with advanced diagnostics. The use of modern materials that are light is also a plus.
MQ-25A Stingray backend operations
The US Navy wants to build a new base (CBUAS) for the MQ-25A Stingray Carrier-based Unmanned Air System at Point Mugu, California's Naval Base Ventura County. This plan gives interesting insights into the future of the MQ-25 operations at the backend.
The Navy has made a draft of an environmental assessment to figure out what effects this home basing action might have on the environment. The proposal involves home-basing 20 Stingray air vehicles and putting about 730 personnel along with their families at Pt Mugu. The environmental assessment also talks about the effects of flying Stingrays, building a new hangar, training facilities, and other infrastructure, maintaining air vehicles, and training air vehicle operators and maintainers.
When operating at full capacity, about 960 Stingray CBUAS flights are expected to occur yearly. Operations are expected to start with less than 960 flights per year and grow over several years until they reach that number. There would be departures and arrivals as part of these operations. Closed pattern operations are not planned in which the Stingray CBUAS takes off and lands multiple times without leaving the area around the airfield.
The goal of the proposed action is to set up a new squadron on the West Coast that will help the Joint Forces Commander improve the capabilities and flexibility of aircraft carriers. This will be done by adding a constant, sea-based, multimission aerial refuelling and intelligence, surveillance, and reconnaissance unmanned aerial system to the carrier air wing. The main reason for the Proposed Action is to extend the range and reach of the CVW on the West Coast to meet and keep up with current and future threats, with secondary recovery, refuelling, intelligence, surveillance, and reconnaissance capabilities to support national defence goals and policies.