In early May, the naval group achieved a first by launching an aerial drone from the nuclear attack submarine (SSN) Amethyst in the Mediterranean. The small quadcopter drone was designed by a Toulouse company Diodon.
The Centre d'Expérimentations Pratiques et de réception de l'Aéronautique navale [CEPA/10S] has shown a keen interest in the aerial drone HP30 developed by Diodon as part of the French Navy's "UAV sus sous-marin" experimentation operation, as recently reported by the Defence Innovation Agency. This unbreakable and unsinkable drone is equipped with high-performance day/night sensors. Its inflatable structure renders it unbreakable and unsinkable.
This drone is waterproof; the remote control is IP67, and the drone is IP56. It can land, take off, and move around in the water to sea state 4.
The DIODON HP30 systems cover a broad spectrum of short-range State Action at Sea missions, such as maritime security, safety, and pollution control. They weigh less than 2 kg, can be deployed in less than 2 minutes, have a 30-minute flight autonomy, and have a range of 3 nautical miles.
It is stable when it lands on water, can land and take off in water without any restrictions, and can land hard on land or the deck of a ship. These features open up new tactical possibilities, such as standing by during a mission while using little power and keeping an eye on certain spots along the coast. It eliminates worries about drones falling into the water, making it hard to train in the real world or work in tough circumstances like bad weather or electromagnetic interference.
The monitoring capabilities of patrol vessels, surveillance frigates, and vessels providing support and assistance [BSAOM] overseas could be improved with the use of drones like this one. In addition, as part of the experiments carried out by AID, a drone that Diodon had supplied was deployed and operated from within the underwater SSN.
The submarine's overall situational awareness will be improved as a result of this initiative. Using a drone is one way to increase the sensors and capabilities of a submarine. These include intelligence, surveillance, and reconnaissance in visible or infrared spectrums, radio relays, and cargo delivery. According to AID's explanation, this programme aims to incorporate a game-changing operational capability into the existing fleet in the medium term.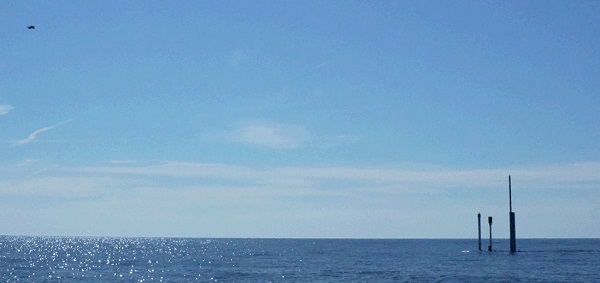 During the experiment, the unmanned aerial vehicle enclosed the submerged SSN Amethyst in a "watertight protective cocoon" furnished by the Naval Group. The cocoon opened upon reaching the surface, liberating the drone, which positioned itself above sea level. The submarine put out its communication antenna to establish a connection.
Once communication was established, the drone was piloted from the submarine, and a live video feed from the drone's camera was transmitted to the control console, according to AID, which sees the success of this test as an indicator of future operational capabilities.
France is not the only nation pursuing this capability. The US Navy's Naval Sea Systems Command [NAVSEA] requested the industry in October 2020 to acquire aerial drones that could be deployed from a submarine. A few months later, the Navy announced plans to purchase 120 "Blackwing 10C" drones from AeroVironment.
The Blackwing 10C is based on the Switchblade loitering munition and is released from a tube. It has sensors for Intelligence, Surveillance, and Reconnaissance (ISR) missions and a secure digital data link (DDL). The drone weighs 4 kg and is 68.6 cm long and 49.5 cm wide. It can also be used as a data relay.
The US Navy had wanted this kind of capability for a long time. In 2013, the Naval Research Laboratory [NRL] successfully launched an autonomous aerial drone, the XFC UAC, from a torpedo tube of the nuclear attack submarine [SSN] USS Providence using a launch device called "Sea Robin." At the time, the Navy said that if this test went well, it could give submarine forces and special operations "revolutionary" ISR powers.
The US Navy, on the other hand, wants to go even further. In February 2021, the Navy gave Raytheon a deal worth nearly 33 million dollars to deliver "Coyote Block 3" loitering munitions for surface and submarine drones.
The Israeli Navy may also acquire this capability from Spear, which has developed the autonomous aerial drone Ninox 103 for "undetectable" submarine launches at a maximum depth of 50 metres. Like the Blackwing 10C, this drone can fly for 50 minutes at 20 knots while transporting approximately 1 kilogramme of cargo. Additionally, it can serve as a communications relay, conduct ISR missions, and operate as a loitering weapon.