In a rare occurrence, the Google maps has captured the images of two Indian strategic submarines berthed alongside in a pier. The Indian Navy has three completed nuclear submarines, including INS Arihant, INS Arighat and INS Aridhaman. 
INS Arihant is the first SSBN in the Indian Navy, which completes the nuclear strategic triad giving India a much needed second strike capability. Initially the boat was conceived as SSN based on the Charlie 1 class design, the first nuclear boat INS Chakra which was leased from USSR for three years 1988-91. However, after the first concept design was made the requirement to make an SSBN post Pokhran 2 in May 98, a decision was taken to make Arihant as an SSBN. The objective was achieved with design collaboration with Rubin design bureau in St Petersburg.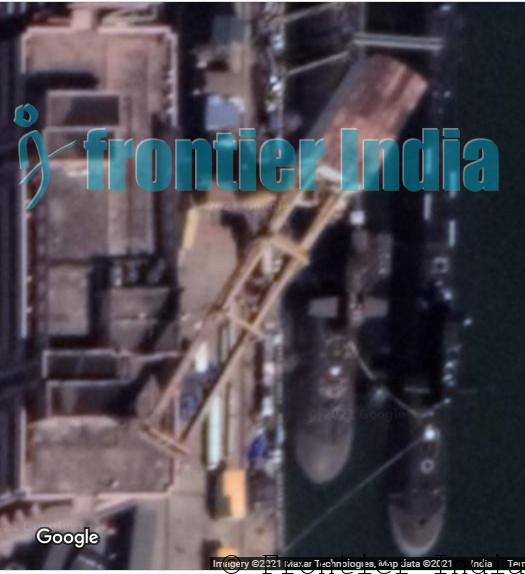 The boat was launched in 2009 by Mrs Darshan Singh, wife if Dr Manmohan Singh then PM of India. The outfitting took a few more years and the sea trials were completed by 2016. She is equipped with Sagarika ballistic missile with a range of 750 km as well as universal torpedo and tube launched land attack missile 3M-14 with a range of 300 km. INS Arihant also has the capability to launch 3M 54 anti ship tube launched missile. She completed her first independent operational deterrence patrol in 2018. There are six boats planned for strategic deterrence with S4 & S5 of much greater displacement than that of 6500 tons of Arihant. The second boat INS Arighat is already undergoing sea trials and INS Aridhaman was launched in the recent past.
With the success of  3500 km K-4 missile test on 24 January 2020, INS Arighat  is expected to feature the missile. The 12000 tons S5 boats are being considered for fitment with the later versions of missiles with ranges up to 5500km. Eventually, the range is expected to be increased to 8000 kms with K-6 missile, which will lend India the capability to reach any target in any continent.