I, my daughter (Neerja/Nanu) and son (Gaurav/Sheri), daughter-in-law Shefali and our grandkids, Aahaan and Ariaana, studying in Lawrence School, are very fond of pets-specially dogs. The only person not fond of a pet in our family is my wife Rajni for the reasons of cleanliness and, in her wisdom, rightly viewed that owning a dog is not just a privilege; it's a big responsibility to take care of the pet, feeding and restrictions related to travel when pets cannot move with the family!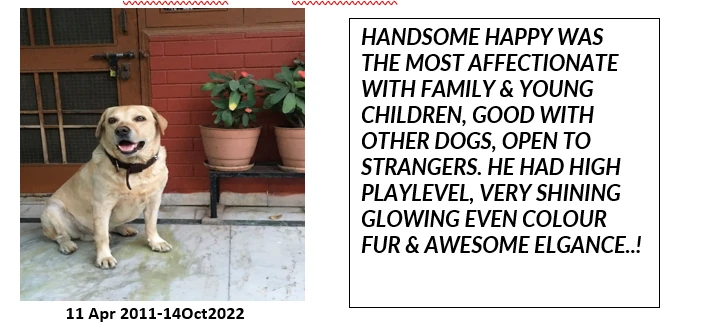 We have had six pets in the family so far. The first one was Ginny, a mixed Lhasa Apso, followed by Fluffy, an exceptionally beautiful snow white Pomeranian blessed with a luxuriant fluffy white double coat, foxy face with an alert, prick ears, followed by three exceptionally beautiful Lhasa Apsos named Caesar, Sandy and Brandy. The last one is Happy, the most handsome Labrador ever seen, who departed on 14 Oct 2022, giving us endless joy and love till alive and everlasting pain since his demise.
Less Ginny, while the other five pets expired staying with us, giving us abundantly, endless unconditional love; I regret I don't know how long Ginny lived as the night before I was moving out on posting from my unit 2 Kumaon (Berar) in May 1986, after the emotional dining out, on reaching my room in the Officers' Mess, little puzzled, I saw a smart JCO waiting for me. After the customary Ram Ram salutation, he was tense and emotional and stated in an emotionally choked voice that I would not leave him disappointed. I was honestly spellbound and asked Sahib what I could do for him and why he did not come into the office in the daytime along with Subedar Major Sahib. He was in tears, and the stated matter was personal and not official, and I must promise him as his CO is fulfilling his desire. I said, boliye Sahib, and he, very emotionally with moist eyes, said, 'Sahib, we have NO child, and I wish to adopt one of your two pets (Ginny or Fluffy) as our child'. I told Sahib that he had put me in a spin (dharam sankat /धर्म 'संकट) as these pets were part of my family, and how could I part with any one of them? He was holding a bag and took out a pet hair brush, bowl for the feed, leash and a biscuit packet and said he had the consent of his wife, too, and she has sent him to me with high hopes. I had tears in my eyes at his necessity to have my pet as their child and pain in me to part with which pet. Without a second thought, I gifted him Ginny with utter sadness. Past midnight around 2 am, I found Ginny running back around 2 km to my room from the JCO's family quarter, cuddling and crying in my bed like a baby, soon followed by the emotionally shaken Sahib on cycle to get her back! I could not sleep after that, and I feel guilty even today about giving away Ginny to the childless couple. Such is the power of the infinite love of pets who, unlike humans, cannot speak. I decided not to keep pets, though many followed in the near future.
Though this is the story of our lab Happy Bhatia giving us infinite love and affection, at the onset, I share all our pets reciprocated selfless love with our family.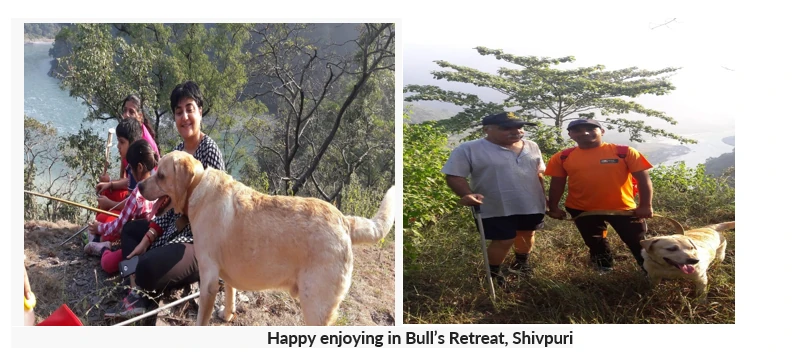 One late night in June 2011, we as parents were worried as our daughter Nanu had not come from the office for a long time. Around 9.30 pm, I got a call from her to come out of our main gate urgently. Nanu sounded worried, and I rushed out, seeing her standing next to a Labrador pup. My wife Rajni, sensing the urgency, followed me and said in thet (ठेठ) Punjabi, 'Hume chinta lagi thee, tum bahut der se ghar aye ho. Ehh katoora kithon chuk liyain weh (We were worried, you came home very late. From where the hell you brought this pup) and before Nanu could say, Mama, I requested Sheri to get us a pup. He got one from the top kennel in Mumbai, and I got late picking him up from the airport. There was heavy mortar fire from Rajni blasting everyone around, summing up who the hell told her to get one and much more to worsen the effect terrifying the pup.
Happy came from Essar's Kennel Club, Surat. His parents were very smart and intelligent sniffer labs, part of the security in Essar Steel Limited (ESL). His mother was black, while his father was a golden colour and Happy got his father's colour. Being the most beautiful, healthy and playful, he was picked up by our son Sheri posted in the ESL, taken to Mumbai in his lap in the car, flown to Palam, and picked up by Neerja.
Gradually, Rajni reconciled with the new pet and cared for him until his end, whom we named Happy. He adjusted well and, with a nutrient balanced diet, grew up fast and playfully. On a drop of a hat, he would offer his front paw(s) to shake hands and loved everything we ate-matthis, biscuits, rusks, sweets, laddoos, paneer paranthas, ice creams or jalebis. He grew up as the most handsome, obedient dog with glowing, thick yellow fur. He was very affectionate with family and good with young children in our surroundings and our grandkids Aahaan and Ariaana. Every child in A Block of our 30 Sector house knew Happy and played with him. If I ever asked them my name, they would smilingly say,' Happy Wale Uncle'. He was always good with other dogs in our area, and I escorted him during his morning and evening walks. His openness to strangers and high play level made him a darling pet, and he loved long car drives with his window glass rolled down.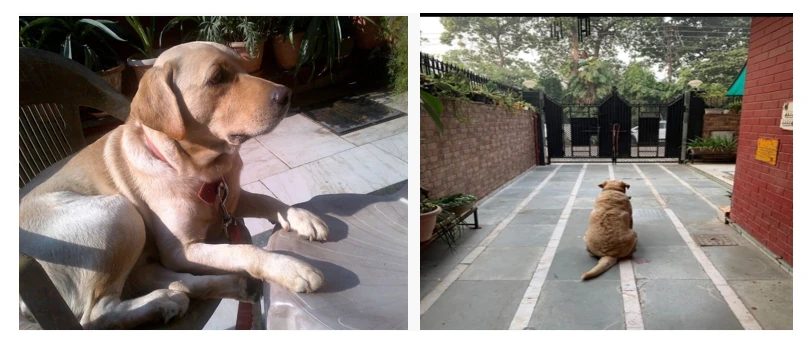 Happy loved hills, and our short sojourns to Cloud -9 Resort in Ramgarh Talla, Ranikhet, Khurpatal, Lansdowne and Bull's Retreat Shivpuri near Rishikesh were most enjoyable, where he would walk miles before getting tired or swim in river Ganga (Shivpuri/Rishikesh-thanks courtesy late Col Bull Kumar). He was so intelligent that once taught not to climb Papa Mama's beds, he never did so but would cuddle up with Nanu and our grandkids in their beds for blissful sleep. Also, he recognized our car keys and both the cars we had, including the sounds of engines, and would eagerly welcome us as we entered the main gate of our sector located at a distance.
Sweet-faced, lovable, Happy was a friendly, outgoing, and high-spirited companion with the entire family with more than enough affection to go around well from our grandkids to their grandparents, our extended family and friends and even part-time maid working in our house. Eyes on his prominent wide head glimmered till his last breath with kindliness, and the thick, tapering 'otter tail' seemed to forever signal his innate eagerness. His companionship with the entire family and feeling sad when left in the house while we went out and waited to welcome us back at the house's main gate were most heartwarming. He socialised well with neighbouring dogs and humans alike. He was an enthusiastic athlete requiring exercise and long walks kept him physically and mentally fit. He loved occasional baths to keep him clean, his nails trimmed regularly, and his teeth brushed frequently. For their excellent qualities, labs are the most desired dogs in the army and the CPOs for tracking, patrolling, search and rescue missions, and detecting arms, explosives, drugs and fake Indian currency notes (FICN).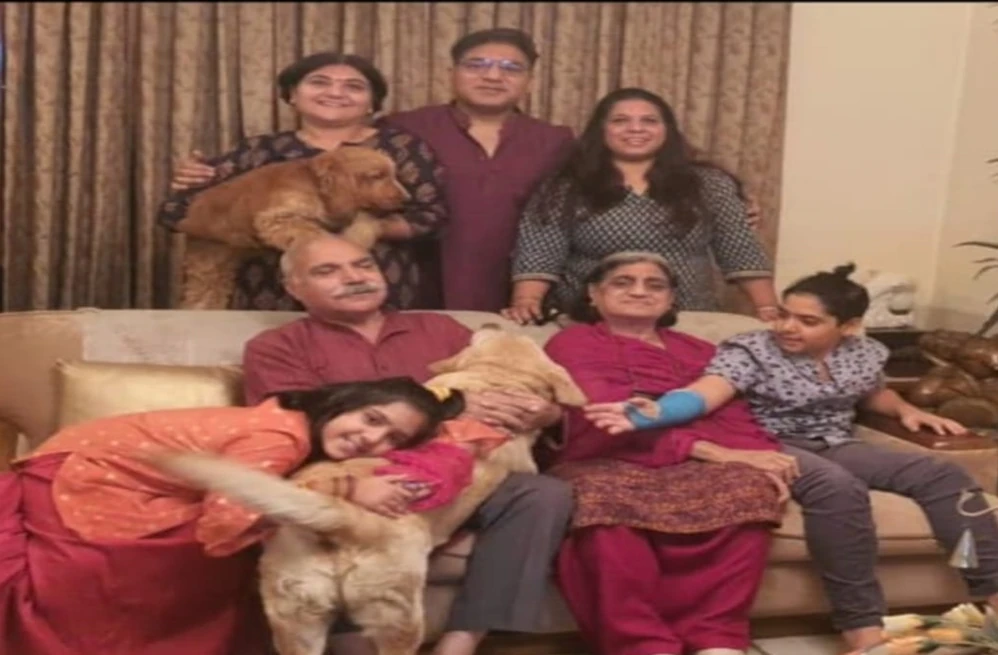 Time flies, and around 20 Sep 2022, I noticed Happy suddenly lethargic and not eating his meals. We regularly took him to Brig (Dr) KV Rappai, VSM (Retd), a renowned military vet practising in Noida. He injected some injections and gave him a drip and some tonics. Since Happy was not improving, on 23 Sep onwards, I took him to the clinic and treatment was repeated every day. On 27 Sep, his blood sample was taken, and the next day sadly, we were told his Creatinine level was 4.10 in test value while normal being 0.5 -1.6, meaning that his kidneys were packed up with his age being 11.5 years. Brig Rappai told us nothing much could be done, and Happy was constantly on a drip and four injections every day. I took him to Col Neeraj Gupta, Commandant of Military Vet Hospital in Rashtrapati Bhawan, for a second opinion and sadly, he concurred with Brig Rappai's diagnosis. We found Col Gupta very warm-hearted, thorough, and professional with connectivity with the Kumaon Regiment. He is not only married to Ms Meenakshi d/o late Col Karam Singh of 6 Kumaon but also went on UN Mission with 7 Kumaon.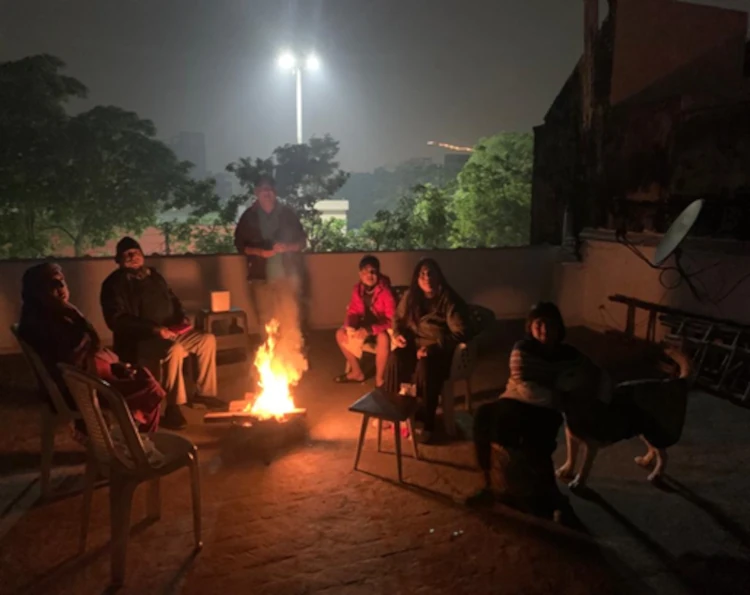 Happy suddenly stopped getting up and started deteriorating very fast. Every day I took him to Brig Rappai, who said we must make him comfortable so that he leaves this world without any pain or discomfort. Nanu, self and Rajni would care for him day and night and clean him after his toilet needs and vomiting bouts, praying miracles to happen and save Happy. We would, as advised by the doctors' administer drops of coconut water through a needleless syringe which was repelled by the increasing toxins inside his body by vomiting. 40 kg, handsome vibrant Happy in 3 weeks, became a skeleton and died in my arms at 8.30 am on 14 Oct 2022, leaving the whole family shattered. I felt a little bit in me too had died along with Happy. We cremated him in an electric crematorium in Noida at 10 am with heavy hearts the same day. It is just a day, and our minds, bodies and souls search for Happy around our house. There is a big void and haunting, the eerie silence around. If one is a dog lover, having a pet is a great joy but with dogs' life span of around 8-10 years with humans around 60-90 years, losing them is most devastating. I have had, sadly, around half a dozen such heartbreaking experiences.
When we take a pet in our lives, we know at the back of our minds that they won't live with us forever. While they are young and full of energy, it's easy to ignore such feelings. But if they fall sick or just get older, the reality becomes more prominent in our minds. Whilst pet bereavement is sadly an inevitable part of life; this doesn't mean that it isn't devastating to lose someone for my entire family and me; it doesn't matter if that someone has two legs or four legs because a loss is still a loss in our minds. We called off my birthday celebration a day before his death; for that matter, we won't celebrate the impending Diwali, too, as the pain and sorrow are deep in our thoughts.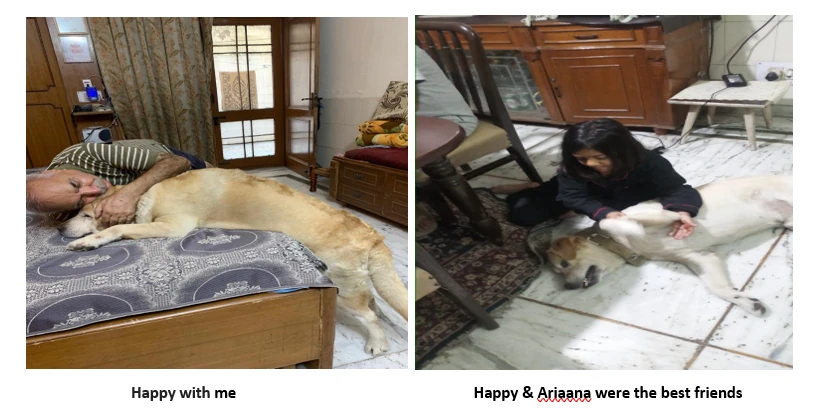 Since our Happy has gone, we will take time for the acute sadness and pain to fade. Unlike Rajni and Nanu, I feel that it is important not to keep my emotions to myself but to share them with my close friends and relatives who knew Happy so well. As I feel on such unfortunate occasions, our friends and family can be a great support. But the greatest issue I have is how to inform my grandchildren, Ariaana and Aahaan since younger children often have very diverse emotions, which can be distressing for seniors. Furthermore, what if this is my grandchildren's first encounter with death?
"Remembering and forgetting Happy is very painful. Happy you have gone to our Lord where we all will land up one day at our unknown appointed times. We will all meet up there in heaven with our parents, relatives, friends and pets and bash on celebrating and singing 'Happy; Kabhi Alvida Na Kehna'…..!!"