On 20 April, a senior government official announced that the Czech Republic would provide 12 Aero Vodochody L-39NG (Next Generation) jet trainer aircraft to Hungary. 
According to the official, eight new aircraft will be used for advanced pilot training, while the remaining will be flown as operational reconnaissance aircraft. Although the contract value was not disclosed, the deliveries are said to commence from 2024. 
Joint Fighter Pilot Training Programme 
It was earlier reported that Slovakia, Poland, Hungary and the Czech Republic had taken a call for establishing a joint fighter pilot training programme with likely employing the new L-39NG jets. Czech Air Force already operates the L-39NG, and now, the Hungarian Air Force is also on board with it; such an international training school could see the first pilots graduate from 2025. However, it cannot be determined whether this would replace or supplement the NATO Flying Training in Canada (NFTC) programme or Euro-NATO Joint Jet Pilot Training Program (ENJJPT) or the Undergraduate Pilot Training (UPT).
The Aero L-39NG 
The L-39NG is developed from the L-39 Albatros two-seat, single-engine jet trainer and is available in two versions (Stages). 
The version designated L-39NG Stage 1 contains an installation of the FJ44-4M engine and uses the old L-39 airframe. The engine features dual FADEC systems and an electrical starting system. The air inlets are placed over the wing to prevent damage due to foreign objects. 
According to the manufacturer, the engine provides a thrust of 16.87 kN and a top speed of around 780 km/h. It provides an internal fuel capacity of 1,450kg and has a ferry range of approximately 2,590km. The L-39NG has a maximum service ceiling of 38,000ft and can climb at a rate of 23m/s. 
On the other hand, the aviation package developed for the L-39NG Stage 2 can be retrofitted. The package is characterised by an open system architecture that will enable individual retrofitting and modernisation as per customer requirements in future. Alongside, it also has a digital fuel management system and a highly developed flight control system from US manufacturer Genesys Aerosystems.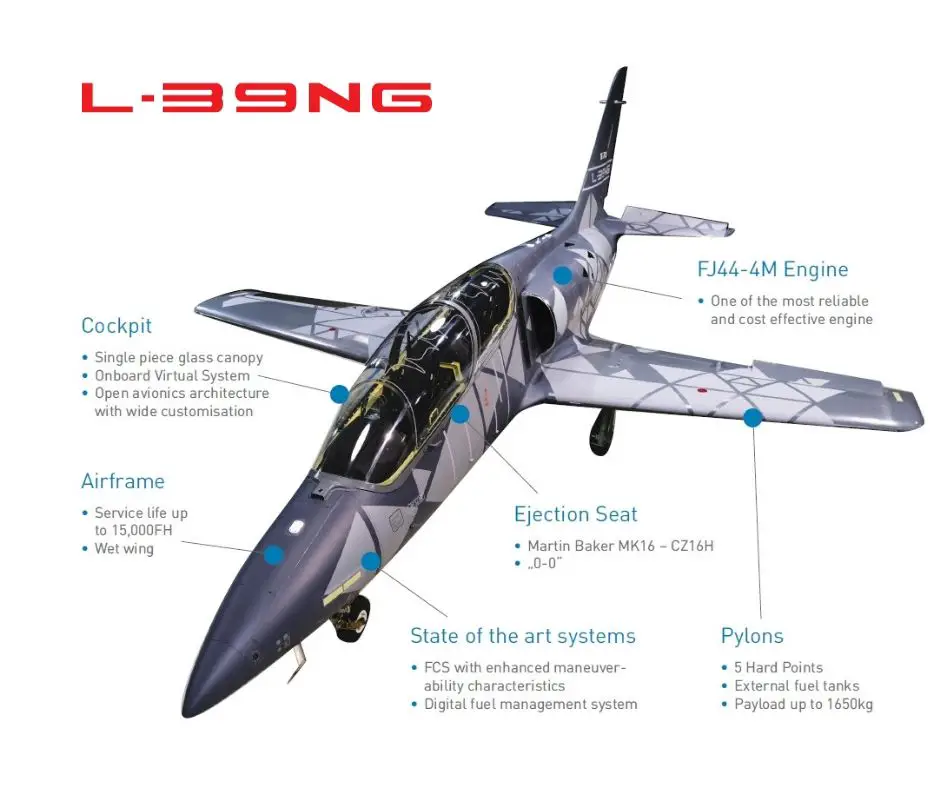 Stage 2, which is also the subject of the Hungarian procurement, stands as a completely new production effort with many design changes. For example, the fuel is stored in the newly developed flat tanks, increasing the associated range and the total volume. The cabin roof has been renewed as well, providing both crew members with a significantly better all-around view. The crew station lighting is compatible with night-vision goggles (NVGs) to provide an enhanced field of view during low-light flight operations. The modular cockpit also has embedded virtual training and communication systems to offer trainee pilots real-time experience.
Apart from this, the Martin-Baker Mk 16 ejection seats are also installed, which are currently used by the Eurofighter TYPHOON and F-35s with respective modifications. 
The aircraft also features a Programmable jamming pod, a Targeting pod and a (Forward Looking Infrared) FLIR turret.
Other Specifications 
The L-39NG is also equipped with an in-built health and usage monitoring system, wide track undercarriage, nose wheel steering, debriefing system, and various optional equipment.
The aircraft has a wingspan of 9.56m and measures 12.03m in overall length. It has a maximum take-off weight of 6,300kg, a landing weight of 5,800kg, and an empty weight of 3,100kg. The aircraft can also carry maximum external payloads of up to 1,200kg. The aircraft's internal and external fuel capacities are 1,450kg and 570kg, respectively.
The aircraft has five external hardpoints and can be equipped with IR seeking AA missiles, Freefall air-to-ground bombs, Laser guided air-to-ground rockets, Laser guided air-to-ground bombs, Folding-Fin Aerial Rocket (FFAR) unguided air-to-ground rockets and also Air-to-air or air-to-ground gun pod. 
Orders and Deliveries
In July 2018, SkyTech entered a strategic cooperation with Aero Vodochody for ten L-39NG jets with an option for additional six L-39NG aircraft to train airforce personnel.
In the same month, a letter of intent with AERO Vodochody was signed by RSW Aviation to purchase 12 L-39NG aircraft for military forces training, while the deal also covers the upgradation of six L-39 aircraft to the L-39CW version.
Not new for Hungary
Apparently, the Hungarian Air Force's existing interest in Aero Vodochody's aircraft continued to grow while several reports claim that the L-39NG technology demonstrator was repeatedly spotted at Hungarian Air Force bases. 
The Stage 2 aircraft is not entirely alien to the Hungarian Air Force. Hungary received 24 L-39ZO from the former stocks from 1993 onwards, and after an interim modernisation programme, it operated them with declining numbers until mid-2010.