India has dispatched over 30 tonnes of technical equipment and material on board an Indian Air Force  C-17 Globemaster III Aircraft to Mauritius to help the country's ongoing oil spill containment and salvage operations of the Japanese owned bulk carrier MV Wakashio on its South Eastern coastline. The Indian contribution will be in coordination with efforts of other countries including the French Navy, Japan Coast Guard Disaster Relief Team, and European Union and specialised International experts from organisations like International Maritime Organization (IMO), UN Office for the Coordination of Humanitarian Affairs (UN OCHA), UNDP and UNOSAT; and International Tanker Owners Pollution Federation Limited (ITOPF).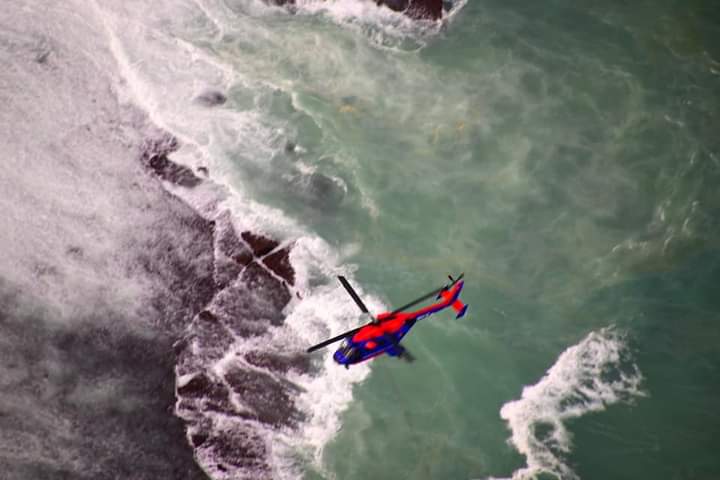 MV Wakashio was on its way from China to Brazil but ran aground on the reef at Pointe d'Esny, Mauritius on 25 July 2020. The vessel was in ballast at the time of the incident, carrying approximately 3,900 tonnes of low-sulphur fuel oil as bunkers, 207 tonnes of marine gas oil and 90 MT of lube oil. On 6th August, due to continuous rough seas, the ship suffered damage to its hull and approximately 1000 m3 of fuel oil has leaked from a breached tank.  The oil drifted into the lagoon surrounding Pointe d'Esny and has since come ashore around the Baie de Grand Port, contaminating approximately 32km of shoreline to varying degrees. It includes mangrove areas. The focus of operations on the scene is now moving towards salvage and removal of the ship, as well as the continued recovery of floating oil and beach clean-up. The affected area is located in a very sensitive zone that includes the Blue Bay Marine Park, Ile aux Aigrettes, and the Ramsar sites.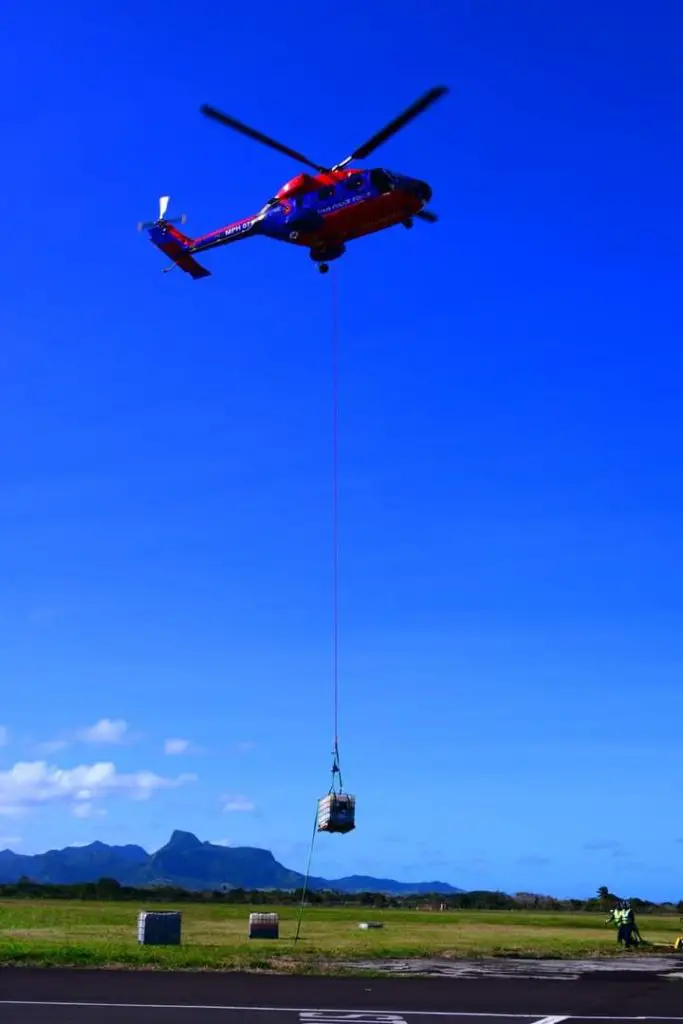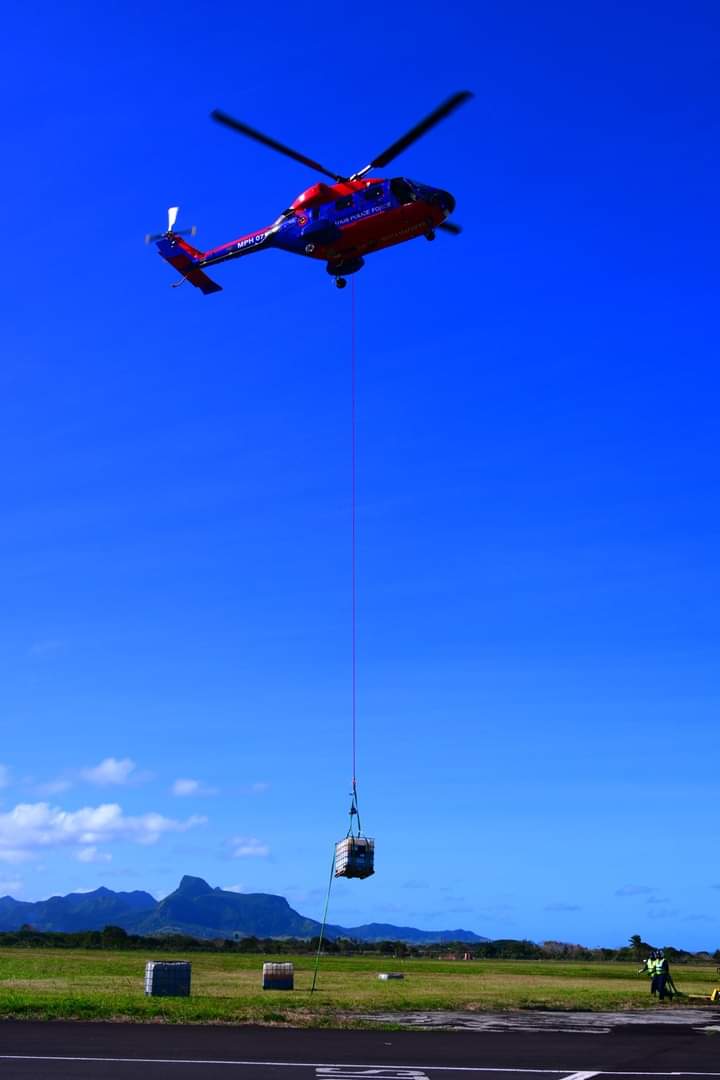 The Indian assistance includes specialized equipment, consisting of Ocean Booms, River Booms, Disc Skimmers, Heli Skimmers, Power packs, Blowers, Salvage barge and Oil absorbent Graphene pads and other accessories, designed to contain the oil slick, skim oil from water, and assist in clean up and salvage operations. 
The Indian Coast Guard has deputed a 10-member specialist pollution response team qualified in pollution response operations at sea and are capable of undertaking pollution response and cleanup operations.
India made indigenous Advanced Light Helicopter Dhruv (ALH) and Chetak helicopters are also in service to rescue people and extricate skimmed oil from MV Wakashio. These helicopters flew non-stop dawn to dusk till all the survivors on board were safely rescued. A total of 210 cargo operations and 270 winch operations were undertaken by the Hindustan Aeronautics Ltd (HAL) made choppers towards salvage and rescue missions so far. The Chetak helicopters were used primarily for winching survivors. The ALHs flew continuous missions to get the international salvage team on-board the ship to contain the spill. These helicopters have flown till now 110 hrs and rescued 600 persons from and to MV Wakasio.