The Indian Government intends to form an Integrated Rocket Force (IRF). Centred on this, the IRF is expected to be a tri-service organisation. The proposition to create an IRF specifically designed for non-contact conventional warfare was initially disclosed and put forth in 2021 by General Bipin Rawat, the former Chief of Defence Staff (CDS). The newly formed missile force will exclusively use conventional missiles for operation, including cruise missiles like the BrahMos supersonic cruise missiles and subsonic Long Range – Land Attack Cruise Missiles (LR-LACM), as well as short-range to medium-range ballistic missiles. The 
The Indian government ordered in December 2022 for 120 Pralay quasi-ballistic surface-to-surface missiles to fulfil short-range needs. At a cost of over Rs 7,500 crore, the Indian armed forces are expected to place orders for two additional Pralay ballistic missile units (approximately 250 missiles). Pralay missile warheads may range in mass from 350 to 700 kilogrammes, while the missiles themselves may be deployed in silos or mobile missile systems for storage. The Pralay missile can penetrate targets 250 kilometres to 150 kilometres distant. Due to its non-adoption by the Indian Army or Air Force, the Pralay must undergo compulsory certification before being deployed in missile units for combat purposes.
At this time, IRF requires a ballistic missile with a medium range, and it would appear that the government considers 1500 kilometres to be the optimal distance. At this time, IRF requires a ballistic missile with a medium range, and it would appear that the government considers 1500 kilometres to be the optimal distance. For conventional use, the forces may select from the operational fleet of ballistic missile types in the strategic forces. 
Agni-1 Missile
The logical choice for IRF is Agni-I, used by the 334 Missile Group at Secunderabad, which is subordinate to the Strategic Forces Command (SFC) of the Indian Army. The single-stage composite rocket motor of Agni-1 is powered by solid fuel. Agni 1 has a range of 700–1,200 kilometres and can transport a standard payload of 1,000 kilogrammes (2,200 pounds). 
DRDO is developing Agni-1P, an improved two-stage variant, by incorporating more recent technologies from the Agni-IV and Agni-V platforms to enhance precision and dependability. The DRDO executed a successful test launch of Agni-1P from Abdul Kalam Island on June 28, 2021. This is a solid propellant missile with two stages that is canister-storable and transportable via road and rail. It weighs half as much as Agni-III (with a range between 3500 – 5000 km) and has an operational range of 1000–2000 kilometres. Agni-P, also known as Agni-Prime, is an operational missile replacement for the Agni-I and Agni-II missiles currently in the possession of the Strategic Forces Command. It features substantial enhancements, including a composite motor casing, a manoeuvrable reentry vehicle (MaRV), enhanced propellants, navigation, and guidance systems. 
With its MaRV capability, the Agni-P missile may deliver the warheads to two distinct targets. The missile is kept in a tandem twin-canister launcher that is hermetically sealed. To avoid the missile defence system, the MaRV carries four delta fins during the terminal phase of flight. The Agni-P has the capacity to carry a warhead that weighs 1.5 tonnes. Similar to the Pralay Missile, this new variation will require user testing.
Cruise Missiles
India has already deployed the Brahmos rocket with a range of 290 km on the LAC. China says the missile range doesn't pose a threat because its most important political and economic hubs are far from the Indian border. China has not commented on the Brahmos threat on its border military installations.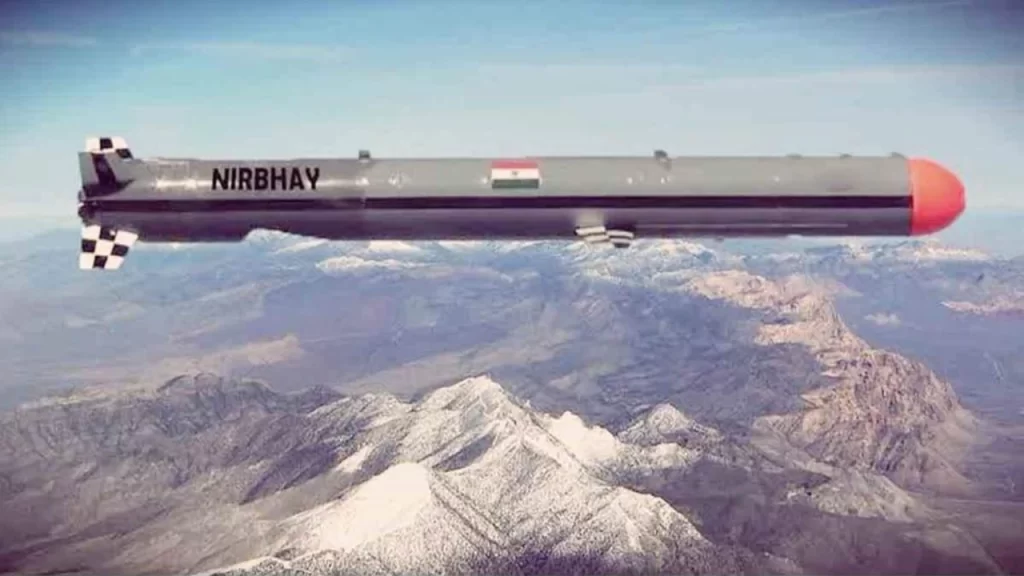 Nirbhay's long-range, all-weather, subsonic cruise missile is the other option for IRF to deploy on the LAC. The missile has a range of 1500 km and can launch 24 types of warheads weighing between 200 – 300 kg, depending on mission needs. These missiles are in limited numbers and have been deployed by the strategic command. The Nirbhay cruise missile can be launched from a variety of platforms. It is now launched from land and hauled by a Tata LPTA 5252-12 X12 High Mobility Vehicle.
Targets Covered
Lhasa, the capital of Tibet, is barely over 1000 km from the Line of Actual Control (LAC). Other significant Tibetan cities within a missile's 1500-kilometer range are Shigatse, Chamdo, and Nagchu.
Urumqi, the capital of Xinjiang Province, about 1400 km from the LAC, is another prime target. Xinjiang's other main cities, Kashgar, Aksu, and Karamay, are all within the missile range.
The capital of Qinghai Province, Xining, is roughly 1300 km from the LAC: Yushu, Haidong, Golmud, and other significant cities are within the missile range.
The capital of Sichuan Province, Chengdu, is roughly 1450 km from the LAC. The Chengdu Aircraft Corporation, maker of the J-10 fighter jet, is just one of several major defence firms headquartered in Chengdu. New military technology, including long-range missiles and advanced air defence systems, was also developed in Chengdu. Other significant Sichuan cities within the missile range are Luzhou, Zigong, and Chongqing.
The provincial capital of Yunnan, Kunming, is situated roughly 1400 km away from the LAC. Lijiang, Yuxi, Dali, and other key cities in Yunnan are other important targets.
A 1500 km missile launched from the LAC might reach several other significant targets in China in addition to these major cities, including:
Military installations
The Nyingchi Military Base is located in Tibet's Autonomous Region (TAR), approximately 600 km from the Indian border. It is one of China's largest and most advanced military locations, housing various military equipment such as fighter planes, bombers, and ballistic missiles. The 1000 km range DF-16, 2500 km range DF-17, 2700 km range DF-21D anti-ship ballistic missile, and 2500-4000 km range DF-26 are all based here. It is also possible that more modern missiles, such as the DF-27 and DF-31A, are housed in the Nyingchi Military Base, but this has not been confirmed.
Kashgar Military Base is in the Xinjiang Uyghur Autonomous Region, approximately 1450 kilometres from the Indian border. It serves as a critical facility for China's People's Liberation Army Ground Force and houses a variety of combat weapons like tanks, artillery, and mechanised infantry. 
Gar Gunsa Air Base is located in TAR, approximately 900 km from the Indian border. It is a significant facility for China's People's Liberation Army Air Force and is home to fighters J-11 and J-16, twin-engine long-range bombers H-6K, and unmanned aerial vehicles (UAVs). This airbase poses a serious danger to India.
The dual-purpose Xiguan Airport is in the Xinjiang Uyghur Autonomous Region, approximately 1400 km from the Indian border. It is a key base for China's People's Liberation Army Air Force, with fighter jets J-10, J-11B, J-16, SU-30MKK, and SU-27SK. H-6K bombers and UAVs are also stationed here. The PLAAF conducts military exercises regularly at Xiguan Airport, a major facility for the PLAAF's Western Theatre Command.
Infrastructure
China has made significant investments in constructing roads, railroads, and airports in the area close to the LAC. 
Economic centres
China has made significant investments in the region around the LAC to promote economic growth. The region has several significant economic hubs, including the Kunming Metropolitan Area and the Chengdu-Chongqing Economic Zone.