After the UN Security Council took up the matter, they appointed several commissions to find a solution to the problem that was acceptable to both sides. Salient aspects of the proposals were the initial withdrawal of irregular forces and Pakistani nationals that had entered the State of J&K, followed by the withdrawal of Pakistani forces and, after that, that of Indian troops, thus paving the way for the plebiscite to happen, whereby the people of the State would decide their option. However, it was felt that Kashmiris, being not very strong-willed, could be coerced or intimidated to vote against their will out of fear. No progress was made on the proposals, and the stalemate continued. The UN observers group had come into effect to monitor the ceasefire, and they were posted in important stations on both sides. Poonch was one such station where the UN observers were stationed. They used to live and dine in the premises of the Brigade Officers Mess, which was Moti Mahal, the Palace of the Maharajah of the Poonch State.
The primary task of the UN observers was to monitor ceasefire violations. Periodic meetings used to be held at the border when the commanders of both sides came face to face under the aegis of the UN. The UN Observer used to have a tough time keeping the proceedings under control as emotions would invariably take over, and every effort would be made to intimidate the other side. So, the personality and skill of the UN rep mattered a lot in resolving issues that would come up for discussion.
 An important practice was that reps of both sides did not wear their rank badges. So, one did not know the status of a person. We also did not wear our nameplates then. Our identities thus remained anonymous, perhaps due to security reasons.
I happened to attend one such meeting as our Commander, Brig SR Oberoi, MC took me along. He told us to wear our rank badges as he felt that they already knew us, and if they did not, they were not worth their salt. He introduced us to the opposite side by name and appointment. In response, however, they did not disclose their identity. That meeting carried the day, mainly due to the personality of our Brigade Comdr, who showed his flexibility in accepting the other side's contention and resolved quite a few pending issues. We had arranged an elaborate tea to which, after initial hesitation, they joined in. We had also kept chilled beer ready, but they politely refused. It was not a unanimous decision, though, as we could sense the dirty look an officer, perhaps a junior, gave when the refusal by their senior was made. We also sensed that the attitude of their junior officers was quite friendly as compared to that of their seniors. (Brig Oberoi was one of the victims in the famous helicopter crash that happened on 22 Nov 1963). An interesting incident happened some years earlier than this one. It is best described as follows:-
"Oye Manjitey ! Noore tu ?" Both yelled as they saw each other. Their reaction was spontaneous as they surged forward to greet each other with warmth. Then followed an animated dialogue between them as they got busy inquiring about each other's families and their well-being. Manjit turned around and yelled, "Le Aa Oay" and chilled beer in mugs appeared in no time.
The sudden warmth and camaraderie shown by both had their junior officers confused till Noor Khan turned around and told them that they both were from the same IMA course and were commissioned in the same unit. The situation was now clear to the officers on both sides. From a smile to a soft hello, they, too, let their guards down and interacted freely with their opposite numbers. Not amused by what was happening was Maj Jack Holt, the UN observer under whose aegis the Flag meeting was being held. He was an Australian and a seasoned soldier with 25 years of service, having served in other countries on a similar assignment. Once or twice, he tried to call an order and let them proceed with the meeting, but it had no effect. Noor Khan told Manjit "to tell the gora monkey to keep quiet in chaste Punjabi. We will resolve the issues in our own way ". When his appeal had no effect, he, too, gave up and joined the party, which lasted for a couple of hours.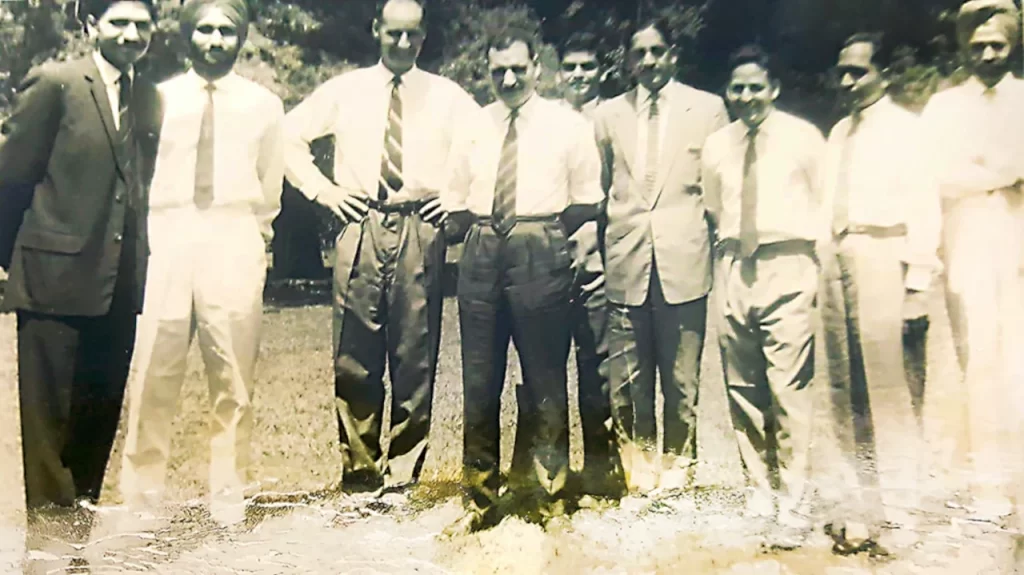 In June 1946, two officers from the Indian Military Academy, Dehradun, were commissioned into a Baloch Regiment based in Peshawar. Their names were Manjit Singh and Noor Khan. When the partition took place in 1947, Manjit Singh's Commanding Officer, a Britisher, asked him if he wanted to go to India. Manjit's answer was simple: he stayed where his unit was, and the time passed on. However, it was soon clear that due to the prevailing tension between the two countries, it was best for Manjit Singh to go over the border to India. So, after a formal dining out function in the Officer's Mess, Manjit Singh was escorted to the border. Both Noor Khan and Manjit Singh did well in their career, and destiny brought them together again, but on opposite sides! Both were unit commanders, with their units facing each other on the Poonch border.  
When it was all over, Maj Holt had to say this:- 
"Man, I don't understand you guys. You fight each other with all your might, and when we meet like this, you behave as if two long-lost friends are meeting!"
Their units stayed there for around two years, and peace prevailed in the entire region. Once other troops replaced them, the situation again became the same chaotic one as before.
A somewhat similar incident happened on the Lahore border in mid-1965, when things were hotting up between the two sides. Capt Suri of the Corps of Engineers was given the task of planning a minefield on the border. The border was a porous one and not demarcated with any fencing to define the line of control. Capt Suri was on a reconnaissance mission, and he packed his bag with equipment like a compass, a binocular and a map of the area. Two bottles of beer also went into the bag. The travel to the border took about an hour as he had to travel some distance where no road existed. Finally, when he thought he had reached the spot, he alighted from his jeep, looked around and noticed that some features on the ground were not marked on the map. He noted a few other irregularities, too, and lamented that the Geological Survey of India did not keep the maps updated. Suddenly, he heard frantic calls, "Sahebji bhago", but it was too late. The Pak Rangers men were already there, and their JCO said, "Janab, ab aap hamare mehmen hain, Chaliye" (you are our guest, come). When he tried to resist, he was told if he tried something fancy, he would be shot. "Why die for nothing?" His hands were then tied behind his back, and he soon found himself facing a Maj, who sat on a table in his office in a tent. The officer asked, "What brings you here, Capt? "
Suri had, in the meanwhile, rehearsed his stand and confidently replied that he was picked up from well within the Indian Territory and demanded that he be released forthwith. "What is the hurry, Capt? Be our guest for some time". The Maj walked around, and with a knife, he took out from his pocket, he cut the rope that tied his hands and asked him to sit. All the while, he was staring at Suri as he spoke. He asked where Suri originally came from? Lahore was the answer. Where in Lahore did he reside? Suri gave out the name of the area. The next question is, what did his father do? He was a professor of Maths in ….. College, Suri replied. "You are two brothers and three sisters? Your house is the second last on the right in Gali Kabootar Baz?' Maj asked.
Sui was stumped as to how the Maj knew so much about him! The Maj then said," Saale tujhe Yaad nahin? Main Allah Ditta, tere ghar tution parhne aya karta tha !"
The Maj then walked around and hugged Suri warmly. He inquired about his family and so on. I offered a cup of tea and snacks to Suri and asked if he wanted to visit Lahore and see his house.
Suri was transported to his childhood days, became emotional, and said, "Who would not want to see the place where his ancestors lived and where he spent his childhood?"
Allah Ditta said, then let's not waste time and gave his uniform without the rank badge so that he could travel freely as his orderly. They reached Suri's house in about an hour and knocked on the door. Someone opened the door and, on seeing them, stepped aside and welcomed them. Soon, a tall glass of lassi appeared, and Suri relished the nostalgic flavour of the drink, transporting him back to the days when he lived in a room that he shared with his younger brother. Nothing seemed to have changed. Only the inmates that now lived there were different. He walked to the backyard where they used to play cricket with their friends. Now, the place had become their kitchen garden.
Suri and Allah Ditta were back at the border and had the beer that Suri had carried in his bag. After lunch, Allah Ditta asked Suri to change into his own uniform. Suri was tense and was thinking about his fate. He thought to himself what he would have done in a similar situation, and the answer he got was that the country came first, and there was absolutely no doubt about that. They travelled to the border silently, with not much conversation between them. At the border, they got down, and Maj Allah Ditta pointed out towards India and said, "That is your watan; you are free to go". Suri got down and looked around to find where India began on the ground? Everything was the same. The colour of the Earth, the stubble from the recently harvested field. Looking at the countryside, it was difficult to make out the line dividing the two countries. In the far distance, he saw his jeep was still standing. He turned around to thank Allah Ditta, but he was gone! Perhaps he had paid back the debt to his old teacher if any was due.