This year, India's brand value increased by 19%, or more than US$400 billion, to US$2.6 trillion, according to the most recent study by leading brand valuation firm Brand Finance. The huge growth in India's brand value connects with the country's growing reputation as a safe and stable destination to invest in, as indicated by major advances in new technology, such as the production of electric vehicles and mobile phones.
As local demand and international investment accelerate in response to the COVID-19 epidemic, India's GDP growth is one of the strongest among the world's top economies.
The latest study from Brand Finance is not an evaluation of Indian commercial brands as a whole but rather an evaluation of the Indian nation's brand. The growing global dissemination of Indian cultural items is a crucial aspect in enhancing international familiarity with India and a significant factor in the growth in value.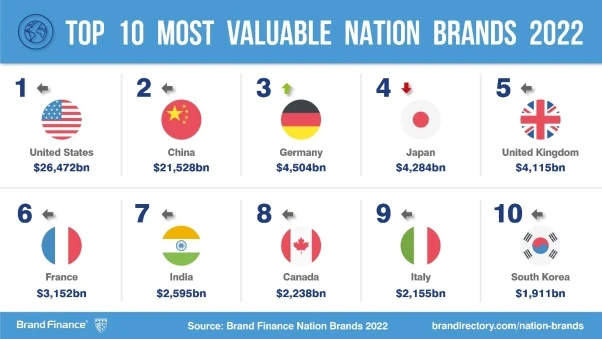 India's overall ranking has remained stagnant at number seven position for almost two years. Germany, Japan, the United Kingdom and France have retained their positions above India. In 2019, India had pipped Canada and Italy to become the seventh most valuable brand in the world. 
India's brand value was in 7th place in 2015. In 2017, it fell to 8th place, and in 2018 it fell to 9th place. In 2019, it recovered to 7th place and had held the slot since then.
India is also 29th in the world soft power index. It has moved up from the 36th position. Brand Finance calculates soft power on the basis of governance, business and trade, international relations, culture and heritage, media and communication, education and science and people and values.
US and China remain the top 2
The US has held on to its position as the most valuable nation brand in the world, with brand value up 7% to US$26.5 trillion, maintaining its lead over China which is up 8% to US$21.5 trillion in the rankings. The United States and China dominate the Brand Finance Nation Brands 2022 list, with a combined brand value equal to that of the other 98 brands in the top 100.
The United Kingdom is one of the country brands with the greatest COVID-19 recovery, as its brand value increased by US$265 billion to US$4.1 trillion, more than any other national brand except China. A considerable portion of the population was swiftly vaccinated, and limitations on economic activity were gradually lifted, allowing the United Kingdom to recover. This impressive success may partly be attributed to the market's recovery from the uncertainty brought on by Brexit in the years before the epidemic. Although brand views are anticipated to improve during a time of extraordinary worldwide attention due to the departure of Queen Elizabeth II, the impending recession and the decline in the value of sterling – if maintained – may weaken the UK's brand worth in the long run.
Vietnam has had the third largest brand value increase over the course of the pandemic in absolute terms, increasing from US$184 billion in 2019 to US$431 billion in 2022, but the world's fastest growth relative to 2019, increasing by 74%. Vietnam has gained momentum as an attractive destination for international investment as a result of strong fiscal and monetary policies and investments in human capital, but also in the midst of trade disruptions caused by China's lockdowns and ongoing tensions between Beijing and Washington.
Russia and Ukraine have a brand problem
As a result of its invasion of Ukraine, Russia has seen the worst decline in brand value among the world's country brands this year, a decrease of US$144 billion or US$1,000 per person compared to 2021. The sharp drop in the value of Russia's national brand, from $786 billion in 2018 to $642 billion in 2022, suggests that the choice to go to war has harmed the country's economic position. This is a reflection of the harm to commercial brands connected with Russia, the country's capacity to access funds, and its power to influence global attitudes.
The extensive economic sanctions placed on Russia have contributed to the health, social, and economic disruptions brought on by the COVID-19 disaster. Prior to the epidemic in 2019, the worth of Russia's country brand was $960 billion, but it has since dropped by a third, positioning it between far smaller Belgium (US$647 billion) and Austria (US$570 billion) at just 24th place among the world's top 100 most valuable brands.
The war's catastrophic humanitarian and economic devastation caused Ukraine's brand value to drop from US$107 billion to US$85 billion. But Ukraine has successfully defended its independence and won the support of international allies, resulting in a significant increase in its brand strength.
Brand Finance evaluates the relative strength of country brands by a balanced scorecard of measures analysing brand investment, brand perceptions, and brand performance, in addition to determining brand value. Ukraine's brand strength score has increased by nearly 5 points over the last year, from 52.8 to 57.9 out of a possible 100, mostly due to a 15% rise in brand perceptions. The research conducted by Brand Finance in March 2022, shows that Ukraine improved in terms of familiarity, reputation, and impact, as well as other criteria such as recognised leaders, the rule of law and human rights, and reliable media.
UAE is an exception in MENA
While views of country brands have rebounded substantially over the last year, brand performance has not yet returned to pre-pandemic levels for the majority of nation brands in the list. The legacy of the COVID-19 pandemic will continue to impede the majority of brand strength scores in 2021, as worldwide interactions in the vital sectors of commerce, investment, tourism, and talent recruitment decline uniformly.
With a brand performance score of 80.5% out of a possible 100, the United Arab Emirates stands out as a positive exception. The United Arab Emirates has drawn more commerce, investment, tourism, and talent than any other country brand. A strong reaction to COVID-19, which enabled the UAE to open for business earlier than many other locations, is one of the primary factors for the UAE's remarkable performance this year. The UAE has maintained its position as the most powerful (76.7 out of 100) and most valuable (US$773 billion) country brand in the Middle East and Africa by maintaining a superior brand performance score and increasing brand perceptions.