A satellite image that was taken in September shows that the United Arab Emirates has deployed an air defence system that was manufactured in Israel in order to safeguard the country from Iranian missiles and drones.
A satellite image analysis by the news site Tactical Report purports to show two Barak 8 launchers along with an Elta ELM 2084 radar close to the al-Dhafra airbase, which lies south of the United Arab Emirates (UAE) capital – Abu Dhabi.
Earlier this month, the website Breaking Defense revealed for the very first time, citing defence sources, that the United Arab Emirates (UAE) had deployed the system.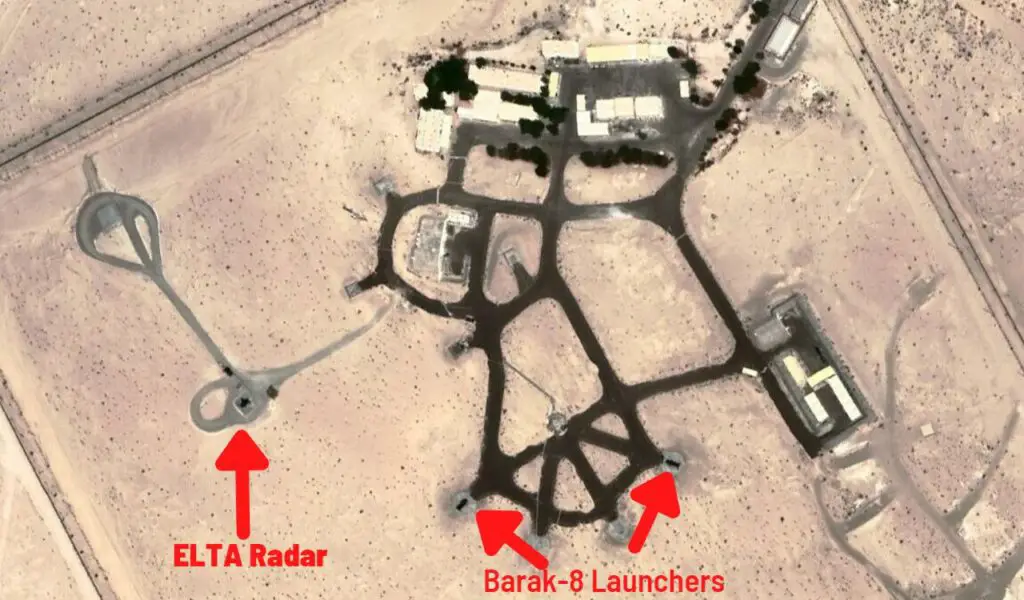 The Barak 8 defence system was developed to counter a wide variety of threats, including cruise missiles, ballistic missiles, and aerial assaults by hostile forces.
In July, Israel successfully intercepted a drone that was fired at an offshore gas facility by Hezbollah, a group in Lebanon that is backed by Iran. This was the first time that operational Barak 8 missiles were fired from a military ship to take down a drone.
Israel Aerospace Industries (IAI), which is a state-owned company, the Indian Defense Research and Development Organization (DRDO), the Israeli Ministry of Defense, the navies of both countries, Rafael Advanced Defense Systems, IAI's Elta Group, and other local industries in India collaborated on the development of the Barak 8 anti-ship cruise missile.
Barak-8 missile and ELM-2084 radar
The Barak-8 missile is a Surface-to-Air Missile Defence system that offers 360-degree defence against multiple aerial threats. Barak-8, or LRSAM, is capable of locating enemy aircraft at a distance of 50–70 km. The weapon can fire at multiple targets at once, day or night, in any weather. 
Advanced phased-array radar, a flexible command system, a two-way data link, and transportable launchers are all used by the system. Barak-8 is a versatile system that can defend against all types of Unmanned Aerial Vehicles (UAVs), helicopters, aircraft, anti-ship missiles, ballistic missiles, cruise missiles, and fighter jets.
Three distinct versions of the Barak-8 system exist. The initial model is sometimes referred to as LRSAM or Barak-8 AMD. It is a naval air defence system that was initially developed for the Israeli Navy and is today employed by other nations, including India. The second version of the medium-range MRSAM land-based missile system includes a tracking radar, flexible command and control system, and mobile launcher systems. With its advanced technology, the third model, Barak-X, excels at both naval and ground operations.
The Barak 8 system is now being deployed by the United Arab Emirates, in addition to Israel, India, and Azerbaijan.
The ELTA company in Israel manufactures the ELM-2084 range of mobile 3D AESA multi-mission radars. The ELM-2084 radar is able to detect and track ballistic as well as aviation targets, and it may also provide fire control guidance for the purpose of missile interception or artillery air defence.
Interest from Warring Nations
Ukraine has expressed interest in acquiring this Israeli-made systems to counter Russia's use of Iranian drones and missiles. Israel has been concerned about maintaining its freedom of action in the skies over Russia-controlled Syria, which is why it has thus far been unwilling to transfer such systems to Ukraine.
At the beginning of this year, Iranian-backed Houthi rebels in Yemen conducted several missile and drone attacks targeting the United Arab Emirates. As a result of these attacks, there were rumours that Israel was considering selling defensive systems to the Emirates.
A source told the Reuters news agency in September that Abu Dhabi has purchased Israeli devices that are capable of defending against drone assaults, which are a threat to the United Arab Emirates (UAE).
According to numbers revealed earlier this year by the Israeli Ministry of Defense, the United Arab Emirates and Bahrain are responsible for 7% of the total arms sales from Israel in 2021.
The United Arab Emirates is a member of a military coalition led by Saudi Arabia that assists the Yemen government in its fight against the Houthis. In 2019, the United Arab Emirates withdrew its troops from Yemen; nonetheless, they remain a significant factor in the conflict.
Single Middle Eastern Air Defence System
This year, multiple reports suggested that Israel and its regional allies were trying to develop a single defence system to protect against the threat posed by Iranian drones and missiles. This information was gleaned from discussions that took place throughout the year.
According to sources from the Israeli Air Force, Jerusalem is currently working on a prospective alliance with its partners in the Middle East. Additionally, these countries have recently established joint technologies to identify missile and drone threats.
Benny Gantz, Israel's Minister of Defense, stated in June that an "already active" air defence pact between Israel and its neighbouring partners had helped stop Iranian threats in a way that it had not been able to before.
At the Negev Summit, which took place in March and brought together the foreign ministers of Israel, the United States, the United Arab Emirates, Bahrain, Morocco, and Egypt, the concept of a shared air defence system between Israel and its Arab neighbours was discussed. It has been reported that this topic was in play during Israeli discussions that took place with the United States and Saudi Arabia.