Irans indigenous Fateh submarine test fired torpedoes and successfully hit a hypothetical target during Exercise Eghtedar-99 which is being currently held in the Gulf of Oman. Iran calls IRIS Fateh as its most advanced domestically-built submarine. The submarine is equipped with sonar, electric drive, combat suite, surface-to-surface guided missile guidance, torpedo guidance, electronic and telecommunication warfare, secure and integrated telecommunication systems and dozens of state-of-art modern systems.
As per Iranian media reports, the 557 ton semi- heavy Fateh submarine can travel 11 knots (20.35 km/h) underwater and has a top submerged speed of 14 knots (25.9km/h). The submarine is armed with four 533-mm torpedoes. It can carry eight sea mines and two reserve torpedoes.  The submarine can operate 200 meters below the sea surface and can be increased to 250 meters for 35 days. It is not known if Fatheh Class carries a cruise missile.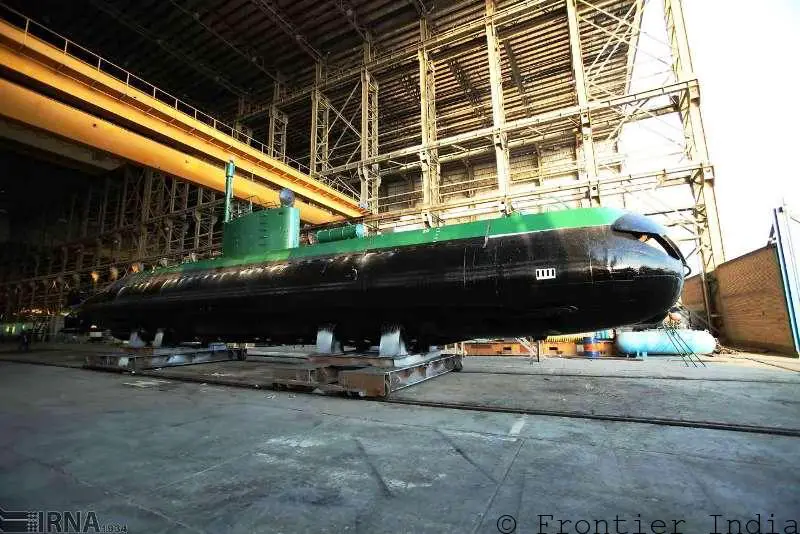 Fateh submarine is the first of its kind which was built in Iran and joined the southern fleet of the Navy in Bandar Abbas in 2019. The submarine was first showcased in Exercise Zolfaqar-99  in September 2020.
Iran is also working on a 1200 ton Besat-class submarine, which is Air Independent Propulsion and missile firing capable. Iranian Navy officials have also spoken about a Qaaem class submarine with similar weight and capability. It is speculated that Besat-Class is the current name of the Qaaem Class submarine.
In addition to Fateh Class, Iran operates Russia Kilo-Class known as Tareq-class, Nahang-Class, Ghadir-Class and North Korea made Yugo-Class submarines.